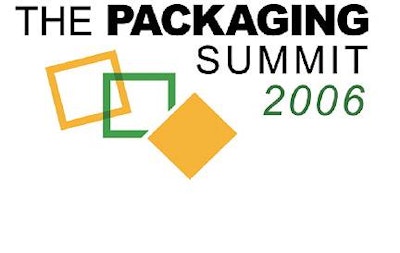 Among the conference sessions at the May 16-18 Packaging Summit Conference 2006, held at the Donald E. Stephens Convention Center in Rosemont, IL, was a roundtable discussion on managing cost/value relationships in packaging. Ed Dzwill, manager of packaging technologies—global pharmaceutical sourcing group at Johnson & Johnson, shared these tips:
• Think about how you do business today, because it's not like it was yesterday.
• When it comes to anti-counterfeiting, you need a program in place that touches the whole supply chain. Otherwise, if you do have a suspect package, you won't have the information you need to understand how or where it was compromised.
• Use new technologies where you can to protect your brands.
• Track and trace is coming, so be involved as it evolves.
Hall of Fame advice
Also part of the roundtable was consultant and Packaging Hall of Fame member Stan Kopecky, who recommended packagers consider the following tips if they want their global packaging development program to be successful:
• Make sure it's a team approach—marketing, operations, manufacturing, purchasing, finance. And remember that suppliers should be part of the equation, too. They have ideas you can use.
• Be clear about performance criteria. What does this package need to provide? Have you conducted simulated distribution?
• Develop good packaging specifications. They help you do it right the first time. And keep in mind that they are valuable not only to your suppliers but internally, too.
• Have realistic timelines. Graphics, new equipment, materials availability—get them all in the timeline to avoid surprises.