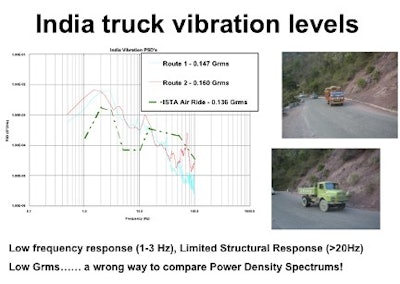 After conducting continued research on transportation conditions in China's distribution system, researchers have turned their attention slightly westward to India.
Launched in India starting in October 2004, the program is being directed by Paul Singh, Ph.D., a professor at the Michigan State University School of Packaging.
Singh was involved in the study of conditions in China, which we reported on in Measuring bumps in the road to China, published in January 2005.
"India is very similar to the research that was done in China," notes Singh. India studies also involve vibration and measurement data collected using Lansmont Corp. Saver3X 90 data recorders. Three of the devices are deployed in India, used to measure the conditions on major east-west and north-south roads. Each unit can capture and analyze more than 50ꯠ shock and vibration events,
"We're looking at the major hubs of Mumbai (Bombay), New Delhi, Calcutta, Madras, Chennai, and Bangalore," says Singh, noting that the India research will continue through December 2005.
The first part of the study focused on truck transportation; that work was completed in June 2005. Collecting and analyzing the shock and vibration of the Indian rail system is now the focus, and that continues through December 2005. A single-parcel study of courier service conditions in India will follow, Singh says.
What have they discovered?
"We see some similarities between India and China because truck types and railcar types are similar," Singh says, "but both are far different than vibration levels found in the United States. Generally, we see suspension frequencies that are much higher than in the U.S." Suspension frequencies in China and India are generally in the range of 1 to 2 Hz, while U.S. runs 3-5 Hz.
Any other comparisons?
"In the future, roads in China are going to be faster because of a better infrastructure than in India," responds Singh. It has previously been reported that one-third of the world's concrete is going into roads in China.
Singh points out that there are other major challenges that distinguish distribution in India, and those can largely be captured in a single word: monsoon. "The biggest challenges in India are the weather and the elements," Singh points out. "Rain and high humidity. Unprotected corrugated does not last long, especially for major appliances. Many products are recrated using wooden crates and metal bands."
What about automation, or the lack thereof?
"Any load over 100 pounds is usually handled manually by two, four, or six people," Singh responds. He says the classic example observed was the handling of two large side-by-side packages where one was stored upside down right next to the other, simply because the containers were handled by two different people.
What's next?
Singh says the school is planning a truck measurement study for Thailand, Malaysia, and Singapore. The MSU Consortium will then turn its attention to a different continent in 2006 with a study of the trucking conditions in Brazil, Argentina, and Uruguay.
"Our interest is to continue to develop global distribution data," says Singh.
Support for these ongoing studies come from 10 companies that are part of MSU's Consortium of Distribution Packaging Research, whose members include Clorox, FedEx, QVC, Lansmont, Overnite Transport, Federal Aviation Admin., Fiber Box Association, Department of Transportation (USDOT), TS Carriers (India), and Mead Westvaco.
Companies in this article