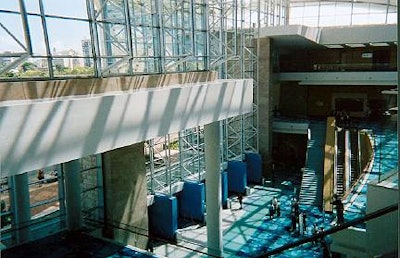 Automation in the medical device industry was the topic of a February 16 conference at Medical Device Puerto Rico, held at the brand new Puerto Rico Convention Center in San Juan.
Sadurni and Rivera played their customer-supplier roles in a "play" designed to help attendees understand how the packager (Baxter in this instance) could best work with a supplier (Engiworks) to meet its plant-wide automation goals, including those involving packaging equipment. Here are some of the insights from the presentation:
• Beginning with a more general observation, Sadurni pointed out that, "Puerto Rico is no longer a low-labor country. Puerto Rico has been manufacturing medical devices for more than 50 years." He said Baxter makes plastic connector tubing devices. "We've found ways to justify automation through better technology that yields consistent quality," even though "most product now in market was not designed with automation in mind."
• Asking Sadurni when was it right to automate, Baxter's Sadurni pointed to different factors such as product volume, and time to market, noting that timelines are "long because it's a regulated business." Product lifecycles, costs, and marketing projections are also important. "Marketing is key so that we know what's going to happen with that product in the next six months to three years."
• Both professionals pointed out that reduced labor costs represent a key automation benefit, not just in justifying equipment or lower costs, but also because reduced labor costs can help reduce product price to make it more price-competitive. Speed to market is key, so automation can help companies get their product out. Automation can also benefit a company by eliminating unhealthy exposure situations for employees, which can have an impact on such things including job performance and health claims, Sadurni added.
• Sadurni stated to the audience to remember that, "you need validated processes. When you automate, you have to be careful because if you change the sequence of your operations, it can affect validation procedures." When it comes to validation, Sadurni recommended that companies involve all key departmental areas as early as possible, including quality, technical services, and regulatory affairs personnel. Another tip: "We go through validation in buying equipment with our suppliers. We do pilot runs at the suppliers' site," said Sadurni.
Companies in this article