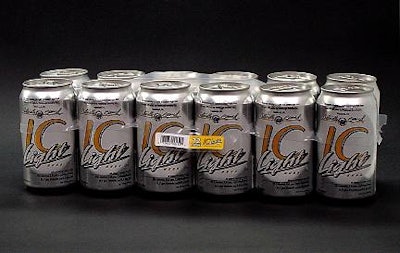 Marketed by PBC, the new "Rack Pack" allows a dozen 12-oz beverage cans to be joined together by one ring, made of a proprietary blend that includes low-density polyethylene.
At a November 9 press conference at Pack Expo International 2004, PBC vice president of sales Tony Ferraro said that the regional brewer will use the Rack Pack carrier for its Iron City and I.C. Light brews. The pack was scheduled to reach store shelves by Thanksgiving weekend, with initial sales in Ohio, West Virginia, New York, Illinois, Pennsylvania, Georgia, North and South Carolina, and Florida. PBC sells through distributors in 22 states, focusing on a 300-mile radius from its Pittsburgh headquarters. The pack will retail for $7.99, about the same as the paperboard carrier it replaced, which held cans in a 3x4 configuration.
Among key benefits cited by both Ferraro and ITW Hi-Cone are the pack's quick-chilling properties. The cans cool more quickly in the refrigerator or in a bucket of ice, without the carton, where the carton can break down in the ice and water. "The Rack Pack is advantageous to the consumer," Ferraro said.
PBC looked at the success of the "fridge pack" concept used by beverage companies, but wanted a unique, more economical pack for consumers and the distributors/wholesalers who sell the Iron City brands. He said at the press conference that this handled pack is another in a long line of PBC firsts that have helped the company to differentiate itself. "You have to think 'outside of the box,' and we have to consider the wholesaler's needs. They are our partners."
Companies in this article