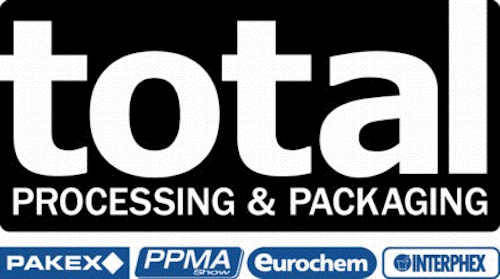 A two-hour drive from London's Heathrow to Sutton Coldfield, just outside Birmingham, brought us to New Hall. With nearly all of the 23 packaging journalists from around the world checked in, Barbara Jackson, Total Show director, welcomed us with drinks and a buffet dinner.
Sponsored by Britain's Institute of Packaging (IOP) and owned and managed jointly by Reed Exhibition and the Processing & Packaging Machinery Assn. (PPMA), Total Processing and Packaging was formed by the amalgamation of PPMA's Machinery Only show and Reed's triennial Pakex. Added to the Total mix are two of Reed's processing shows, Interphex and Eurochem.
"By incorporating four shows into one and extending into new market areas, we have been able to create a unique event that will do justice to the continuing global amalgamation of packaging and processing disciplines within user industries," Jackson told the assembled journalists.
She also introduced us to the Total Innovation Design Centre, a "show within a show" that will feature leading-edge design innovations, interactive displays, entertainment, and a seminar program. Major design agencies will enter the 2020 Vision Design Challenge, and their models will be on display at the Centre during the Total Show. The whole idea, said Jackson, is "to create an environment in which the marketing and brand management functions can truly understand the creativity that packaging brings to branded goods."
>>Part 1: How Total came to be: A merger of Pakex and PPMA's Machinery Only show
Part 2: 21st-century packaging machinery trends
Part 3: New developments from U.K. machine builders
Part 4: Off to Sainsbury's--a tour of a U.K. supermarket
Part 5: Coors' new £35 million brewery
Companies in this article