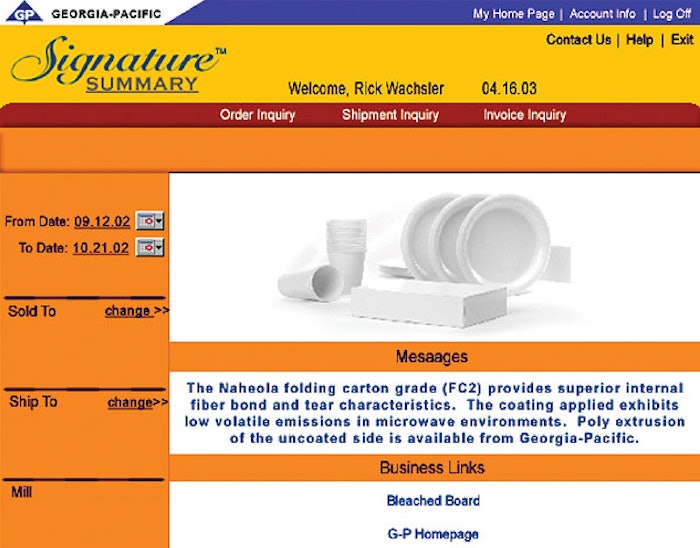 The site, called Signature Summary, offers users a way to track their purchases, from ordering to invoicing.
"We branded our product line to start some equity," says Rick Wachsler, the marketing manager with Georgia-Pacific's Bleached Board division. "With that, we also wanted to create some value-added programs and components that would allow us to differentiate ourselves. Signature Summary is an online way for our customer base to inquire about their order, shipment, or invoice for an in-process order."
The site, which was to go into pilot June 1, 2003, is also a useful tool for Georgia-Pacific from a marketing perspective. According to Wachsler, the site allows the company to better understand its customer base. Additionally, the site should help free up the customer service representatives, allowing them to concentrate on additional value-added services, Wachsler says.
Available free-of-charge for registered Georgia-Pacific customers, the site is password protected. Customers can log on 24 hours a day, 7 days a week, and get a response to inquiries in real time. Users will still be able to access customer service representatives to help answer additional questions, or for more technical inquiries.
"Our customers can still pick up the phone and reach us whenever they need to," says C.R. Dunkins, business analyst for Georgia-Pacific.