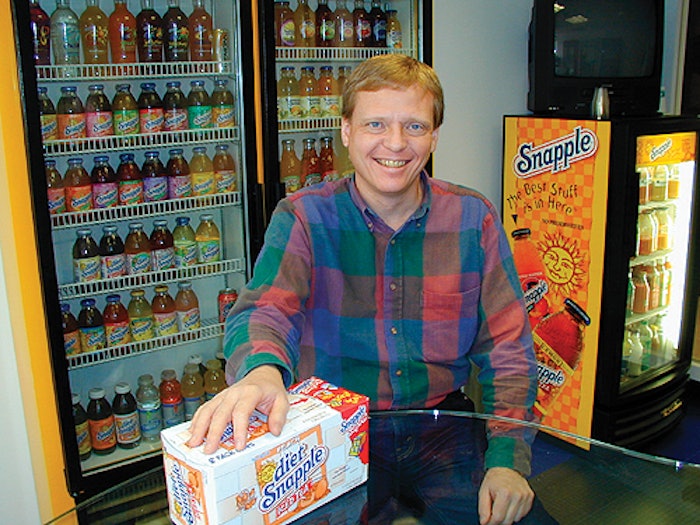 PW: Could you describe how the new Snap-Pak package was developed?
Volkmar: Snapple is all about finding companies with new ideas. And these companies typically find us, too. So I'm responsible for making the connections between our people and our suppliers, in this case, MeadWestvaco. My work is to ensure that all partners, including our co-packer, know our requirements to make sure the package is put together to run well.
PW: So Snapple had to work with a co-packer to add new equipment to its line?
Volkmar: Yes, we bought the Mead Duodozen machine, and our people worked with the co-packer so they could modify one of their lines to accommodate the new system. So we had a fairly heavy commitment to this project.
Right now, we're only producing the 8-pack on the East Coast and shipping nationally, including by rail to the West Coast. The idea is that, as we see volumes increase, it might make sense for us to produce it also in the West. But at the start, we're trying to minimize the risk and investment. To keep costs down, we need to be able to package in-line with filling, instead of producing loose packs and outsourcing the repackaging into 8-packs. There's an awful lot of handling costs in that process that we didn't want to get into.
And because our conventional pack is a 24-can tray, we can ship three 8-packs in the same corrugated tray, so there are supply chain efficiencies in this pack.
PW: How is the 8-pack marketed?
Volkmar: This pack was designed for grocery stores, club stores, some of the bigger drug stores—virtually any outlet that deals in multipacks. So this pack opens new channels of distribution for us. At the same time, the refrigerator dispensing feature adds new consumer appeal. —AO
Companies in this article