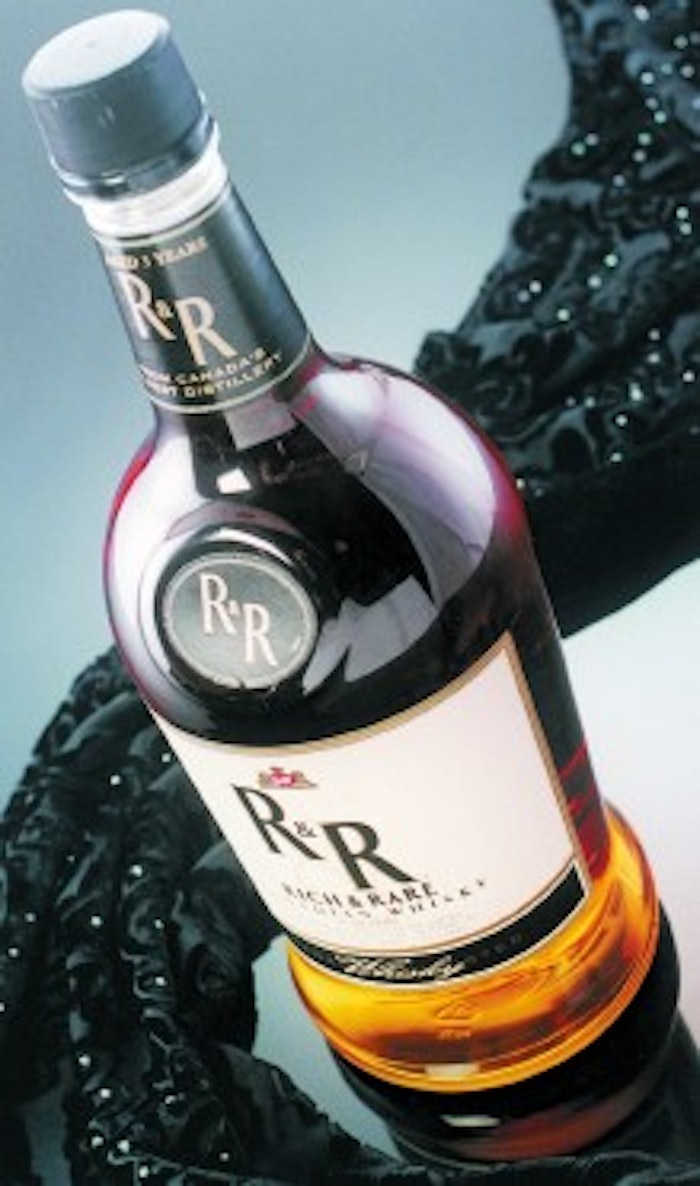 Because of the proven success of its switch to PET from glass for Old Smuggler whisky in 1999, Hiram Walker & Sons, Ltd., in June 2001 launched a 1.75-L PET bottle for its Rich & Rare Canadian whisky. Both are injection/ stretch blow-molded by Schmalbach-Lubeca (Manchester, MI).
"Our consumers responded well to the Old Smuggler pack," says Nicole Rourke, new-to-market manager for Hiram Walker, Windsor, Ontario, Canada. "We thought we would try and transfer the look of the bottle to another brand, and see how it would be received."
The bottle begins as a 92-g preform with a 33-mm finish. Schmalbach-Lubeca designed the bottle with contact points at the shoulder and the base so that the bottles can be held securely through Hiram Walker's Ft. Smith, AR, packaging line in a stable, vertical position.
"The product modifications were made for the previous conversion, which made the switch easy and fast to implement for the Rich & Rare bottle," says Rourke.
The front and neck labels are glue applied. Decoration also includes the brand's medallion, a pressure-sensitive label placed on the front shoulder of the bottle. The three labels are offset-printed in six colors by Mail-Well Label (Leamington, Ontario, Canada).
"The new PET bottle features a longer neck and is more bulbous [than the former glass bottle]," says Rourke. "The medallion gives the brand a unique look and feel."
Sold at retail liquor stores nationwide, the brand's retail price is competitive with other Canadian whiskies. Since making the switch, sales have increased and it has been well received in the market, according to Rourke.
Companies in this article