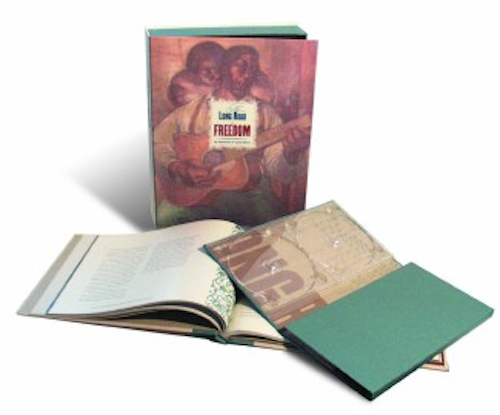 From three separate facilities, Shorewood handles electronic prepress and manufacturing of the boxed set. It includes the outer box, a tri-fold package that contains five music discs and a "bonus" DVD, and a book. Shorewood ships these components to an outside firm that makes the CDs, assembles them into the tri-fold package, places that pack and the book in the outer box and then shrink-wraps the unit.
"Our considerations for the packaging were to replicate the original photos from the original recording sessions in the sixties," says Alex Miller, BMG's senior vice president and executive producer of the anthology. "We wanted to present a 'coffee-table' book for consumers and we wanted the package to be as attractive as possible to show off the cover's front image, which is from an original rendering of a painting of a singer known as "Leadbelly."
The package design works to help the boxed set depict the historical events and cultural dynamics of the African experience in America, from the earliest arrival of African-Americans in North America through the early 20th century. The limited-edition anthology sells for $69.95 in educational, gift, and record trade outlets in the United States. It began shipping to global markets in March. It was Grammy-nominated for Best Boxed Recording Package, Best Historical Album, and Best Album Notes.
Companies in this article