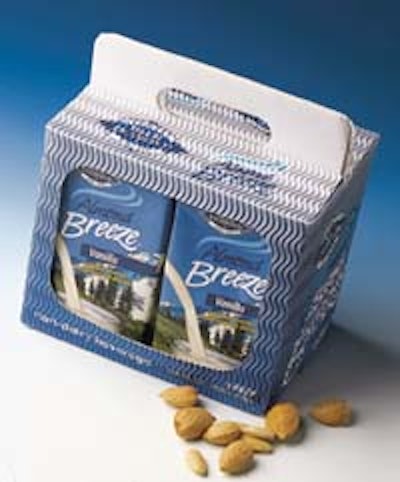 WaveFlute's s-shaped "waves" give an impression of a breeze, perfect for a product called Almond Breeze, says Al Greenlee, retail business manager for the Sacramento, CA-based company. Die-cut windows, one on front and one on back, show consumers the aseptic brick packs inside, each containing 32 oz.
For the past three months, the four-pack of Almond Breeze has been in test in Costco stores in Seattle, Los Angeles and Hawaii. At $5.98, it's selling well. According to Greenlee, packaging for club stores has to be especially attractive to catch the consumer's eye. "Club stores have no POPs or other displays, so packaging has to do the merchandising [on its own]. We felt the design was unique, and it added additional sales interest to help stimulate movement of the product."
When WaveFlute creates the image used to print the 33# paperboard that becomes the corrugated medium, it distorts the art to take into account the bi-directional take-up that occurs during corrugating. Willamette Industries (Portland, OR) uses this art to make the photopolymer plates with which it flexo prints the board. Two colors are used. Willamette then ships printed rolls to WaveFlute, where it's corrugated and glued to a linerboard and then cut into sheets. The sheets are fed to a flat-bed die-cutter, and then individual blanks receive a glue joint on a straight-line gluer. At Blue Diamond, operators manually set up the tuck-style cases and fill them with four cartons of Almond Breeze.
Greenlee is convinced that WaveFlute's single-faced corrugated case was a major reason Costco decided to sell Almond Breeze. "I honestly think that the packaging itself helped us to get [Costco] over some hurdles that they initially might have had with us being new to the category. We're keeping our fingers crossed and hoping we can make this a long-term business and expand into other club stores."
Companies in this article