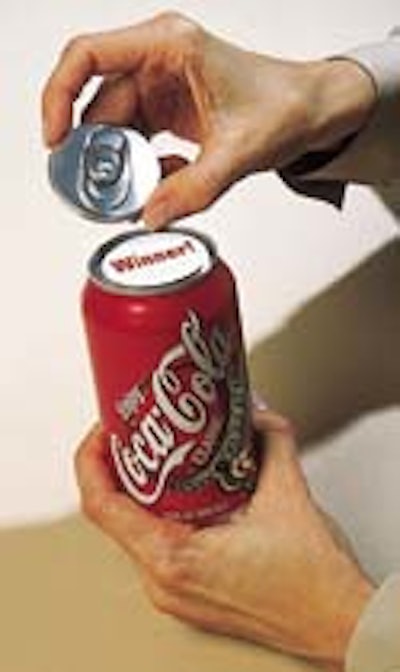 Beginning mid-May, specially marked multipacks of Coca-Cola Classic and Caffeine-Free Coca-Cola Classic may contain randomly inserted pop-top cans. Coca-Cola has created roughly 1ꯠ of the winning cans, enough to create a "buzz" in the marketplace, says Scott Williamson, spokesperson for Coke.
The pop-top can is a real can of Coke with a twist: It has a hidden compartment housed under a "false top" that's removable from the can body. The false top looks identical to other can tops, but it pops completely off winning cans to reveal a round game piece 1.57" in dia. Pop-top cans are totally indistinguishable from regular cans of Coca-Cola Classic. While winning cans are "assembled" at a Coke facility in Atlanta, the technology, created by a German firm that Coke does not identify, is proprietary.
"We have an ongoing dialogue with consumers," Williamson says. "They want promotions that are easy to understand, are very straightforward and offer the opportunity for immediate gratification."
Prizes include five $1 million cash prizes, walk-on roles in Universal Studios movies and music videos, and free Coca-Cola classic. The pop-top promotion extends through July.