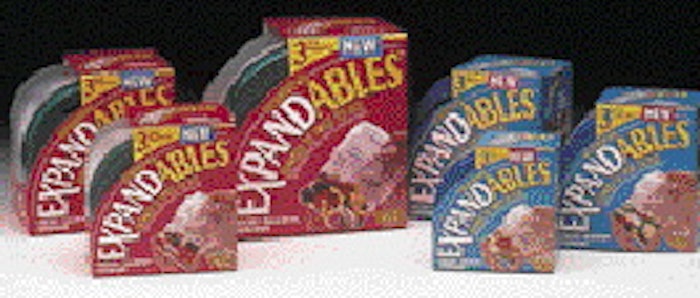 The Muscle Shoals, AL, company called on The Biondo Group (New York, NY) to design the packaging with an emphasis on how the containers work. What Biondo devised was a paperboard carton die-cut to reveal the left edge of the container. A photo of ghosted hands demonstrating the expandability of the containers, which contract and expand like a telescope, is displayed in the center of the package. The Expandables name curving across the entire package mimics the product's extensible properties.
"[In testing], people would look at the picture [of the hands] and some would catch on to what the hands were doing, and others would be puzzled," says Edward Robbins, E.S. Robbins president. "But I think most people caught on. I think it does a good job with the amount of space [Biondo] was allowed to use."
The 20-pt. SBS paperboard from Gulf States Paper (Tuscaloosa, AL) is die-cut and offset-printed in five colors plus aqueous coating by Precision Packaging (Chattanooga, TN). The carton is assembled and filled by hand at E.S. Robbins' facility in Muscle Shoals. Robbins says he plans to automate the carton erecting and filling once production volumes are up.
On the market since January 1999, the line of storage containers is at Home Place stores nationwide, Hannaford stores on the East Coast and other regional stores. Retail prices range from $1.49 for the 21/2-cup container to $3.79 for the 151/2-cup container.
Companies in this article