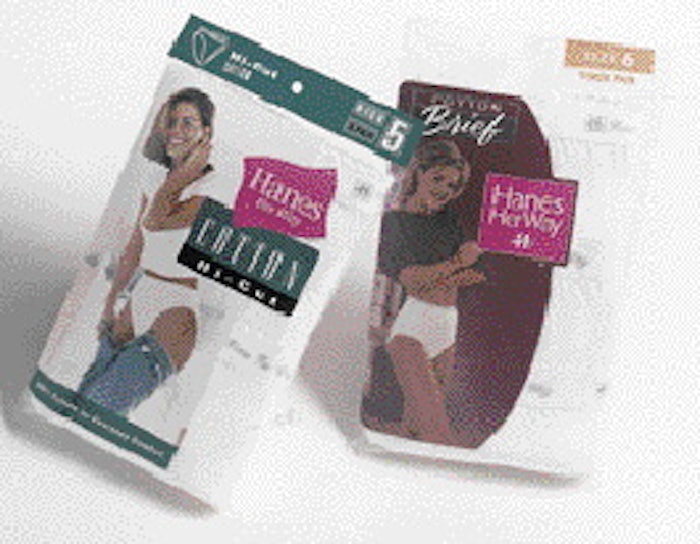 Extensive consumer research resulted in the need for clearer packaging copy. "We discovered that consumers were confused across the category," explains Lisa Purcell, vice president of marketing for Sara Lee Underwear, Winston-Salem, NC. "We learned that we needed clearer, more consistent communication on our packaging in order to distinguish ourselves from the competition and reach consumers."
The new design, executed by Lipson Alport Glass & Associates (Cincinnati, OH), incorporates a large, eye-catching color block in the middle of the pack describing the style and the fabric of the underwear. Stripes on the packs reveal information about the underwear color, fabric and pack count.
Supplied by Ultra Flex Packaging (Brooklyn, NY), the 11/2-mil low-density polyethylene pre-made bags are flexo-printed in three colors. The 10-pt SBS paperboard insert, from Cadmus Communications (Charlotte, NC), is die-cut and offset-printed in six colors with the color photo, logo, and style and fabric description. The SBS board is manually inserted into the bag along with the underwear, then the bag is automatically sealed with hot melt at Sara Lee facilities around the world.
Available at Wal-Mart, Target, Kmart and other retail stores, Hanes Her Way three-packs retail for $4.96, six-packs for $7.96.
Companies in this article