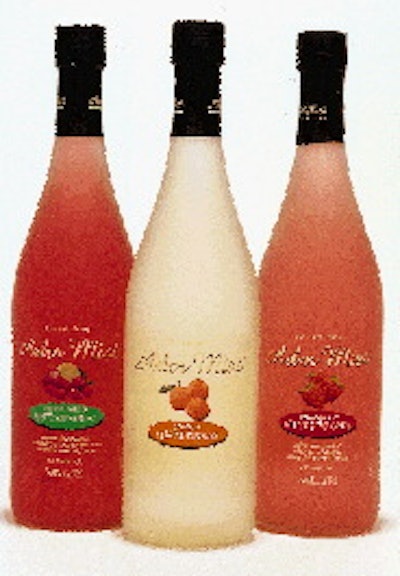 Helpful, no doubt, was the distinctive packaging: an acid-etched bottle and matte pressure-sensitive label.
"We are elated with the performance of Arbor Mist," says Rob Vlosky, marketing director for the brand. "We anticipated the brand would sell, but no one predict-ed one million cases in the first hundred days."
Ball-Foster (Madera, CA) supplies the acid-etched bottle. Spear (Mason, OH) supplies the p-s label, a biaxially oriented polypropylene with a proprietary matte coating that complements the bottle's acid-etched texture. The labels are printed in seven colors with a screen/letterpress combination press. The screen printing is used for product identification, and the letterpress is used for the process work of the fruit.
Available nationwide in three varieties, Arbor Mist retails for about $3.99 per 750-mL bottle.
Companies in this article