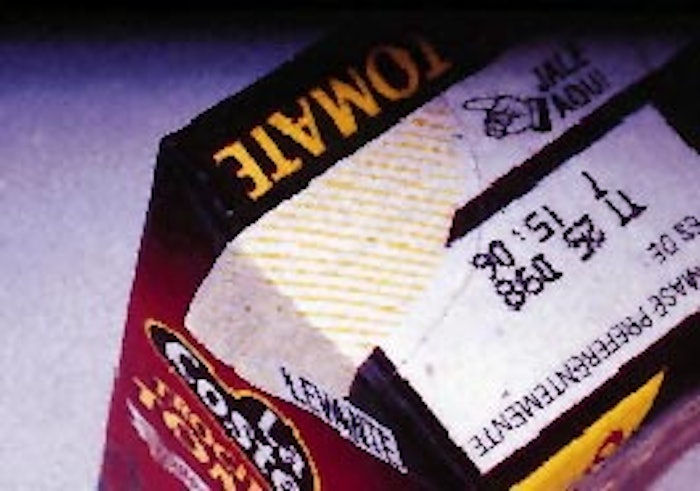 The firm is reportedly the first in the world to market containers that employ a patented laser cutting process developed by Combibloc (Columbus, OH) for ease of opening.
"Our customers really like the fact that the cartons can be opened without kitchen shears," says company owner Vicente Lopez.
From the inside-out, the nearly 14-mil carton includes a low-density polyethylene sealant layer/alcohol-based ionomer tie layer/aluminum foil for oxygen barrier/ LDPE/paperboard/LDPE. Combibloc gravure-prints the outer LDPE layer in six colors. Carton blanks are then scored by Combibloc on an infrared LaserGraver® laser cutting system from Laser Machining (Somerset, WI).
According to Combibloc, the laser provides a critical advantage compared to mechanical cutting tools because it's able to score completely through the paperboard layer down to the foil, without penetrating the foil and compromising the carton's oxygen barrier. "The foil reflects the infrared laser beam like a mirror," claims Combibloc chairman Warren Tyler.
Once scored, cartons are folded and back-seamed to form a sleeve. Knocked-down sleeves are shipped to La Coste"a's plant in Guasave, Sinaloa, Mexico, where they're opened, bottom heat-sealed, aseptically filled and ultrasonically top-sealed on a Combibloc Model CF 706 AF filler. The nearly 2"-long laser-produced score is identified by a graphic showing a hand with an extended finger pointing to the opening. Yellow diagonal lines also draw attention to the area.
La Coste"a sells three products in the laser-scored cartons. Tomato puree comes in 200- and 350-mL sizes; crushed tomatoes and diced tomatoes in puree are packed in 350 mL only. Shelf life is coded at one year, though Juan Carlos Lopez, new projects manager, and son of the owner, says the product stays fresh longer.
La Coste"a's introduction of tomato products in aseptic cartons again demonstrates the company's packaging savvy (see story on p. 38). Marketplace acceptance of the new packages has been so good, "We've nearly reached complete capacity on the machine. We will likely pay back the cost of the filler in two years," says Juan Carlos Lopez.