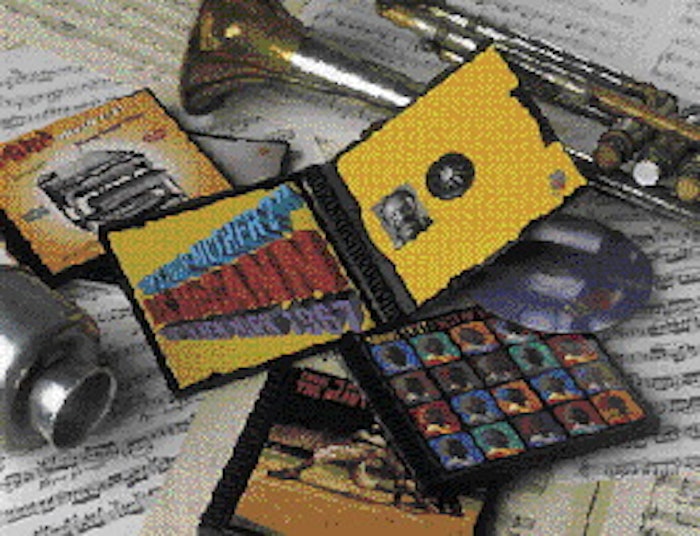 Instead of the standard "jewel box," the New York-based company uses the Q-Pack(TM) from Shorewood Packaging (New York, NY). "We wanted something eye-catching that separated us from the other labels," says Michael Weiner, label manager at 32 Records.
What 32 Records got from the Q-Pack is a case that both stands out and stands up better to the rigors of shipping, he says. "With a jewel case there can be all kinds of damage," says Weiner. "If a store returns CDs to the distributor and they have to replace the case, we get charged for that. However, the Q-Packs tend to not come back damaged at all." Weiner attributes this to the sturdier nature of the plastic.
The Q-Pack consists of two injection-molded high-impact polystyrene pieces that hinge together. By contrast, the standard jewel box consists of three pieces: a front, a back and a "hub" that holds the CD; the hub is snapped into the inside of the back piece. The hub on the Q-Pack is molded into the back piece. The Q-Pack can be made of various colors, and because the Q-Pack is two pieces rather than three, it uses 35% less plastic.
Shorewood also prints and assembles the paperboard inserts, which are 12-pt solid bleached sulfate offset-printed in four-color process' plus a UV coating. The inserts are glued to the four surfaces of the Q-Pack, with the back, outer insert wrapping around the spine.
32 Records says the cost of the Q-Packs is slightly higher up-front than standard jewel boxes plus their paperboard inserts, though Weiner could not say by how much. He says this upcharge is offset mainly because a single company, Shorewood, makes and assembles the entire Q-Pack. For the standard jewel box, printing of the paper inserts is done at a separate facility.
Companies in this article