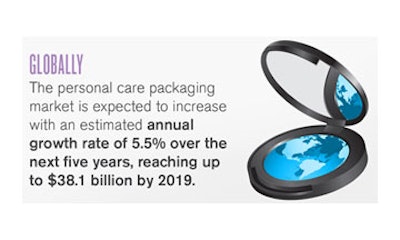 A new market assessment report from PMMI, The Association for Packaging and Processing Technologies, the owner and producer of PACK EXPO Las Vegas and Pharma EXPO 2015 (Sept. 28–30; Las Vegas Convention Center), predicts 5.5% annual growth for the global personal care packaging market through 2019. "Personal Care Market Assessment" also examines global trends, drivers, and opportunities from the choice of materials to operations.
Growth in formats and materials.
 Bottles account for 30% of the market and are expected to grow an additional 28% through 2019, making them the most commonly used container format in this market. Cartons are catching up, however, showing the greatest growth from 2010–2014 — from 9% to 19% of the market. As for materials, plastic is the most popular for personal care packaging, accounting for 61% of materials used. PMMI's study projects plastic will remain dominant, growing 12% by 2019.
Brand owners are seeking out ways to reduce waste by using less packaging overall as consumers' demand for convenience has led to a surge in smaller, more portable packages. Well-developed markets, including North America and Europe, are expected to see slower growth rates in cosmetics than developing markets such as Asia-Pacific and Latin America. Additional factors driving the personal care market include an expanding focus on sustainability, evolving consumer demands, innovations in machinery and materials, flexible equipment, and globalization.
PACK EXPO and Pharma EXPO.
 The shifts in consumer audiences and their demands make the need for flexibility even more important to personal care product packaging. To keep up with audience shifts, trends, technologies and industry challenges, personal care industry professionals can turn to Pharma Expo, produced in cooperation by PMMI and the International Society for Pharmaceutical Engineering (ISPE) Co-located with PACK EXPO Las Vegas 2015 at the Las Vegas Convention Center Sept. 28-30, Pharma EXPO's Las Vegas debut will present the event's 30,000 attendees with a variety of equipment and material solutions from 2,000 exhibitors across more than 800,000 net sq-ft of exhibit space. This industry-leading event provides access to the latest processing and packaging technologies, opportunity for cross-pollinating ideas across industries, networking with peers and suppliers, and insights from a diverse range of educational programming.
PACK EXPO Las Vegas will showcase ideas and technologies for handling these and other developments, with The Brand Zone spotlighting containers and materials innovations. To register for PACK EXPO and Pharma EXPO, visit www.packexpolasvegas.com ($30, increasing to $100 after Sept. 14).
PMMI, The Association for Packaging and Processing Technologies, is a trade association representing more than 700 companies that provide a full range of processing and packaging machinery, materials, components and containers. PMMI actively brings buyers and sellers together through initiatives such as packexpo.com, educational programs and world-class events, connecting participants in the processing and packaging supply chain with their customers around the world. PMMI produces the PACK EXPO portfolio of trade shows that include EXPO PACK México 2015, June 16–19 (Mexico City, Mexico); PACK EXPO Las Vegas 2015 (Sept. 28–30, Las Vegas Convention Center, Las Vegas, Nev.); PACK EXPO International 2016, Nov. 6–9 (McCormick Place, Chicago, Ill.); Pharma EXPO, co-located with PACK EXPO International 2016; PACK EXPO East 2017 (Feb. 27–March 1, Pennsylvania Convention Center, Philadelphia) and EXPO PACK Guadalajara. PMMI owns PMMI Media Group, a market-leading B2B media company that produces information for processing and packaging professionals, bringing together solution providers and end-users and facilitating connectivity throughout the supply chain. Its world class media brands Packaging World, Automation World, Healthcare Packaging, Contract Packaging and Packaging + Processing OEM are proven leaders in covering this diverse and dynamic marketplace, and its digital products incorporate leading edge media technologies to deliver informed, actionable business intelligence to the industry. PMMI Media Group also produces The Automation Conference, an annual education and networking forum, taking place in Chicago each spring.