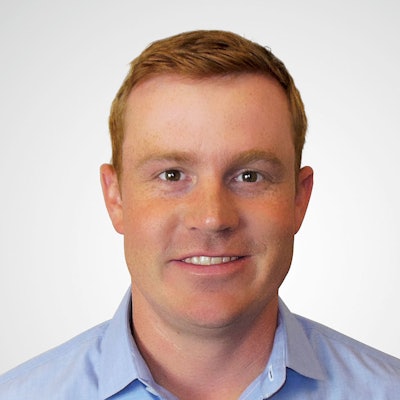 From the "why didn't someone think of that sooner" file, rPlanet Earth opened a massive, 302,000-sq-ft facility in October 2018 that uniquely houses post-consumer plastic processing, sheet extrusion, thermoforming, and injection blow-molding functions, all under one roof. The idea came from co-founders and co-CEOs Joe Ross and Bob Daviduk after they heard some sobering facts about U.S. recycling.
"We learned how much plastic was actually still buried in landfills in the U.S.; at first I couldn't believe it," Ross says. "I started digging into it, and sure enough, the recycling rates here are far below that of Europe and parts of Asia. Depending upon the location, up to 90 percent of single-use PET plastic parts are not recycled."
Hampering the adoption of rPET has been the fact that traditional recycling systems do not produce material suitable for direct food contact. Most Materials Recovery Facilities (MRFs) haven't invested in the sophisticated equipment necessary to produce bottle-grade recycled PET. So most rPET can't be used in applications subject to the FDA's direct food-contact rules.
rPlanet Earth's proprietary closed-loop process reclaims PET products from post-consumer curbside collection and turns them into containers of equal or higher value than the original.
To make this possible, reclaimed material first undergoes a process at the Vernon, CA, facility to separate PET from other polymers and non-plastic waste before it's ground into flakes, cleaned, and decontaminated. The plant's vertical integration design allows it to efficiently process and directly feed rPET resin from the decontamination reactors into extrusion systems, producing proprietary EnviroPET™ rPET sheet and forming platforms to create new post-consumer rPET thermoformed containers, clamshells, and cups, as well as injection-molded preforms for blow molding of rPET bottles. The resulting products meet or exceed FDA regulations for direct food contact.
Plus, by skipping the multiple heating and cooling steps, material degradation is avoided. This results in a new rPET material that has performance properties comparable to those of virgin PET and in packaging with better color and clarity versus standard rPET.
"Our business model involves all of the built-in efficiencies of taking a product from raw material to finished, versus turning it into a pellet, letting it cool down, shipping it somewhere, heating it up again, then re-extruding it," Ross says. "And by controlling the entire process, we're able to control the quality of the finished goods."
As a result of these process efficiencies, the production of rPlanet rPET uses 90% less water per quantity of output and consumes significantly less energy when compared to the production of virgin PET. This all adds up to rPlanet Earth being the PET packaging manufacturer with the smallest carbon footprint in the world, with a 60% smaller carbon footprint than virgin PET producers and a 20% smaller footprint than typical rPET producers.
"Because of this savings, we'll be able to compete against virgin PET," Ross says. "We're not asking the market to pay more. We're just asking them to pay on par with virgin."
Many or most large brand owners have sustainability goals to 2025 or 2030, and while Ross agrees that it's great to have sustainability goals, he notes that those goals might be virtually impossible to meet without entering into the sort of closed-loop plastic system that rPlanet proposes.
The facility has the capability of processing up to 80,000,000 lb of PET per year in its first phase. Phase two, which is already in planning, will double that. The private equity-backed company sees opportunity in negative perceptions surrounding single-use packaging, and it's stepping up its expansion plans in the U.S. and abroad. I asked Ross why this is the first of its kind.
"It's a combination of factors. Number one is the market must demand it. Everybody likes to say nice things about recyclability and sustainability, but pressure had to be applied in the right way—and that's basically by consumers and their buying decisions. It just wasn't going to happen in a broad way until the price disparity between virgin PET and rPET was removed. With this process, we think we've done that."