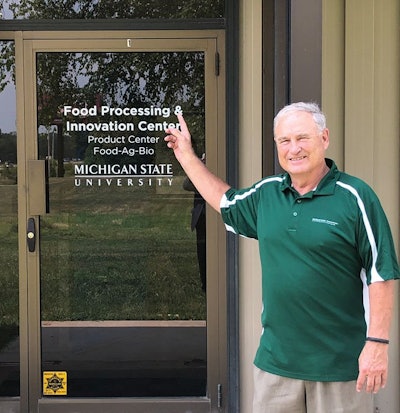 Among venders, academics, and food manufacturers, Packaging World was on hand at Michigan State University on Aug. 15 for an open house unveiling the school's new Food Processing and Innovation Center (FPIC). The center is designed as a new product development accelerator that aims to level the playing field for established start-ups and mid-sized companies strapped for R&D resources while in production. With processing, packaging, and compliance all on site, the new facility aims to be a turn-key resource for companies big and small to test products, test packages, and test markets before striking out on their own with a successful product to sell.
Packaging World talked to Bruce Harte, Senior Technical Advisor, and Jason Hofman, Facility and Operations Manager, both of the FPIC, about the genesis of the project, what they've learned along the way, why vendors and brand owners alike should take note, and what's next.
PW: What problem did the FPIC seek to solve?
Bruce Harte: The idea came out of a conversation amongst a whole bunch of folks going back at least six years. There wasn't a place where small to mid-size food or beverage companies could go to experiment with new products and commercial-type packages. There was no place for them to test the economics, the market, and the demographics of that market, the logistics, the cost functions, and all those sorts of factors. Overall, the FPIC provides a way for a food manufacturer to develop a food idea using a risk mitigation strategy. That means a company can create and produce a product, process and package it, and get it into the market place at relatively low economic risk. The FPIC fills a hole in the market need, particularly in the processing and packaging areas.
PW: How has the vision evolved over the years?
Harte: Since those early days and even within the last few years, we came to realize that the large companies also had a need for this type of facility, come in, try, play, and experiment, because their pilot facilities are generally booked. And since we're USDA- and FDA-certified, unlike many of their pilot facilities, they can sell products produced here, which gives them an opportunity to actually use it in test markets.
PW: The commercial need is evident, how does academia factor in?
Harte: The FPIC exists within the MSU Product Center, College of Agriculture and Natural Resources, and MSU Extension.
PW: Will students be involved?
Harte: We will use students as hourly and project employees. It's not an educational facility in the sense of lectures or classes. Instead, it is a commercial, small-scale production facility, and we will employ students to help on projects and to help produce products. These students will work directly with the CPGs and other smaller and mid-sized companies as well. They'll get the opportunity to not only work with product manufacturers, but package and material vendors, and equipment vendors. It's a limited number—I don't want to give the impression that we're going to have huge numbers of students out here. But for those that are hired, they will have a great experience working with these different product groups and vendors.
PW: How did the FPIC go from vague concept to vetted program?
Harte: It started within the MSU Product Center, and three of us were initially involved in developing the concept paper. Then several more people in the Product Center, MSU Center for Community and Economic Development and MSU Extension were brought on-board as we pressure tested the concept. Ideas, thoughts, and comments from these people were then incorporated into the concept paper. Once we had the concept done, we took it to various special interest groups and the people who might use the facility—product manufacturers. Vendors and regulatory people were also involved in reviewing it. We became more and more convinced that we had something that was really important and of value.
PW: That vetted concept needed a physical home.
Harte: We located an off-campus building that was originally built as a food commissary by a private individual. MSU bought that building in mid to late 1990s, and it was mixed use since then. But we realized that, since it had been built as a food commissary, it was a place that we could be housed. The building was turned over to us to use several years ago.
PW: How did you transform the building into the state-of-the-art facility it is now?
Harte: We have an individual who is a good friend of the MSU Product Center. He put up the money for an engineering feasibility study, and so we located a nearby Grand Rapids firm to do the study based on what we felt we wanted at that time. We're talking about three years ago or so. They came back with a design, in terms of what it would take to build, renovate and retrofit the building, and buy the equipment.
With the engineering study in hand, and with the basis of what the cost of the whole thing might be, we started looking for people to help fund it. We were fortunate enough to get the funding from three sources: the State of Michigan, The US Department of Commerce's Economic Development Agency, and Michigan State.
PW: How did you source equipment?
Harte: We have four pieces that were outright donated, and the rest we purchased, quite often at significant discount. The FPIC is not just an opportunity for product manufacturers, but also the equipment people that helped us out. When an OEM puts a piece of equipment in here at a discount, they know that a product manufacturer is going to see that equipment and use that equipment. And if they have a good experience with it they might get a call from them.
PW: How did you introduce the building?
Harte: The open house in August was the formal introduction of the program, and the showing of the building to the greater food manufacturing industry in Michigan, some regional out-of-state companies, and some large global CPGs. The open house was directed to the business community, so we invited all kinds of food product manufacturers to visit the facility, to see what we had, to see what we could do both from a processing and packaging standpoint and to meet our equipment vendors. We had invited all of our equipment vendors and about 85% of them, both processing and packaging attended.
However, we actually started production in May, with a company that is producing a meat-based product. From the time we were USDA approved, we've been producing and packaging commercial product.
PW: So the facility is actually up and running. Jason, what's a typical day like in operation for a company using your facility for R&D and product testing?
Jason Hofman: In our case, we have to operate under core hours of 7:00 a.m. until 3:30 p.m., Monday through Friday. Anything outside of that, we have to pay overtime to the government.
We operate under a grant of inspection, just like a regular meat plant would do. We are approved to produce red meat and poultry products under USDA inspection. We're also approved with the Michigan Department of Agriculture and Rural Development (MDARD), to produce seafood products with this company as well. We also do have approval for additional FDA-regulated products.
PW: What are sanitation processes like?
Hofman: We run the facility just like it's a federally regulated meat plant, even if we're running seafood, in that we do a pre-operational inspection on all of the equipment every day before we start production. We maintain operational sanitation during production to ensure that we can maintain a sanitary environment. We've got food safety systems in place, and have the plans in place for meat, and poultry, and seafood production.
PW: What's unique about seafood production?
Hofman: For us currently, seafood incorporates allergen monitoring. We monitor the processing environment for allergen cross-contamination to make sure that's not occurring after each sanitation process following production of seafood items. Whether we're talking about seafood or non-seafood production, we've got to develop food safety plans for each production process. That whole process of developing plans actually started long before we went into production. Tina Conklin, who is our food safety consultant, spent a great deal of time writing up many of the initial food safety programs, and standard operating procedures. Then we developed the HACCP plans from there, so that we had all of the necessary food safety programs in place when we started production.
PW: What about impending FSMA requirements?
Hofman: Having the meat industry experience really helps us understand all of the FISMA regulations as well. There's a tremendous amount of similarity between the preventative controls for human foods requirements, and what the meat industry has been required to do for 20 years. It helps us to understand all those rules by applying the concepts of what we've learned and done through the meat industry. That's how we try to run it. It is very similar to what we've always done in the meat industry to maintain food safety.
PW: And the facility is performing?
Hofman: Yes. The inspectors have been complimentary of the facility, the process, everything that we've got in place. As far as the facility goes, we haven't run into anything yet that isn't a typical, normal, plant start-up issue. Anybody who understands plant start-ups knows that you have little hiccups here and there. Nothing out of the ordinary that you wouldn't see anywhere else in a plant start-up.
PW: What are next steps?
Hofman: The next step is to build a roster of companies, big and small, that want to utilize the facility. Interested companies should get in touch with Matt Birbeck, FPIC Director, to book the facility [birbeckm@msu.edu]. A lot of them have already seen the facility and have expressed a tremendous amount of interest in it, and so booking is the next step.
Harte: The philosophy behind this place isn't that a company would stay here forever. We want companies to learn how to produce a product that can be commercially sold, and then after a certain dollar amount of sales, they have to move on and build their own plant, buy their own equipment, and somebody else takes their place. And so it's not a facility like a co-packer, where you can stay forever.
That's another reason why it's important for equipment vendors to participate in the FPIC. Fledgling companies will imagine and hone a product here, succeed, then have to produce it on their own with their own equipment. If they learned on your machine, you're going to get the call.
For more information about the facility, visit www.fpic.msu.edu.
Vendor involvement strong
Many packaging and processing vendors were involved in donating equipment or providing it at significant discount in support of the project. A full photo gallery is available within this article. Attending the event were:
Doug Brown Packaging
ALLPAX
FoodLogistic
Point 5 Packaging
Minipack America
AccuTemp
Hollymatic
JBT
EPAK Machinery
Formula Packaging
Enercon
Reiser
Raque Packaging
SelectPack USA
PAC Machinery
All Fill
Mettler-Toledo
Maincausa
Highlight Industries
Galloup Industries
DeVille Technologies
Anderson M.H