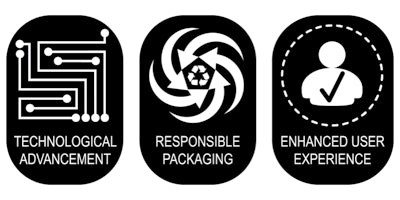 We were asked to evaluate all entries with three criteria in mind: technological advancement, responsible packaging, and enhanced user experience.
There were countless impressive packaging solutions from around the globe. I was awestruck by the range of technological advancements—from engineering ingenuity to finishing techniques to intelligent packaging to material developments and applications, many of them having sustainability as a key driver. Equally inspiring were those packaging solutions that function responsibly and effectively across the entire supply chain.
My ah-ha moment came when I realized how little the consumer knows about all of the strategies, technological advancements, productivity improvements, and distinctive innovations behind product packaging. How can we expect consumers to value packaging and brands when we do little if anything to enlighten and inform them about what went into their development? Consumers are well aware of the teams that develop apps, advertisements, commercials, movies, and so many other communications media, yet they have little understanding of the complicated and strategic world of packaging.
I propose that we take the concept of a sharing economy to a new level and start to share more detailed information about the focused strategic objectives behind packaging. Why not inform consumers on-pack about the resources, materials, and production processes that lie behind successful packages? Why not identify via a symbol system what is notable about a specific packaging format? (Examples of symbols that might be used are shown.) After all, informing the consumer of the technological advancements of a package can enhance brand equity. Let's identify the new environmentally friendly adhesives that ease resealability, the smart packaging that integrates multiple technologies, the advances in printing that provide opportunities for greater end-user communication, the innovations in coatings and laminations that enhance the consumer experience, and the packaging that reduces waste in e-commerce channels. These are noteworthy and shareable highlights. Why shouldn't we tout them?
Consumer communication always adds value to the brand. This on-pack identification system would grow awareness and appreciation of the brand's packaging and allow consumers to make responsible choices. Transparent self-identification on-pack will push every brand to consider responsible packaging, sustainability, and end user experience at the forefront of their business strategy.
With the task of getting a product into the hands of a consumer becoming ever more challenging, providing the consumer with an understanding of the choices that were made in the development of the packaging would serve every stakeholder well.
Marianne R. Klimchuk (Marianne_klimchuk@fitnyc.edu) is Associate Chairperson, Associate Professor, Packaging Design Dept., Fashion Institute of Technology.