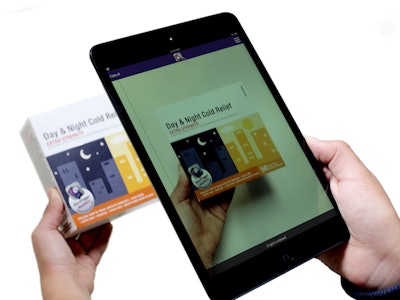 An app that takes advantage of the growing popularity of smartphones and tablets may also help alleviate challenges packagers face in designing their packages to incorporate marketing and regulatory messages—and work with the packaging to actively engage consumers in the process.
The StoryTrigger™ app, launched this fall by Switch United, seeks to attact health and wellness-focused consumers with enhanced health and personal care product packaging that combines object recognition technology and interactive content.
Visit the StoryTrigger "Package the Experience" website or watch the video and you can follow the steps on how to download the free app, scan any package with the StoryTrigger logo and instantly connect to information that could include medication/dosage instructions, increase copy size, offer free coupons, and ideally help improve patient adherence to medication regimens.
Catherine Winckler, co-founder of Switch United, and a partner in StoryTrigger™ Inc., a Switch United company based in Vancouver, Canada, says, "It's time for the healthcare industry to set its own standards for information and entertainment. Through initiatives like the StoryTrigger, health and wellness brands will have their own new interactive packaging network with brand packages as the new content channels broadcasting the relevant information that today's health consumers demand, instantly on their smartphones and tablets."
In writing about the app, Winckler says, "Every great idea begins with a simple 'What if?' In the case of digital innovators, Switch United, it was a question that came out of the studio's two decades' history with packaging and POP for Nintendo of Canada and its multiplatform and branded content creation work for leading television producers and networks.
"What if the package could 'talk?' the team posed to each other. What if the package itself could become the next consumer 'network' channeling contextually relevant and valued content to the smartphones and tablets of today's information-seeking health products consumer?"
Winckler adds, "What if I could actually see the fine print on these over-the-counter medications in the same way I choose font size with my e-book; or better yet, what if I could watch an engaging 'how-to' video from a doctor so I get it right the first time and don't over-medicate, or worse yet, make a mistake while medicating myself or a loved one?"
She cites research estimating that 125,000 people with treatable ailments die each year in the U.S. due to not taking their medications properly. "StoryTrigger addresses two aspects of these sobering statistics head-on—the need for initial easy-to-understand information on any consumer health or personal care product in order to make an appropriate purchase decision and easy-to-follow information on product use and enjoyment."
How it works
Once downloaded from the Apple or Android stores, the StoryTrigger app allows the consumer to hold their smartphone or tablet up to any static package with the StoryTrigger icon. Immediately (through object recognition technology), the mobile device 'recognizes' the package, says the company, "and an experience is triggered and delivered straight to the consumer's screen. The package now becomes a network, delivering instant content such as 'how-to-use' product videos, critical medical information, mini-games or fun product tie-ins, geo-located coupons, or links to geo-located services like pollen counts or UV ratings, audio instructions, or the global ability to read the pharmaceutical fine print in the font size and language of choice."
The company says, "Relevant, value content created in consultation with the brands will be key to every StoryTrigger experience. For the package manufacturer, StoryTrigger is an innovation to introduce to their brands. For the brand manager, it's a differentiator on the shelves and a valuable tool in the war against consumer non-compliance and misuse. For the consumer, it is valuable, shareable, and timely content that introduces the package as the gateway to information and entertainment. And because the information lives 'in the cloud' it can be changed on the fly, or integrated into a brand's seasonal campaign scheduling."
Switch United points out that this is "an idea that has been waiting for both technology and consumer acceptance of mobile to come together. Research and advisory company Gartner reports that smartphone and tablet sales will grow to over two billion by 2015. Augmented reality technologies are already being embraced by high-profile consumer brands like McDonalds, IKEA, Wheaties, and Coke."
It remains to be seen whether pharmaceutical manufacturers will embrace this technology and actually invest in it given their financial and regulatory challenges. Consumers delight in smartphone and tablet technology, and we've seen people in locations around the world use their smartphones to scan a package to determine if it contains an authentic or fake medicine. Another factor that comes into play here is the increasing number of products making the switch from prescription-only to over-the-counter status. Here, companies could employing packaging to incorporating these advanced technologies to deliver product differentiation, build brand equity, and drive sales. Stay tuned…