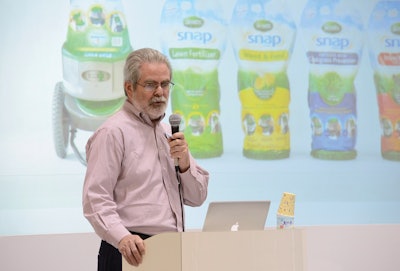 It was Karaoke time and Springsteen was in the air on our houseboat dinner cruise of Tokyo Bay when I was reminded how lucky I am to be part of the international packaging community. Not because I was slayin' 'em on Born to Run in a duet with fellow IPPO journalist Per Nordberg of Norway (more on Mr. Nordberg and IPPO in a minute). As much fun as that was, what had me feeling so good about packaging were all the things I'd been seeing at Tokyo Pack earlier that day and the day before.

As this goes to press Pack Expo 2012 is days away. I have little doubt that that show will serve up another massive dose of innovation that we'll be writing about for months to come. But in the meantime, here are a few highlights from Tokyo Pack and a few thoughts on developments talked about there that packaging professionals had best keep an eye on:

• Near Field Communication (NFC)—It's a short-range wireless connectivity technology that, according to one Tokyo Pack source, will soon be woven into the fabric of people's lives. It allows a device, usually a mobile phone, to collect or read data—at close range—that's been written to another device or NFC tag. Think about, for example, a talking medicine package. When read by an NFC phone, an NFC tag on a medicine package can speak dosage instructions to elderly patients who have trouble complying with their drug regimen. Or think in terms of supply chain management. With NFC capabilities now in most new phones, a whole new era of supply chain management is dawning, one in which data can be downloaded wirelessly without any need to buy a device to do the scanning. Our everyday phones will do the scanning. In the track and trace arena, this is expected to bring much lower costs on things like data loggers.

• Interactive packaging—Where package design is concerned, color and form are no longer enough. The rules of consumer engagement now dictate that brands need more. Interactive packaging is that "more," and it will be delivered to the marketplace by way of intelligent packaging, interactive mobile marketing, and augmented reality technologies—among other things. Consider these two examples of interactive packaging on display at Tokyo Pack: www.bit.ly/pwe00433 and www.bit.ly/pwe00434.

• Controlled permeability for produce—You may have "nanosecond" on your list of terms you understand and can use in a meaningful sentence. But how about "picosecond" and "femtosecond?" These are the laser technologies that South Korea's Dae Ryung Precision Packaging's Co. uses in its 02 Fresh Film concept to puncture minute holes in flexible film in precise micropatterns so that carefully controlled permeability can be achieved. It's said to be a step forward from more conventional methods of mechanical perforation using minute hot needles. It's also said to be better than using CO2 laser to create microscopic holes. Extended shelf life for fresh, respiring produce is the goal. On display at Tokyo Pack was a 300-g portion of bean sprouts that, thanks to the COMPANY NAME technology, have a one-week refrigerated shelf life rather than just several days.

• Bubbles slowing you down on the filling line?—Anyone who is filling carbonated beverages understands how problematic bubbles can be. What if they could be eliminated instantly by a burst of laser power? At the Tokyo Pack booth of Toyo Seikan was a demonstration of precisely this sort of thing. Once again, you gotta see it to believe it: www.bit.ly/pwe00435.

As for my friend Per Nordberg, he's one of a dozen or so packaging journalists and members of the International Packaging Press Organization who were the guests of the Japan Packaging Institute at this year's Tokyo Pack. Six of us had to sing for our supper, so to speak, by delivering a presentation on trends in our respective markets (the photo included here shows me at the Tokyo Pack podium). On behalf of IPPO, thank you, JPI, for your kind hospitality—and a fun evening on that houseboat cruise.