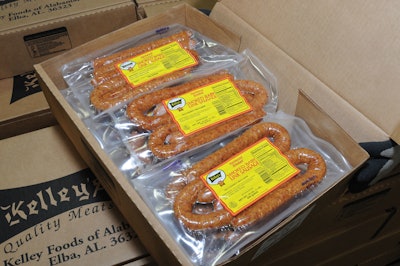 Kelley Foods of Alabama, Inc., Elba, AL, produces natural-casing smoked and fresh pork sausages in several varieties, as well as hams, bacons, and hot dogs, both for retail and foodservice markets, primarily in the Southeastern U.S. Retail products are sold under the premium "Kelley" brand and value-added "Tasty" brand.

Over the years, Kelley Foods has implemented a range of quality assurance inspection procedures both for incoming and outgoing products. But, due to the lack of floor-space in the more than 50-year-old plant, which houses five production lines, adding inspection equipment on-line was problematic.

Processing takes place in one room, and then the products are transported to two separate rooms for bulk packaging or vacuum packaging. Most of Kelley's retail products are vacuum packaged in thermoformed packaging, giving them a 90-day refrigerated shelf life. Institutional and foodservice products also are vacuum packaged, but typically are sold frozen and shipped in cases with plastic liners to prolong transport and shelf life.

Kelley Foods had been using an on-wheels metal detector to execute its end-of-the-line product inspections. The metal detector had to be rolled from one retail and bulk packing station to another to check for contaminants. The approach was labor-intensive, time-consuming, and cumbersome.

Inspection SOS

Late in 2010, Kelley Foods management tasked Sheri Kutch, quality assurance manager, and Kenneth Hattaway, production manager, to review manufacturing practices and make a recommendation for a product contamination inspection solution that would help the company enhance food safety. Kutch recalls, "Not only did we have floor-space challenges and multiple packaging approaches, but we also had approximately 300 SKUs at the time and more than 25 different shipping case sizes. It was no surprise to us that only two companies responded to our request for assistance."

A staffer from Capper-McCall Co., manufacturing representative for Thermo Fisher Scientific, visited Kelley Foods to gain a better understanding of the company's inspection needs.

Notes Kutch, "Up until that time, we were focused on multiple metal detectors as the ideal solution. But the reps from Thermo Fisher Scientific encouraged us to consider a single X-ray inspection system as a way to accommodate our multiple challenges and elevate our product inspection capabilities."

Capper-McCall, working closely with Thermo Scientific sales and technical staff, recommended the C800, the largest aperture/conveyor model in the Power X high-performance X-ray line. The system delivers 900 watts of power, making it ideal for large, dense product inspection jobs such as boxed meats. The C800's X-ray detection beam geometry area features a 14.7"-tall aperture and a 27.56"-long, 33.46"-wide conveyor surface, well-suited to accommodate Kelley Foods' broad range of case sizes. Inspection speeds are up to 230 feet per minute.

The idea was to locate the Thermo Fisher Power X C800 X-ray unit in Kelley's cooler (32º F) section adjacent to the loading dock. Palletized product would be brought to the staging area, and an operator would remove the cases and put them on the X-ray conveyor for inspection. Assuming no contaminations (such as metal, stone, bone, glass, and plastic) were found, the boxes would be re-palletized and stretch wrapped for shipment.

Voting for X-ray

After more than six months of research and review, Kelley Foods committed to the Thermo Fisher Scientific C800 Power X unit. It was installed at the Elba, AL facility in December 2011. But a significant amount of programming work still needed to be done before the unit could become fully functional.

Kelley Foods had reduced the number of SKUs down to 225 from 300. But the programming process still was very complex, due to the varying composition of the meat products and multiple packaging configurations—including 25 case sizes and weights (from 6 lb to 70 lb). After very carefully considered custom programming, the C800 was up and running at Kelley Foods by March 2012.

Kutch reports, "The X-ray unit has exceeded our requirements. We can detect contaminants down to 1 mm in products under 12 pounds, and down to 1.5 mm in our larger products."

In addition, the X-ray unit's weighing capability helps Kelley Foods identify over and under packs and can indicate when upstream equipment isn't functioning properly. "For example," says Kutch, "if our vacuum packaging isn't sealed properly, more atmospheric gas will be present, and the case weight will be off, will fall outside of the programmed case density parameters, and will be rejected."

Kelley Foods appreciates the fact that Thermo Fisher Scientific did not shy away from the company's packaging inspection challenge. Says Kutch, "We had a production environment with hundreds of SKUs and a wide variety of products and case packs. Our expectations were high, and Thermo Fisher Scientific delivered and didn't let us down. Our Thermo Fisher Scientific service technician continues to follow up to make sure things are going well. This is the true definition of partnership."
Companies in this article