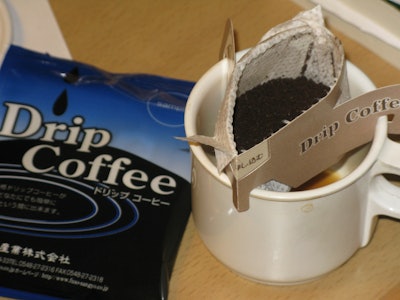 • Single-serve coffee
The single-serve coffee concept was shown at Fuso International's booth. It's a tandem machine that's fed two rolls of material. The first roll carries premade primary packages that are flat blanks joined together bandolier-style. All the machine needs to do is separate the individual units, square them up, and auger-fill them with fresh ground coffee. Fed in from the second roll is what appears to be a metallized polyester. This material goes through a f/f/s station where the freshly made unit of coffee gets enclosed in the metallized polyester. Included in the process is a backflush of nitrogen that helps preserve the coffee's freshness. Consumers buy the product in multipacks and brew one cup of coffee at a time by removing the coffee pack from the outer pouch material, unfolding it, and placing it on a coffee mug. All that's left is the pouring of boiling water into the cup. Fuso International was showing the latest, fastest version of this single-serve coffee concept, which runs at 80 units/min. According to Fuso International Chris Wang, the firm is now looking for ways to bring this technology to the U.S. market.
• Clever retail-ready format
At the Crown Packaging booth, a great deal of emphasis was placed on a retail-ready packaging concept that Crown calls the Baritt Box. As the photo shown here indicates, in-store presentation is clean and tidy. Just as important is how easily the in-store personnel are able to remove the top of this package from the tray of primary packs and place the tray on its retail shelf. It's a simple matter of pulling on two tabs and lifting the top off. To see it in action, go here. Judging by the many samples at the Crown Packaging booth (including the one shown here), Japan's Aeon supermarket chain has taken to the concept in a big way for its TOPVALU store brand.
• Breakthrough in pharma?
At the Coesia booth a conversation with Hapa's James MacKenzie revealed that the Hapa 800 LabelJet high-end CMYK printing system is bringing huge advantages to the packaging operations at Heel Healthcare in Baden-Baden, Germany. Operating at a breakthrough speed of 800/min, the LabelJet is a fully digital piezo inkjet system using drop-on-demand technology to print pre-cut, pressure-sensitive labels. The solvent-free UV-curable inks used on this system provide sharp print quality in single or multicolor spot or CMYK process printing applications. At Heel, the LabelJet is integrated with a Bausch & Stroebel ESA 1025 liquid filler for filling of glass vials. A label-rejection functionality that is part of the system prevents the possibility of putting a bad label on a very expensive drug.