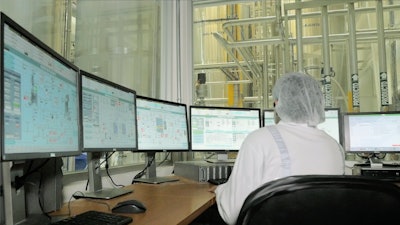 The difficulties in handling and processing granulated sugar—because of its physical and chemical characteristics—were a decisive motivator for Sucroliq to develop liquid sugar back in 2008. This homogeneous product meets the specifications required by large consumers and is ready to be used efficiently in food and beverage as well as pharmaceutical production lines.
After some years of research in collaboration with the Center for Research and Assistance in Technology and Design of the State of Jalisco (CIATEJ), Sucroliq patented its development and today is a leading supplier in Mexico and around the world. "Initially, we achieved development in the laboratory. By scaling it to an industrial level we were able to make the product work, so we decided to patent the process globally," says Enrique Bojórquez, president and CEO of Sucroliq.
Today, the producer has several plants throughout Mexico—in Amecameca, Apodaca, Irapuato, and Mexicali. Nearly 200 employees work to produce about 800 tons of liquid sugar a day, meeting the demands of the market, including household food and beverage names such as Kellogg's, Nestlé, Danone, and Constellation Brands, in addition to companies specialized in flavorings. Sucroliq has established itself as a reliable and high-quality supplier in these sectors and has achieved a solid presence in the U.S. and other countries.
An innovative and sustainable product
The impact of liquid sugar use on food companies has been significant, including production costs reduced by as much as 15% because of better handling of raw materials. Liquid sugar also enables the elimination of additional process steps, simplifying operation and reducing production times, resulting in greater efficiency and responsiveness to market demand.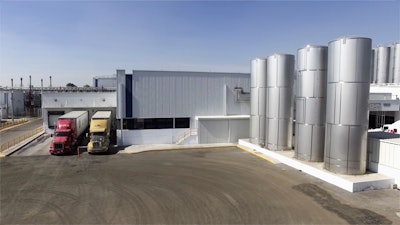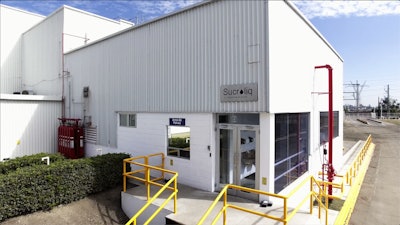 The process of developing liquid sugar was not without difficulties. The homogenization of the product faced the enormous challenge of responding to the differences in taste of the waters in different facility locations. Initially, for example, the liquid sugar changed the flavor of products because of the large amount of salts and minerals found in the water.
This is where the research work came in with CIATEJ. "We began to demineralize the mixture of water and sugar to achieve the quality necessary to meet the demands of customers such as Coca-Cola and Pepsi," Bojórquez recalls.
In addition to liquid sugar, Sucroliq offers customized formulations that integrate flavors, to access market segments with greater added value. "We would like to reach 100%—or at least more than half—of our products sold through specific formulations as a way to distinguish ourselves and make us different for our customers," says Eduardo Partida, managing director of Sucroliq.
Fluid processes
Manufacturing processes have been designed to better adapt to the specific requirements of each customer. Through a model of sustainability and continuous improvement, Sucroliq has maximized operational efficiency and minimized environmental impact. Operations have optimized factors such as electricity and gas consumption, especially in steam generation processes, seeking to improve efficiency.
The process begins with the automated emptying of large bags. Granulated sugar is taken to a dissolving unit and mixed with water to achieve the desired concentration, a critical step that determines the quality and consistency of the final product. To ensure a clean and high-quality liquid sugar, the syrup is filtered in tanks equipped with auxiliary filters that effectively remove impurities. The filtered liquid is temporarily stored in balance tanks to preserve quality until it is ready for distribution.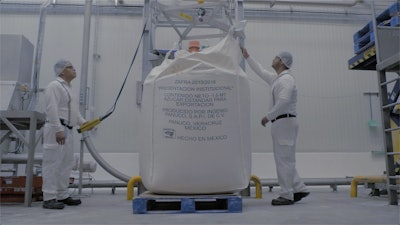 Process monitoring is a top priority for Sucroliq, advanced in real time through 257 devices and from a dedicated control center that acts as the nerve center of operations. Operators closely monitor tank operation, fluid levels, valve operation, and truck movements, ensuring a seamless production process.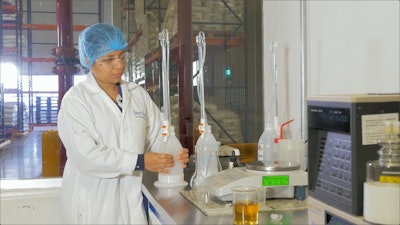 In the hygienic process, crucial for maintaining the quality and safety of liquid sugar, Sucroliq applies regular cleaning procedures using hot water and steam clean-in-process (CIP) techniques, as well as chemicals supplied through a dedicated pipe.
Digital transformation
Sucroliq's commitment to precision, automation, digitalization of its processes, and quality has strengthened its position as a leader in liquid sugar production. In the consolidation of these capabilities, collaboration with Siemens and other suppliers such as Alfa Laval, Endress+Hauser, Della Toffola, and JD Edwards ERP has been fundamental, in alliances that allow the company to guarantee today a reliable and efficient operation. "We use the most advanced automation technology from Siemens, supported by specialized equipment from other manufacturers, which differentiate us from other plants with similar objectives," Partida says.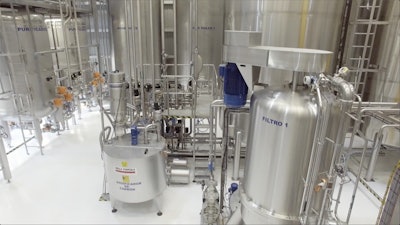 An essential motivator for the digitalization of Sucroliq plants was to respond to specific market demands. "We try to do something tailored to the particular needs of customers, through fully automated micro plants, under a model similar to what Tetra Pak does," Bojórquez explains. "We are waiting for the technology to continue evolving and to be able to continue developing the model to make the processes more compact and to be able to access solutions more tailored to customers."
Sucroliq began its automation journey when it launched its plant in Irapuato in 2015. During conception, Key Industry 4.0 technologies were considered throughout the plant's conception, including Big Data, cloud computing, Industrial Internet of Things (IIoT) and cybersecurity. This technological configuration distinguishes the Irapuato plant, integrated with Danone's production facilities, from other similar companies worldwide.
The modern automation technology, developed in collaboration with Siemens, includes the Siimatic PCS-7 system, which allows complete automation of processes, from dissolving sugar to filling finished product tanks. Automatic process management includes tasks such as impurity removal, clarification, filtration, temperature control, and concentration monitoring, leaving human intervention only in sporadic cases, such as deep filter cleaning and overall process monitoring.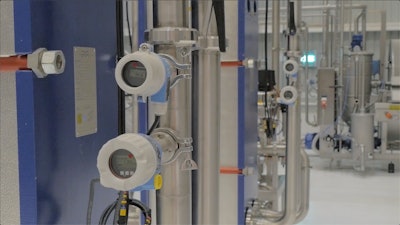 To handle Big Data, Sucroliq implemented solutions such as Siemens' MindConnect hardware for collecting data from programmable logic controllers (PLCs), as well as Siemens' WinCC Unified and Endress+Hauser Netilion systems for information management. Cloud computing has also played a crucial role, with tools such as MindConnect, Netilion, and JD Edwards ERP facilitating efficient data storage and analysis. Cybersecurity has also been a priority in this implementation, with platforms such as Siemens MindSphere, Oracle Cloud, and KIO Admin, in addition to security management services that ensure the safe operation of the plant and the protection of sensitive data.
The strategic alliance between Sucroliq and Siemens—along with the collaboration with Danone—has been fundamental for the successful implementation of the IIoT model at the Irapuato plant. These joint efforts have provided Sucroliq with operational assurance, industrial safety, access to cutting-edge technology and an average 13% reduction in digital transformation costs.
"The reliability of a globally renowned brand like Siemens has been vital," Bojórquez says. "We needed to partner with someone who could give us security, while constantly focused on innovation and technological change."
The investment to fully automate the Sucroliq plant in Irapuato was significant but has been considered by its managers as indispensable to improve the efficiency and quality of processes. From the perspective of digitalization, Sucroliq has a clear vision of its future approach. First, it aims to achieve perfect integration with Sucroliq's enterprise resource planning (ERP) system for more efficient management and smooth data exchange between all departments, optimizing real-time decision-making.
Another crucial objective is to further integrate the inventory system and the implementation of RFID technology, which will provide greater control and precison in managing products and raw materials, improving traceability, and reducing the possibility of errors.
In addition, Sucroliq will focus on optimizing control panels using the MindSphere platform, a tool that will enable advanced monitoring and analysis of data collected at the plant, providing valuable information for strategic decision-making and identifying opportunities for improvement.
A smart approach
Faced with the unstoppable rise of digital transformation, Sucroliq recognizes the disruptive impact of artificial intelligence (AI) and its potential to transform the management of administrative and production operations. The company is taking the first steps in an AI project for its plants, with a gradual implementation perspective.
"It is a very interesting time for digitization, as we are experiencing a new boom, Bojórquez says. "A paradigm shift is coming with the issue of artificial intelligence, which is still incipient, but it is developing more and more quickly and will allow us to have tools more quickly and access to technologies that we did not even imagine before."
Initially, the objective will be to incorporate AI to each team separately, improving its performance through algorithms that allow the automated modification of the operating code based on the results of previous cycles. "Once the main teams and processes are able to carry out their own improvement, we will continue with the overall process of the plant, sharing data between the teams," Bojórquez says. "This project will surely take a few years."
The visit to Sucroliq's Irapuato plant makes it clear that digital transformation in manufacturing operations is not only inescapable, it is affordable in Latin America. "It is very interesting that this process shows small and medium-sized companies like ours that Industry 4.0 is something possible, and it invites them to believe that it is key to invest, as a way to stay ahead, get out of the comfort zone, and differentiate from the competition," Bojórquez says.
Companies in this article