Amidst the chaotic and almost uncertain state of manufacturing—caused by COVID-19, the generational workforce shift, and the growing skills gap—All-Fill is embracing the chaos and thriving because adaptation and risk propel them. 
All-Fill has been providing auger fillers to the packaging industry for more than 50 years. But over the last couple of years, the OEM has exploded in growth and capabilities. From facility renovations to unique acquisitions, and a strategic branding move, All-Fill's young management team is the definition of "new collar" manufacturing. 
Richard Edginton founded All-Fill Inc. in 1969 after working as a shop manager for Diehl Mateer Company, a U.S.-based auger filler manufacturer. All-Fill gradually gained market share in the auger filler space until it became an industry leader by the mid 1980's. In 1999, Glenn Edginton, Richard Edginton's son, took over as All-Fill's president until 2014. While 90-year-old Richard Edginton still visits All-Fill every Wednesday to interact with employees, the company is now led by Richard Edginton's grandsons Ryan Edginton, president and CEO, and his brother Kyle Edginton, who is the company's executive vice president. 
"We consider ourselves very fortunate that we have this opportunity to run such a great business," says Kyle Edginton. "We owe a lot of credit to the previous generations like my grandfather and my father." 

Blending tradition and new school techniques
Since Ryan and Kyle Edginton started leading All-Fill in 2014, they have flipped the script on old-school, traditional manufacturing. Thanks to the new sales and acquisition approach Ryan and Kyle have developed, the company has gone from $18 million in annual revenue to more than $40 million over the past six years.
"Because I'm 40, and Kyle is 38, we have an unbelievable opportunity," says Ryan Edginton. "While our company is rooted in old school principles and values, as younger guys that are now leading the show, we don't have anything inhibiting us from growing. We are able to make decisions because it looks and feels right, and we get to offer a different perspective by pairing the technological marketing aspect and aggressive sales techniques to cater to the culture of our buyers right now."
Ryan and Kyle Edginton don't answer to a board of directors, which enables All-Fill's ability to play big when it comes to acquisitions and sales. And because of this approach, the All-Fill team has had to adopt a workflow that they refer to as 'organized chaos.' A lot of decisions are made at opportunistic times, which means that the OEM and its employees not only need to be nimble and flexible, but Ryan and Kyle Edginton have to be hands-on in all aspects of running All-Fill.
"We can be aggressive when it comes to price, lead time, or rearranging the schedule because we are hands on in running our company, and we control the whole entire process," Ryan Edginton says. "We manufacture everything under one roof, which gives us added flexibility." 
It also gives them a unique approach. For example, being vertically-integrated and manufacturing and stocking an excess of inventory precludes All-Fill from implementing lean techniques, a common practice used by many manufacturers to minimize waste and maximize productivity. 
"It would be virtually impossible for us to follow lean manufacturing guidelines, because if we did, we would lose our number one selling point, our aggressiveness and that ability to make decisions on the fly," Kyle Edginton says.
All-Fill receives many custom orders that frequently evolve past its original plans, which is why the OEM needs to adapt on the spot.
"There are always things that are thrown your way, and our company culture has embraced the organized chaos," Ryan Edginton says. "There is always a plan to follow from the start, but when it comes down to making the customer happy, sometimes you have to walk onto the floor and say, 'We're doing it this way now.' We are always focused on how to keep making people happy to get the next sale. We are only as good as the next work that we book."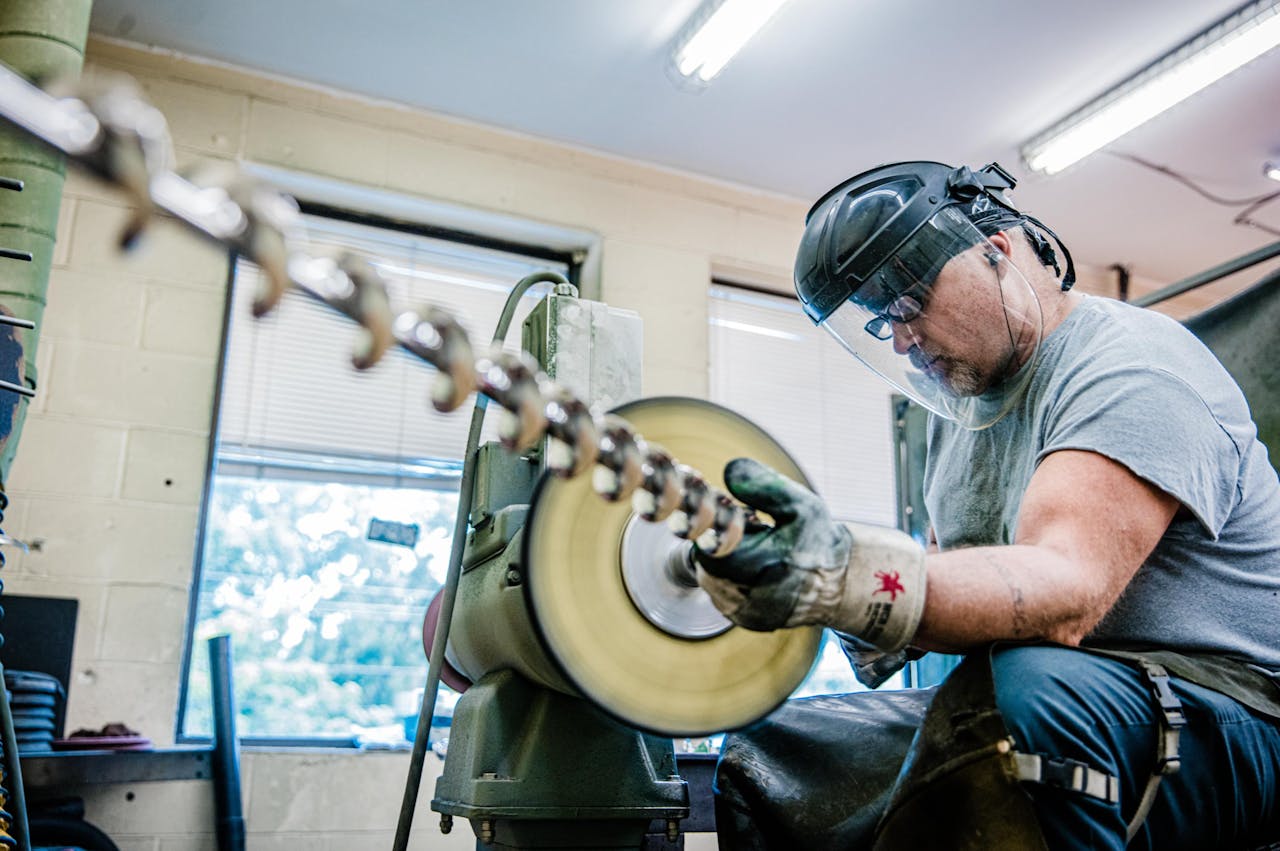 All-Fill is vertically-integrated and keeps a stock of spare parts and materials in-house to speed up lead times.
Culture is key
And All-Fill's people get it, in fact, the OEM's high retention rate reflects employee commitment and satisfaction. 
"You take care of your own," Ryan Edginton says. "You have to understand what makes your company tick. When we interview someone, I let them know that we want All-Fill to be a place where they can have a career. We want them to be here for the long haul like the people who have been here for 20, 30, and 40 years."
Many All-Fill employees watched Ryan and Kyle Edginton grow up. Being a family-owned business, All-Fill employees of all ages naturally feel like they work with their friends and family. And technically, they do. The OEM has built a dedicated workforce based on employee recommendations. And the people who have been at All-Fill from the beginning infuse the company's new, progressive culture with tradition and loads of tribal knowledge. 
"Our people are phenomenal at what they do, but more importantly, they're our friends," Kyle Edginton says. "I consider the majority of these people here to be my good friends in life, both inside All-Fill and outside. It's really neat to be able to have that dynamic."
But working at All-Fill looks completely different these days than it did 20 years ago—not only in terms of higher revenue and expanded equipment offerings—but the OEM's headquarters has also undergone a major facelift. 
Stepping into All-Fill's Exton, PA headquarters feels similar to walking into a tech start up—or a Google office, as Ryan Edginton likes to compare the facility to. In 2018, Ryan and Kyle Edginton embarked on a $2.8 million facility renovation that modernized all aspects of the office. The OEM replaced closed off walls with open spaces and floorplans, glass windows and doors, and colorful accents and collaborative spaces that not only appeal to All-Fill's people, but also the younger, incoming workforce.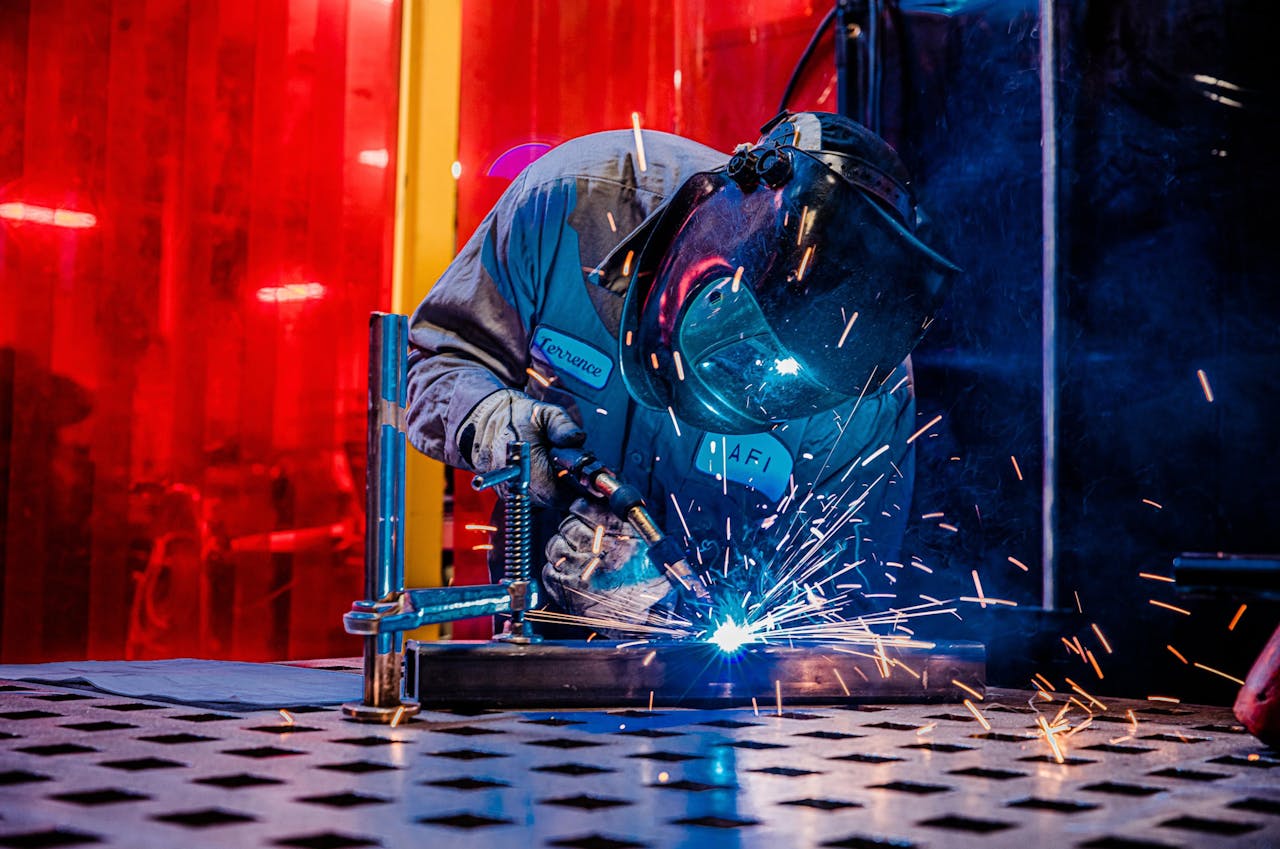 "It helps us attract the younger generation because they walk in here and they can relate to it," says Kyle Edginton. 
And while there was some resistance from the OEM's employees at first, the renovation has boosted productivity, morale, and collaboration.
Learn more about All-Fill's renovation and see how other manufacturers are appealing to the incoming generations at: oemgo.to/cultureshock
"It's the glass," Kyle Edginton says. "It's boosted morale because you're not stuck in a typical office. We went from traditional four-wall offices with very little light from the outside to now having a bright facility and more collaborative spaces."
Not only does the new office space enhance employee morale, but another reason why All-Fill employees look forward to coming to work is because they have multiple opportunities to learn different aspects of the business as the OEM expands its capabilities. 
"Sometimes people are hired to do one specific task, but when we make an acquisition, the opportunity opens up for somebody that was on one career path to shift lanes and, all of a sudden, have their own division to run," Ryan Edginton says. "Our people want freedom and the opportunity to make a difference. So, we let them do their thing. You have to trust your employees. I think that's also what makes our company so great."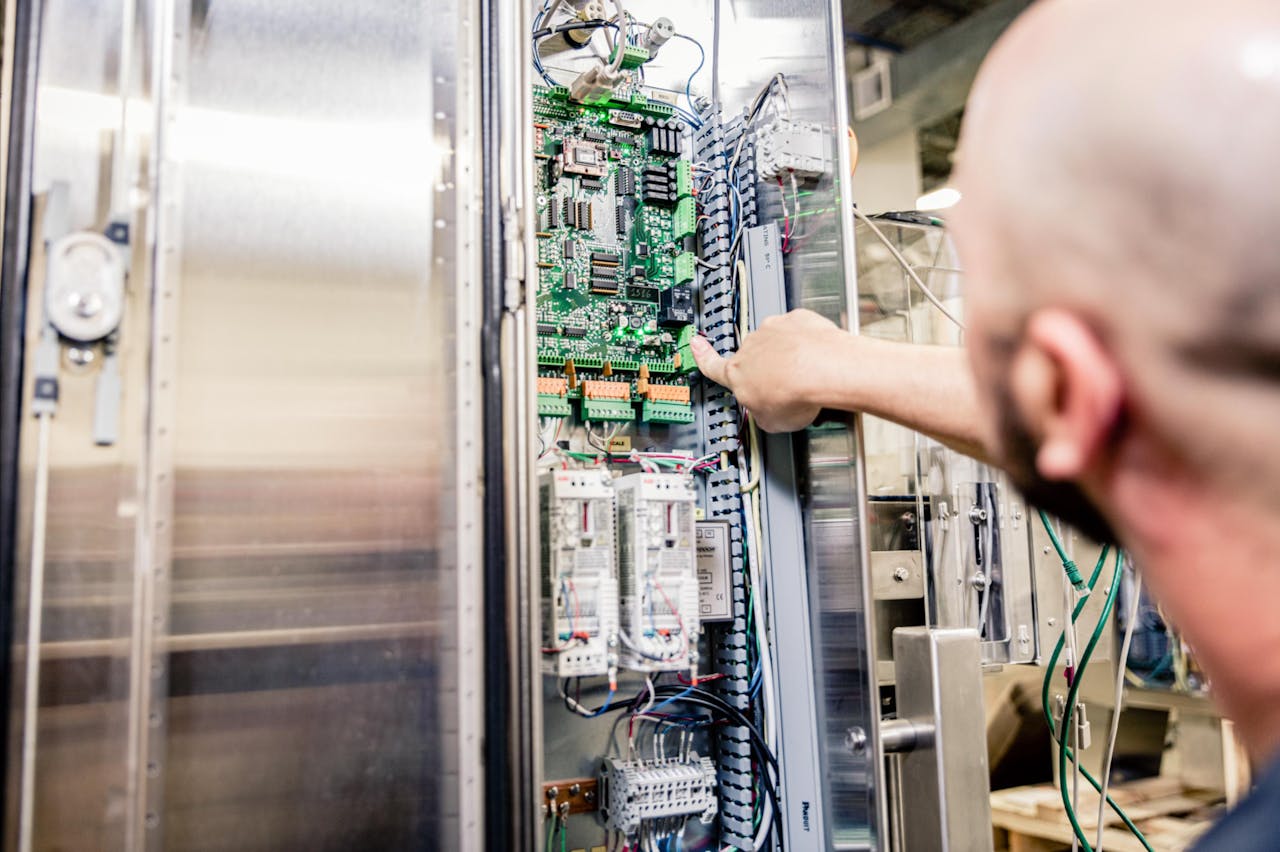 Beyond auger fillers 
And over the past couple of years, All-Fill employees have had multiple opportunities to shift lanes as the OEM has been on an acquisition roll. 
Offering more than the standard auger filler was always in All-Fill's DNA, as the company developed its Alpha Checkweighers product line early on after its inception. But the OEM really began expanding its offerings in 2011 when it acquired V-Line vertical form fill seal machines (vf/f/s) from Magnum Systems and rebranded the company as Avatar VFFS, paying homage to the original name of the company founded by Brian Klughardt. Over the past 10 years, All-Fill has grown its vf/f/s offering from $1 million in annual revenue to more than $6 million in annual revenue today. 
"What we learned from that acquisition was that we need to have control and have these companies under the All-Fill roof," Ryan Edginton says. "It is not easy to move a company and all of its operations across the country, but Brian taught our entire company about these vertical form fill seal machines, and now it's a great part of our product lines."
All-Fill then acquired Re-Pack labelers in 2018 and moved the operation from nearby Lansdale, PA to Exton, PA—bringing along four full-time employees including the company's founder, Rick Surprise. 
"It was 2018, and I was thinking about how else we could grow All-Fill," Ryan Edginton says. "The company was doing about $30 million in annual revenue, and then we found Re-Pack and Palace Packaging Machinery. Kyle and I made calls to Palace and Re-Pack, and they were both received really well. They turned out to be a perfect fit for us."
And in early 2019, All-Fill acquired Palace Packaging Machinery, which manufactured rigid bottle unscrambler machines. The OEM also relocated 12 full-time Palace employees to their Exton, PA facility. In addition to the business, All-Fill acquired Palace Packaging Machinery's 35,000-sq.-ft.-facility, which was located 10 minutes away in Downingtown, PA. That facility just underwent a $2.2 million renovation project and now serves as the home of Auger Fabrication, All-Fill's sister company, which supplies new and replacement augers, conveyor screws, feeder screws, and flight material for powder and bulk solids material handling equipment. Eric Edginton, the executive vice president of Auger Fabrication, runs the new facility. 
"We knew from experience that we had to move Palace Packaging's operation under our roof, but unlike most of the acquisitions, we acquired 12 employees, too," Ryan Edginton says. "Suddenly, we had the challenge of assimilating these new employees to our culture here. It takes about a year for everybody to understand the All-Fill culture."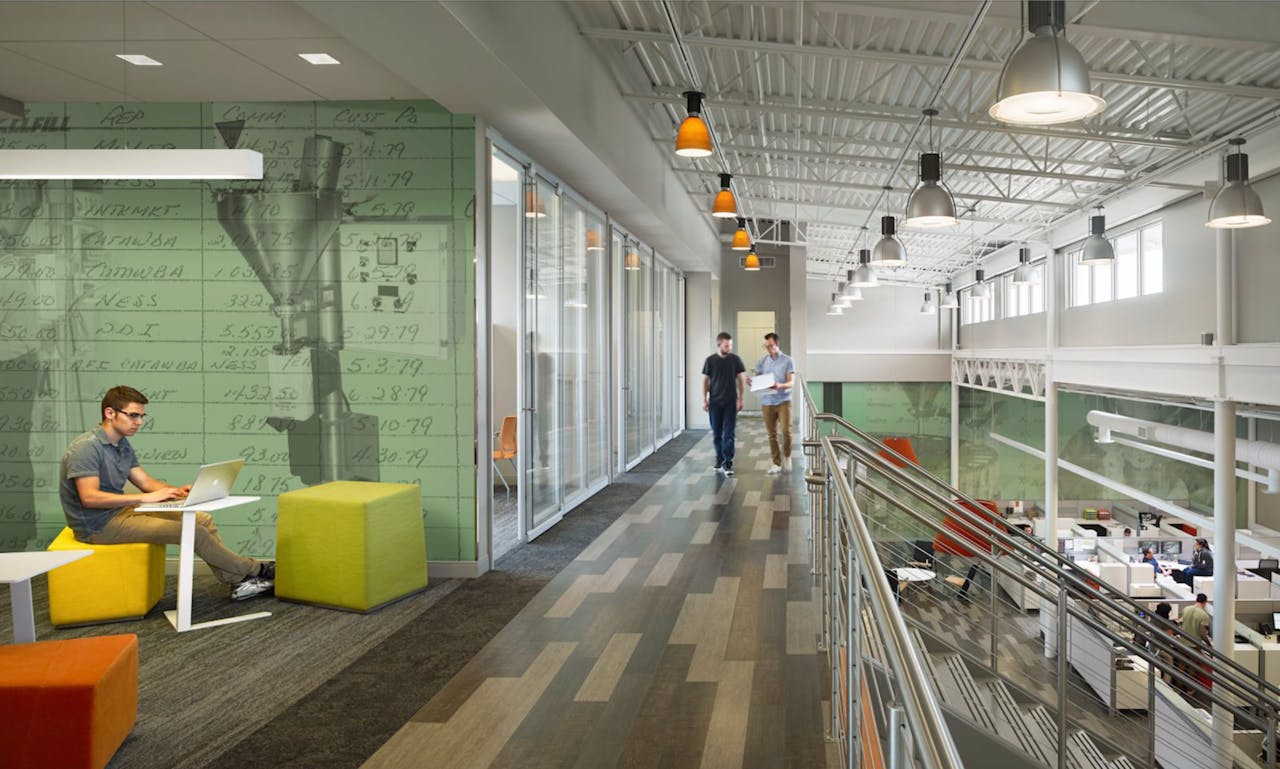 All-Fill's new facility design prioritizes open and collaborative spaces, accent colors, and amenities that boost employee morale.
And in a big move this year, All-Fill decided to eliminate the names of all the brands they had acquired and developed in order to consolidate everything under the All-Fill name. 
"At first, we were hesitant to make such a bold change," Ryan Edginton says. "But we realized that the brand equity was in the name All-Fill."
To the same tune of expanding its reach, the OEM recently opened an 8,000-sq.-ft.-office for service and sales in Phoenix, AZ, which is run by the Edginton's cousin and All-Fill's executive vice president Chris Trabbold. The Phoenix office was set up to better serve its customers and partners out west and provide quick delivery machinery.
"The beauty of that building is that it has the potential to be anything we want it to be," Ryan Edginton says. "I could see that possibly being a small manufacturing facility. But for now, 50% of the machines that we sell, we would consider them as stock. So, that facility will distribute our stock machinery to the West Coast."
So, what's next for All-Fill in terms of acquisitions or new product lines?
"It's an interesting question because to be honest, these last two, most recent acquisitions kind of just fell into our lap," Kyle Edginton says. "I don't know what's next, but I know what we need to do right now is get better at what we already have. We've changed a lot over the last couple of years, and we now have a lot of moving parts."
And to that, Ryan Edginton adds, "We're not actively seeking any more acquisitions, but with that being said, if something was to ever come up, we're also never afraid to pull the trigger."
Having acquired a full suite of equipment that complements All-Fill's auger fillers and checkweighers, the OEM also considers itself an integrator. The Edginton's see integration as a popular demand from customers today, and they say while they do integrate sometimes, they are more often selling product lines individually rather than complete systems. 
"We're pretty much at the point where we have become a one-stop shop for any customer," Ryan Edginton says. "There is so much opportunity out there for what we already have in-house right now."
And while All-Fill has many capabilities under one roof, the company also relies on its membership with PMMI, The Association for Packaging and Processing Technologies, to boost its connections, integrations, and partnerships even further. 
"We can go to PMMI meetings and PACK EXPO and build relationships with a capping company or with a film supplier for the labelers or vertical form fill and seal machines, and we can establish these relationships," Ryan Edginton says. "If I'm putting together an entire line, and I need a capper, I can go to one of my contacts that I made through PMMI in order to get their equipment integrated with our lines."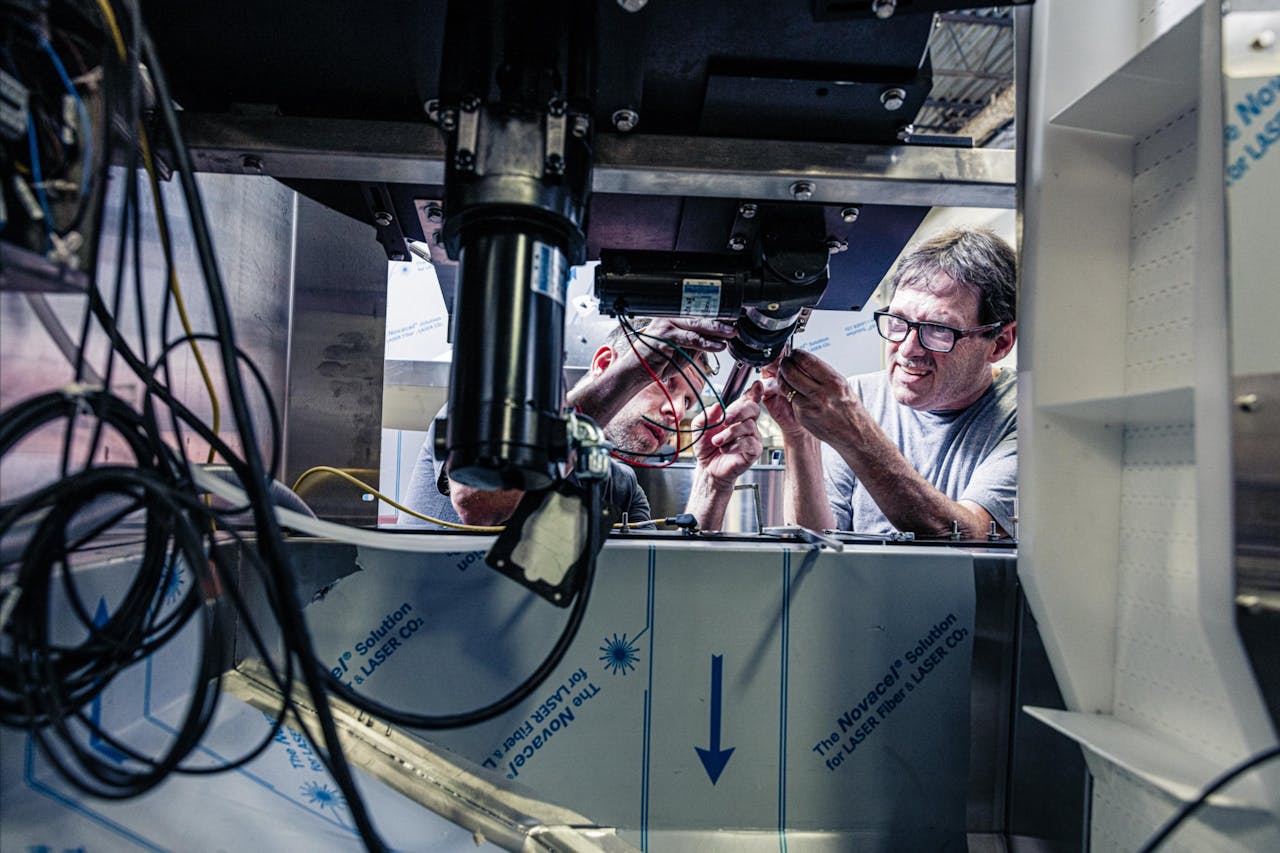 All-Fill employees work on the inside of a bulk hopper that feeds a PB Series bottle unscrambler.
Embracing a fail-forward approach
Looking forward, the Edginton's are optimistic about how the industry will innovate as it adapts to the effects of COVID-19, specifically with data acquisition. 
"A lot of times, we're selling our checkweighers with data acquisition technology, and we are actually feeding that back to remote computers and databases so that our customers can evaluate their production cycles," Kyle Edginton says. "We see reporting real-time data as being one of the advances that are actually really beneficial to us and our customers."
When asked about the projects that the All-Fill team is most excited about, Ryan Edginton quickly chimes in. "The projects that we always remember are the ones that we initially fail on and then make work."
One application in particular that he mentioned was for a fish tank filter for Spectrum Brands. The filter sits on the back of an aquarium and captures all the waste from the fish. All-Fill was tasked with dispensing charcoal and black carbon into the frame of the filter and then ultrasonically welding it to capture the carbon inside. 
"When we first started doing this, the quality just wasn't there," Ryan Edginton recounts. "We visited the customer at one point, and I remember the president telling me, 'Ryan, thank you for coming down here, but you're going to be leaving with your machine.' But when you stick to it, you make it work, and you give the customer a reason to believe in you, it really makes you feel good. What makes you feel even better is when they come back and order another duplicate system."
Companies in this article