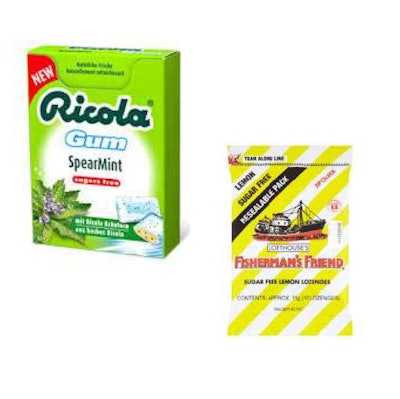 According to "Global Packaging Trends," a new report compiled by Euromonitor International for PMMI Business Intelligence, declining sales of print newspapers in Japan drove news outlets like Mainichi Newspapers to introduce a 'news bottle' with the daily news wrapped around one of Japan's most popular mineral waters. The brand did this each day for one month to entice millennials to see the value in print newspaper.
A new 'sound cap' bottle introduced in India for the mineral water brand Himalayan Sparkling was designed to play the sound of the wind from the upper reaches of the Himalayas when the consumer twists open the cap of the bottle, providing consumers with an elevated brand experience.
Gum, mints, and medicated confectionery are small impulse products that consumers preferred to carry with them, so manufacturers have begun to introduce these products in sleeker designs with resealability features. Fisherman's Friend launched its product in Indonesia in 2018 with a zip/press closure for easy resealability while preserving product freshness. Similarly, in Thailand, Ricola launched smaller pocket pack sizes in 2018 that are better suited to on-the-go lifestyles.
Spotlight:
·     Salty snacks packaging is expected to witness a dynamic CAGR of 9.4% in the Asia Pacific from 2018 to 2023, owing to new product development aimed at health-conscious consumers. Flexible plastic packs remained the most common packaging among mass brands owing to its low cost. In contrast, more premium brands used board tubs to better protect their product and convenience for consumers.
·      The most common pack types for sugar confectionery in 2018 was flexible plastic due to the format's efficacy at protecting products against the region's hot and humid climate. This pack type is expected to lead over 2018/23, as it is also commonly used as secondary packaging for products that have PET jars or folding cartons as their primary packaging.
·      PET bottles, the traditional pack format for bottled water, owned a prominent share (67.9%) in the category in 2018. The expected growth of 9.2% CAGR over 2018/23 is likely to be driven by the increased demand for bottled water over sugary beverages.
·      Flexible plastic, the traditional packaging format for drinking milk products, is likely to lead in the region from 2018 to 2023, with an expected dynamic growth of 8.0%.
Source: "Global Packaging Trends," Compiled by Euromonitor International for the Packaging Machinery Manufacturers Institute (PMMI). PMMI Members can download the full report for FREE, here.
Australian Packaging & Processing Machinery Association (APPMA)
PMMI, The Association for Packaging and Processing Technologies
UCIMA, Italian Packaging Machinery Manufacturers Association
Symop, French Association for Manufacturing Technologies
Make plans to visit PACK EXPO East in Philadelphia, March 3-5, to see on-trend packaging machinery and materials.