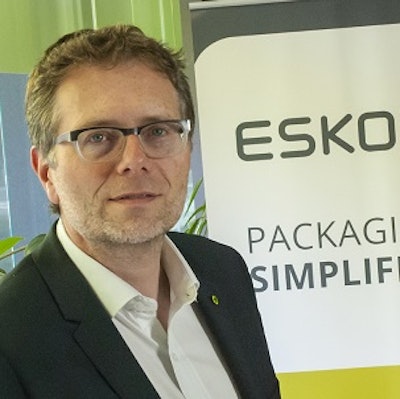 De Roeck, who leads and coordinates the market research at Esko, said that digital transformation is still "very hot on the agendas of managing directors." De Roeck points out that digital transformation is a continuous process that should focus on expectations. He said, "How can you make sure that whatever you do actually meets the expectations that you have in the first place for digital transformation? What are your expectations? And how do you ensure that those expectations actually turned into a reality and not just a theoretical exercise?"
The conference will highlight brand owners and how their supply chain use digital print, but not just focus on the press alone. Said De Roeck, "At the start of this conference we were more focused on the digital printing technology, and machine-feature oriented discussions. But as the conference evolved, we were talking more and more about not just the press room but also about what happens around the printing press." Order intake, organizing sales teams for success and case studies from brand owners on their to-market process are some of these topics, and De Roeck said the conference provides a "full 360-degree perspective on digital print for packaging."
Another hot topic is that of mass customization, which digital print is highly suited for. "There's a lot of opportunity in mass customization and that is where we will see a lot of benefits from digital printing," said De Roeck. When discussing the Share a Coke campaign as the first example of mass customization, De Roeck said "I'm sure in hindsight we will look at it as all of a sudden the opportunity to talk in a more personalized way to a consumer now actually becomes possible with digital print. The Share A Coke Campaign was not a use case of personalized packaging as many hundred thousand of these individual names were printed. However, it was a campaign that hit the nail right on the spot because it was talking to the consumer in a very personal way."
De Roeck said he sees the market growing in this direction, and in particular by using combination printing. "What we've witnessed at the most recent Labelexpo in Brussels, is that there was not a single conventional narrow-web flexo press manufacturer that did not have a combination printing option in their portfolio. A printing press, which combines conventional printing technologies with digital printing – a digital inkjet station in most of the cases. So, this is actually strengthening this observation that mass customization and the unique features of digital print - whereby every sheet can be different, are used in combination with conventional techniques for those items in the packaging design, which stay constant, which do not change in a run." De Roeck also said that digital print "with its unique capabilities of extremely short set of times and no set up waste between different jobs" has pushed conventional press to innovate – reducing set up times and reducing substrate and ink waste.
To learn more about Smithers Digital Print for Packaging Europe 2019 click here. Packaging World readers receive a 10% discount with code DPPEU19PMMI.
To see digital printing materials and machinery solutions in the US, visit PACK EXPO East in Philadelphia, March 3-5, 2020.