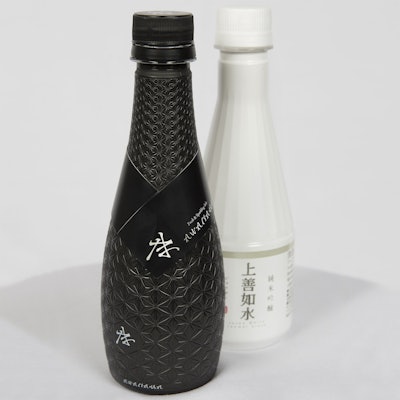 The ultimate Diamond Award winner among the fine group of Diamond Award Finalists was the Functional Film Complex PET Bottle from Japan's Dai Nippon Printing Co. (DNP). The product managed to tick virtually every box among judges' criteria, and it represents a thoughtful use of packaging as problem solving medium—something all packagers and packaging solution providers aspire to.
The issue
Both in Japan and in North America, glass bottles are the incumbent standard containers for high-end beer, wine, and spirits (among other beverage options), both for their barrier properties and the sense of quality imparted by glass's hand-feel and weight.
But the weight, rigidity, and sturdiness that provides a sense of luxury is also a drawback in terms of sustainability in transport, and glass's brittle nature means breakage is always an issue throughout the supply chain.
The case for PET is not without its drawbacks, either. In Japan in particular, to ensure that PET bottles are effectively recycled, it is not permitted to add color to PET or to directly print on PET bottles. For that reason, use of shrink labels—usually with a light-shielding function to protect light-sensitive contents—has become the standard for many beverages. This means that, whether on store shelves or in a cooler at home, bottles are indistinguishable in form and hand-feel, and brands are challenged to differentiate themselves.
A new player on the stage
Japan's Dai Nippon Printing Co. (DNP) designed its DNP Functional Film Complex PET Plastic Bottle, the overall Diamond Award Winner of the 2019 Packaging Innovation Awards, to deliver the functionality of glass without the drawbacks of breakability, and costly shipping. The DNP bottle is lightweight, recyclable, and virtually unbreakable, all with a glass-like, luxurious look, according to the company.
But most uniquely, the DNP Functional Film Complex PET bottle is available with an overlay of oxygen-barrier polyolefin film that is introduced directly onto the preform, prior to blow molding. The film is bonded to the underlying PET using the pressure of blow molding. Because only pressure is used in bonding—no adhesives are used—the film layer can be easily peeled or removed from the PET substrate for recycling of the PET bottle.
This allows full film coverage, right to the bottom of the bottle without any gaps, which according to DNP, cannot be done with the aforementioned shrink labels. This film and PET bottle preform can be blow molded into a fully formed bottle even if the film is of an opaque color. Furthermore, the resulting unique package design has a subtly tactile, bumpy surface that serves as point of differentiation from other products that may use traditional shrink sleeves.
First commercialization
There's a growing international interest in sake, Japan's native rice wine delicacy. One variety of Japanese sake in particular, called Nama-Zake, is traditionally served unpasteurized to yield a fresh taste and fruitier aroma. But due to quick taste deterioration without pasteurization, and limitations of fast distribution, it was very difficult to export Nama-Zake.
Niigata University's School of Pharmacy and Applied Life Sciences saw High Pressure Processing (HPP) as a way around this. It formed a Nama-Zake consortium, called Pressure Nama-Zake, that used the heat-free method of removing potential pathogens to launch the AWANAMA brand of Nama-Zake.
The HPP technique requires flexible packaging. Even filled, glass generally can't withstand the hundreds of thousands of pounds of pressure applied to it, much less transmit the pressure to its contents to treat them. Of course, PET bottles could do the job, but they had a perception problem.
"The conventional PET bottle has an image of containing utilitarian goods and beverages, and it is seen as not fit for premium goods," says Jack Kawabata, DNP America LLC. "Besides, PET bottles with added coloring are prohibited in Japan. Therefore, a conventional PET bottle was not fit for AWANAMA, which is a luxury product that is sensitive to light."
That's where the DNP-developed Functional Film Complex PET bottle came in. The bottle's PET nature withstands the HPP process. The design also protects contents from light because the polyolefin film would cover a PET bottle entirely, including the bottom.
"Also, the Functional Film achieved a cool, special black color which conjures up Japanese traditional and historical images," Kawabara says. "The Functional Film Complex PET can mimic the geometrical, cut-glass design (in Japanese, Kiriko, visible on the black bottle) that provides a uniquely Japanese aesthetic."
Primary sustainable benefits
"The primary feature is to make a colored bottle without using coloring agents," says Kawabata. "In the recycling stream, after the outer colored film is separated from the transparent PET bottle, the remaining PET flakes reduce the burden on the bottle-to-bottle recycling system and the transparency of the PET is maintained."
Although Europe, North America, Japan, etc., each has its own recycling system, there are two methods to separate the outer colored film from the PET bottle according to DNP. The consumer can cut off outer colored film and put it into garbage bins, or a material recover facility (MRF) can use a specific gravity separation method in a water tank after bottle is crushed. Of note, the specific gravity of the DNP bottle's outer film is less than 1.0 due to its polyolefin material.
"Although the separated outer film would be handled as multilayer film (flexible film) depending on regulations in each country, mono-material film would be applied easily to the recycling system in each country," Kawabata says. "If it is a multilayer film, we acknowledge that it is applicable to recycling [in a] circular system along with recycling principles that Europe and North America will set in the near future. In Japan, most of the products would be in thermal recycling after collection."
Reduction in product and package weight
The new DNP Functional Film Complex bottle can follow several supply channels. It can be fully blowmolded at DNP and shipped directly to a beverage-filling customer, or it can be shipped as a preform to a converter with blowmolding capability.
Provided the filling plant has a blow molding machine, inline molding is possible even if it is shipped as a preform. So in comparison to the fully formed bottle, improved transportation efficiency and reduced CO2 emissions are anticipated.
As a part of reducing CO2 emissions, PET bottles are becoming lighter in general. However, that can mean, at least for some products, a shortened expiry date. The DNP bottle's full coverage film provides improved barrier properties, and by combining the film with this kind of lightweight PET bottle, it is anticipated that the expiry date can be maintained or even extended.
Next applications
Japan's Shirakaba Sake Brewery will release one of its most popular varieties, Kamizen Josui Junmai Ginjo 300ml, as a portable plastic bottle product in the fall of 2019. It will be using DNP's Complex Bottle to reproduce the original glass-bottle shape of the Kamiyoshi Josui series since it has excellent oxygen barrier properties, and has improved light-shielding properties due to its exterior white film, maintaining its contents' quality. DNP will strengthen sales of its DNP Functional Film PET bottle and aim for annual sales of 1 billion yen in fiscal year 2020.
Judges' Criteria
In evaluating entries, jurors considered excellence based on the following criteria:
Technological Advancement
• New and/or clever use of materials
• New technology integration and/or rapid technology development/prototyping
• Creative configuration and/or assembly
• Increased production and/or distribution efficiency
Responsible Packaging
• Responsible use of materials
• Clean and efficient energy consumption
• Reduction in product and package waste
• Benefits the greater good
Enhanced User Experience
• Fulfills a user need and/or provides an enhanced experience
• Aids product merchandising and motivates purchase
• Enables greater product accessibility
• Establishes a preferred price/value equation
The 2019 Packaging Innovation Awards represent the packaging industry's longest running, independently judged competition. They honor innovations in packaging design, materials, technology, processes, and service across the entire packaging value chain. Inaugurated in 1986 by DuPont, the program's tradition of excellence is now proudly continued by Dow.
Calls for entry began in January 2019, with judging beginning in May and winners ultimately announced on Sept. 17, 2019. Packaging World editors were granted early audience with award finalists, prior to their announcement, in order to provide timely reports on winning innovations.
Companies in this article