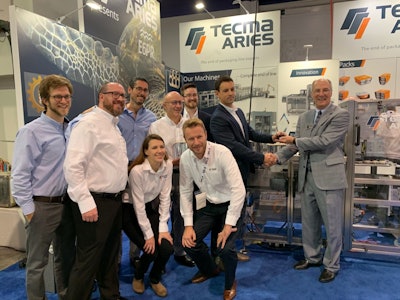 The winners of the inaugural Technology Excellence Awards at PACK EXPO Las Vegas and Healthcare Packaging EXPO (Sept. 23–25; Las Vegas Convention Center), owned and produced by PMMI, The Association for Packaging and Processing Technologies, are Berry Global (Booth US-7233), TECMA ARIES (Booth LS-6078), Sleever International (Booth LS-6079), UltraSource (Booth LS-6338) and Belco Packaging Systems (Booth C-4603).
After months narrowing down over 100 qualified entries, two days of onsite voting allowed PACK EXPO Las Vegas and Healthcare Packaging EXPO attendees to be the ultimate judge of the most innovative new technologies at the show. Attendees are encouraged to visit the booths of these five winners of their respective categories to see these new and exciting materials and technologies first hand.
"This is the biggest PACK EXPO Las Vegas and Healthcare Packaging EXPO in history and the biggest packaging event in the world this year, making this a truly outstanding accomplishment for these winners in their respective categories," says Laura Thompson, vice president, trade shows, PMMI. "We are proud to continue to convene the best the industry has to offer and look forward to the Technology Excellence Awards growing stronger each year."
The 2019 Technology Excellence Award Winners
Baking & Snack:
Entour™ Front of Store Recycle capable Bear Naked Granola Package, Berry Global, Inc., (Booth US-7233)

As part of the Entour™ family of products, this barrier film offers all the functionality and performance of traditional barrier films while remaining PE recycle stream compatible. This coex film designed has excellent moisture and oxygen barrier that can go through the store drop-off PE recycle stream. The film can be surface printed or used as a component in a lamination.
Beverage & Dairy:
Applicator Machine for E6PR™ Rings, TECMA ARIES, (Booth LS-6078)

The E6PR™ is the first eco-friendly four- and six-pack ring made from by-product waste and other compostable materials. They are designed to replace the traditional plastic rings on 12 oz. and 16 oz. cans. Made from compostable organic materials, the ring does not cause any harm to wildlife and can withstand humidity, moisture, transportation and stress in the distribution channel.
Meat/Poultry/Seafood:
Matrix Ultra Labeler, UltraSource, LLC, (Booth LS-6338)

The UltraSource Matrix™ Ultra Labeler is an innovative and unique film labeling machine that provides high speed and accurate performance in a portable and affordable design. The Matrix™ Ultra Labeler quickly and accurately applies labels to the top film on a horizontal rollstock form/fill/seal machine. Standard film labelers are stationary and require expensive mounting brackets.
Pharmaceuticals/Medical Device:
BM 2030 PC, Belco Packaging Systems, Inc., (Booth C-4603)

The Belco PC Medical Tray Sealer Series provides Data Acquisition Software (DAS) for complete traceability of every seal cycle. Designed to ensure the highest level of consistency and repeatability, Belco's PC units are the machines of choice for companies requiring bar code reading, real-time package data management and the most exacting precision controls.
General Packaging/Not Specified/Other:
LDPET, Sleever International, (Booth LS-6079)

The LDPET product permits 100 percent recycling of shrink sleeved bottles while producing a completely pure R-PET resin, a prerequisite for the manufacturing of new R-PET bottles.
This year's PACK EXPO Las Vegas and Healthcare Packaging EXPO features 2,000+ exhibitors over 900,000 net square feet of exhibit space from 40+ vertical industry markets and nearly 130 countries.
PACK EXPO Las Vegas and Healthcare Packaging EXPO is open now and runs through Wednesday, Sept. 25. Registration is available onsite or at packexpolasvegas.com and hcpelasvegas.com.