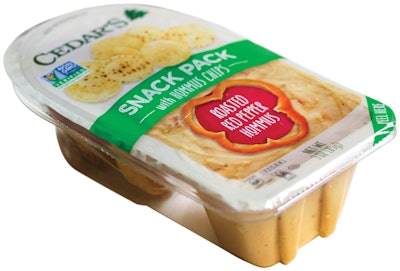 In the early 1980s, Beirut natives and U.S. immigrants Abe and Layla Hanna noticed a lack of good Mediterranean food in New England. Equipped with authentic old-world Lebanese recipes for hommus (it's spelled with an 'o' over there, so it will be in this article as well), taboule, and similar classic sauces and condiments from the Levant, the two launched Cedar's Foods, Haverhill, MA, in a bid to introduce their native cuisine to the mainstream North American palate. The company name stems from the Lebanon cedar, a tree native to the mountains of the Eastern Mediterranean that's emblematic of the Lebanese landscape.
Over its nearly 40 years in business, the company has nurtured its own Cedar's Foods brand while at the same time building a robust co-manufacturing and co-packing business. Ultimately, Cedar's Foods' multi-level campaign, exposing hommus to consumers on the national brand, store brand, private label, and owned brand levels, worked to grow the business, and the acceptance of hommus into the American mainstream.
Brand positioning requires speed-to-market
Due its unique manufacturing capability, specifically its commitment to food-safe, clean-label pasteurized products, Cedar's Foods has carved out a unique and identifiable niche for itself within the natural and organic grocery channel. "According to industry data, Cedar's is the national brand leader in the chains that lead in this channel," says Sam Wolman, Sr. V.P. Sales & Marketing at Cedar's Foods. Cedar's Foods' hommus performs well in U.S. conventional grocery channel as well where it is the number two brand in terms of units sold. As the category has matured Cedar's growth has exceeded that of the category overall largely as a result of a creative marketing campaign, heavily digital, that implores hommus lovers to "know better hommus."
"One of the things about our capabilities as a co-manufacturer for private label that's critical, and this ties into packaging machinery vendor selection, is our speed to market," Wolman says. "One of the consistent comments we get from our co-manufacturing partners is how rapidly they can commercialize a product when they're working with us. And this is often a product that starts from scratch with no equipment in place. Our senior management is involved in all aspects of product commercialization, and through our partnerships with packaging machinery vendors, we can execute and commercialize our customers' products in record fast time."
Cedar's Foods is able to accommodate brands' with entirely dedicated packaging lines, rather than a percentage of capacity on an existing line. The company's current 87,000 sq. ft. Level 3 SQF production facility is churning out 1.7 million pounds of hommus per week, with the lion's share being part of co-man/co-pack projects. It will soon be able to offer even more space and dedicated lines in the form of an entirely new, Level 3 SQF-certified, 125,000-sq-ft. facility that's under construction. Capacity for the new facility will be 2 million pounds of hommus per week, and already a third of that capacity is allocated. And it needs the space. The company has grown at a steady pace of 25 to 30% per year for the last decade years. The growth is based, at least in part, on Cedar's Foods' ability to turn projects around quickly.
"A brand-new project that hasn't been developed yet? We could take that from a thought to actual production within nine months," says Nick Scangas, COO, Cedar's Foods. "That is almost unheard of for many major brands. They give us a year and a half timeline, and we can halve that. To do so we have to rely on OEM vendor relationships. This involves getting the equipment in place and installed, tested, and ready to go, and nine months is always the key to the timeline in getting the project going."
NuSpark Inc. Toronto, is one of those such OEM vendors. Really standing out was a nifty recent custom-machine build that has since extended to four, soon to be five installations within Cedar's Foods. The challenge here was single-serve snack packs, a growing trend in snack food.
Grab and go pack starts a trend
The full spectrum of Cedar's Foods' product line, at least as hommus is concerned, ranges from 5 lb. tubs to 2-oz. thermoformed cups. Scangas says the most growth—both in total volume and SKU variety—is at the smallest sizes of the product spectrum, right down to 2-oz. single-serve packs. This reflects grab-and-go, single-serve, snack-size, or portion-control trends.
"We had a snack pack that we developed for ourselves, under the Cedar's Foods brand, using a single-serve, thermoformed PP tray with two cavities. One cavity holds dry product, either a type of chip or pretzels, the other is for viscous hommus or yogurt," Scangas says. "The single-serve pack is lidded with film, a nutritional label is applied, and it is packed into retail-ready trays."
It turned out to be the pack that launched a thousand SKUs, to continue the Hellenistic theme. A household-name brand noticed this product in the marketplace and approached Cedar's about a snack pack with a similar application, only using cream cheese in the place of hommus, and bagel chips in the place of hommus chips.
"We put a project together for them, and 25 million units per year later, it's doing extremely well," Scangas says. "And then another company came to us with a similar project, this time yogurt, and then another. And they all wanted to hit that nine-months-to-market mark. And we've been able to replicate that. So we've done a lot of, those two-compartment snack pack lines, and we got more projects that are coming on over the next few years. We know how to do it extremely well, and we do it fast."
Nutritional information a challenge on a small pack
An ongoing battle with single-serve packs is that all nutritional information—really, any messaging that otherwise might be found on panel of a paperboard carton—needs to fit onto a much smaller pack. And in the case of these dual-cavity thermoformed trays, the complex geometry limits the amount of real estate for messaging and nutritional claims. The only consistently flat surface on the pack is on the film or foil lidding material. Being single-serve, that space is already limited; adding nutritional information would crowd the pack's branding and visual appeal. Now a brand owner might go the route of gluing a paperboard belly band around the pack to add messaging space, but that only adds packaging material, hurts sustainability profile, and increases consumables like ink and paperboard.
The answer was to split the difference between the two possibilities and optimize the design by affixing a die-cut 2D paperboard nutritional information card to the bottom of each pack. The nutritional information card bridges the gap between the two thermoformed cavities, adding stability to the pack while creating messaging real estate that wasn't there before. The only problem? It was a tough manual process, and existing automation was complex.
"When we were first experimenting with this snack pack format with our own product lines, with hommus and pretzels, it was new to us. We just called [NuSpark] up and said, 'Hey, we have this operation that has unique requirements, do you have anything?" Scangas says. "It was amazing to me that the concept they came up with was completely different than what was available from other vendors in the market. It really simplified the whole process. I looked at other equipment and I saw that not only where they more complex, but they were much larger pieces that required a lot more footprint. So NuSpark engineered this machine, which I believe was the first of its kind."
Boris Motskin, project manager (at the time) on the project for NuSpark, observed the single-file orientation of the line, particularly as the snack packs finished primary packaging, and immediately began problem solving around it.
"For a product like this one specifically, single file is difficult for card application or labeling," he says. "We had to develop a custom piece of automation for Cedar's Foods. It's unique and is a good example of custom automation that we do for customers, many of whom already have a lot of our secondary packaging solutions in their facility."
Custom solution: Nutritional card applicator
To accomplish this task, NuSpark built a rotary-style nutritional card applicator, using Bosch Rexroth controls, that could reside just upstream from tray- and case-packaging functions.
In this system, filled and sealed snack packs, identically oriented with the film closure facing upward, are carried on Nuspark conveyors into the rotary applicator in three parallel lanes. The format is generally three packs across by one pack deep, but this can be changed depending on new pack formats. This feeds the applicator with product.
Concurrently, a second infeed conveyor, this a Nuspark vacuum belt conveyor that runs at a 90-deg perpendicular angle to the snack-pack infeed, feed the applicator with nutritional labels. From a magazine upstream, this infeed carries the die-cut paperboard nutritional cards, oriented face-down, in three parallel lanes to form a 1x3 format matching that of the snack pack products. Hot-melt glue is applied to the nutritional cards as they enter the rotary applicator in predetermined locations that map on to the snack packs' thermoformed tray cavities.
Within the applicator itself, and at the center of the two infeed conveyors, is a rotary tool with four heads, each at right angles to one another—or at 0, 90, 180, and 270 deg respectively—that turns in 90-deg intervals around a vertical axis. This tool lowers vacuum-based EOAT to pick up the 1x3 row of snack pack products, rotates them 90 deg counter-clockwise to a position directly above the corresponding 1x3 row of nutritional information cards on the vacuum belt. The end effector gently lowers the upright packs onto their corresponding cards.
Next, the three parallel snack packs are carried roughly six inches forward on the vacuum belt line, with the next, unaffixed 1x3 trio of nutritional information cards following directly behind them, awaiting application. This allows for an accumulation interval of one 90-deg rotary arm turn, letting the tacky glue firmly adhere. The packs are then pushed three abreast into a single file outfeed conveyor for remaining secondary end-of-line packaging, tray and case packing, also amongst Nuspark standard offerings.
The entire snack pack packaging line
Cedar's Foods currently has four distinct snack pack lines using the Nuspark nutritional information applicator system, and a fifth is in the works. Since the product being filled into the snack packs varies in viscosity and material requirements, and there can be multiple SKUs or formats of each product, filling and lidding is done in a variety of ways. However, two of the lines are devoted to a cream cheese application, and this application can be generalized to illustrate the primary packaging process.
"Filling is done with fillers from Modern Packaging. We've standardized to what we feel is the best built filler that we know of, in this country anyway," Scangas says. "We try not to import from overseas."
At the filler, the thermoformed, opaque, dual-cavity trays made of multi-layer polypropylene and EVOH—among other materials for barrier properties—are denested from a magazine within and placed into individual in-line carrier plates. Prior to filling, the trays undergo UV sterilization. Dry product like like bagel chips—delivered from a second floor room kept isolated from the packaging floor to maintain a dry environment—passes through combination scales from Ohlson, a Duravant company, to be weighted and portioned prior to filling.
For this application in particular, hot viscous cream cheese is dispensed into the PP tray from a filler bowl that's jacketed to keep the product warm. Foil lid-stock from PDF Seal is heat-sealed onto the filled snack packs prior to them being conveyed to a separate room, described by Scangas as a quality or QC room. There, individual packs will first go through X-Ray detection, then through checkweighing, both by Thermo Fisher Scientific. Each snack pack is coded at a Diagraph coding and marking station before arriving at the aforementioned rotary nutritional information card applicator from Nuspark.
With nutritional labels affixed, the single-field snack packs slide onto a pocket conveyor. They are then carried onto a Nuspark NTP-20 single cell tray packer; forming tray blanks and loading the containers into the vertically oriented retail-ready paperboard trays. Finally the trays are loaded into corrugated shipping cases on a Nuspark NCP-25 single-cell case packer prior to manual palletization.
All of the Nuspark secondary packaging machines are equipped with Ewon remote connection for remote access in case of unexpected downtime. Software updates, patches, and fixes can be done remotely, assisted by live video if necessary.
This a dry, cold-room environment, kept at 4ºC. Corrugated and paperboard packaging material is moved from a warehouse environment into this colder production room, and that causes some challenges. According to Michael Elent, Nuspark President, a lot of proprietary engineering, including but not limited to the end effector, went into making sure paperboard and corrugated separate easily and are repeatably removed from magazines, even at high speed.
"Here's another challenge for us," Scangas adds, "Because we are hot filling, we cannot tip the package. The container has to stay horizontal, and we can't change the orientation until it gets on down to the pallet, really. It would make the operation a lot easier if we could stand each pack straight up and load them that way, The way [Nuspark] figured out how to get the packs into the tray was pretty clever, using the end-of-arm tooling that they developed, to be able to grab stacks of product, hold them, and then move them without shaking them. The motion with maintenance of the right-side-up orientation is all critical."
What's next
Cedar's Foods' 87,000 sq.ft. facility has all but reached capacity. Over the past decade, in order to offer dedicated packaging lines and minimize changeover, the company had sacrificed space for automated palletization in favor of highly automated primary and secondary packaging.
"With our new facility that we're putting in right now, we ordered four lines that are fully automated from the front to the back, including robotic palletizing," Scangas says. "And as we get that plant up and running, what we'll do is we'll move a couple of from here to there to free-up space so we can put more automation in our existing facility, all the way through where it makes sense for robotic palletizing. That's the only reason we don't have it, we just don't have the space."
The robotic palletization, integrated by Nuspark, will use Fanuc robots. Scangas thinks that with the increased automation and investment into robotics, Cedar's Foods can soon cut its labor costs by half. This will lead to lower prices for brand-owner and private-label customers while maintaining the same high quality.
"We're going to take that savings and we're going to share it to grow our business with the industry," he says. "We already started that process, but we are going to start ramping it up in the fall of 2019. We will fill out this plant's capacity within next couple years. We'll do it with private label, we'll do it with our brand, and we will do it with co-manufacturing other brands. Whatever it takes. Also, some of the market-leader hommus companies that are manufacturing their own products? We feel that we can present them a case that we can produce a higher quality product than they're currently producing at a lower cost.
"So get ready, here we come," he adds.
Vision Systems for Track and Trace
Vision from Cognex was integrated by NuSpark throughout secondary packaging operations.
"We have to check the container that's coming our way, from filling and QC to the card applicator," Nuspark's Motskin says of the system. "On the foil or film lidding, a 2D barcode is printed, and we have to match that to the nutritional information card that's in the magazine. These snack packs are usually being handled by multiple different operators—somebody is running the filler, somebody else is running the card machine, and so on. We check that the correct nutritional information is going onto each container, and we continue to check it all the way down to the shipper case."
Of course, Cedar's Foods uses similar systems across all of its product lines and says it couldn't operate without them. Such systems allow track and traceability, minimization of disruption when inevitable human-error mistakes do occur, and comply with the strictest food safety standards.
"These systems have definitely improved process accuracy and have all but removed the human element," Cedar's Food's Scangas says. "Packaging lines similar to this one have had to shut down operations because somebody put the wrong card in the magazines, or the vendor sent the wrong cards in a mislabeled box. If you don't catch that immediately, that can be a nightmare recall situation."
Single-Serve Ranks Near Top of Snacking Trends
According to research by PMMI Business Intelligence, single-serve is one of the top two most frequently mentioned consumer trends driving snack food SKU proliferation. The single-serve trend is about offering lower portions and less calories. Retailers are asking for smaller packages that allow them to exploit this trend and also stack more on the shelves. Respondents did feel that faster primary packaging machines are needed to keep up with this trend.
For more details about the Snack Foods market as it pertains to the packaging and processing industry, download the free Executive Summary, or the full report at pwgo.to/3546.
PACK EXPO came through for Cedar's Foods
Nick Scangas at Cedar's Foods found the secondary packaging equipment he was looking for, in this case, Nuspark secondary packaging cells, six years ago at PACK EXPO Las Vegas. What will you find at PACK EXPO Las Vegas, to be held at the Las Vegas Convention Center, Spet. 23-35, 2019? For more information, visit pwgo.to/4062.
OEM vendor selection
Nuspark now has a deep installed base within Cedar's Foods, expected to be 40 machines by 2020. This wasn't so only a few years ago, and NuSpark had to be nimble to match Cedar's Foods' impressive growth and tight speed-to-market requirements.
"Six years ago at PACK EXPO Las Vegas, at the end of the show, maybe thirty minutes before it ended, Nick [Scangas] came over to our booth in street clothes, looked at one of our case packers, and asked how much," recalls Michael Elent, PhD, Nuspark president. Elent didn't take it all that seriously at first, until Scangas pressed him on it. "He asked, 'When can you come over to my place to get the P.O.?' I was there the next day, and it was the fastest sale in my life. A quarter-million-dollar machine was sold in 15 minutes."
After a successful FAT, SAT, and installation, Scangas told Elent that within a few years' time, Cedar's Foods will have purchased six or seven machines from Nuspark. Scangas was slightly off. By the time of this article, the Nuspark machine count is at about 30, with a total of 40 being expected once the new facility opens up.
You might not be prepared to make an OEM an offer on the show floor like Scangas was, but the latest in secondary packaging and beyond will certainly be available to you at PACK EXPO Las Vegas, to be held Sept. 23-25 in Las Vegas. Learn more and register to attend by visiting pwgo.to/4062.
Companies in this article
Videos from Diagraph, An ITW Company