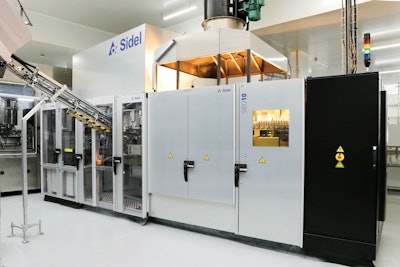 The rising demand for white vinegar has led Charbonneaux-Brabant, a key player in the packaging of condiments and seasonings, to install a complete PET line in its new production plant in Vauvert, in the South of France. There, they now bottle white vinegar in 1- and 1.5-L formats, managing a high level of flexibility requested by their supply chain and distribution network. The new line was supplied by Sidel.
The last few years has seen a boom of white vinegar usage in France and across Europe driven by a growing perception that white vinegar is a natural and effective cleaning product in addition to being useful for food preparation. Among natural cleaning products like baking soda or rubbing alcohol, white vinegar remains a very affordable choice in a highly competitive market.
Charbonneaux-Brabant, a family-owned company since Charbonneaux' founding in Reims in 1797, is a historical player in the production of natural vinegar and cleaning products. More recently, they have moved into the packaging and distribution of alcohol-free products, solvents, and chemicals. In the past, Charbonneaux-Brabant's production capacity was supported by three factories in France: their headquarters and historical site based in Reims (Eastern France), and two other plants located in Carvin (Northern France) and in Nantes (Western France). "All of those sites were nearly saturated and not able to cope with the growing demand for white vinegar without a potential risk of production shortages," explains Industrial Director Loïc Dionis at Charbonneaux-Brabant.
Assessing the situation in the three existing factories, Charbonneaux-Brabant wanted to release the capacity pressure they were experiencing while also continuing to build its network in a market in which distribution costs represent a significant constraint and producing locally is key for success. Dionis explains, "We decided to enlarge our site in Vauvert, Southern France, where we were only producing vinegar in kegs before."
Food product or home care item?
When establishing the new packing hall, Charbonneaux-Brabant carefully took its peculiar market position into consideration: the company stands at a crossroad of several industry needs, challenges, and sources of inspiration. On the one hand, vinegar as food remains an edible product, leveraging PET packaging processes that are very similar to those for edible oils, sauces, and dressings. On the other hand, white vinegar as a home care product has a high acidity that can negatively affect not only machinery but even the overall process itself. Sidel Key Account Manager Loïc Leon explains.
"Charbonneaux-Brabant wanted to be one of the first to apply the methodology and approach from the edible oil and water sectors—where inline PET bottle blowing, turnkey solutions, and fully automatic, high-speed, flexible packaging lines are key elements—to the production and packaging of vinegar."
To say this ambitious initiative was challenging would be putting it mildly. Not only did the firm need to install a brand new PET line and set up a flexible production schedule, it needed to do so while the factory addition itself was under construction. Dionis highlights the
flexibility and agility needs that had to be addressed.
"Our products—sold in 1- and 1.5-L formats—are distributed under our own label but also under various supermarket brands and private labels. Additionally, our bottles are grouped into packs of six, nine, or twelve, either in a complete wrap-around corrugated case or in shrink-wrap film. Lastly, we needed ten different palletizing configurations with four pallet patterns." This made two factors absolutely critical: 1) the ability to cope with the range of formats required in both primary and secondary packaging, and 2) minimizing the amount of time required to complete a format changeover.
Sidel was uniquely suited to meet these demanding requirements because of its considerable experience in both the edible oil and water businesses as well as comprehensive know-how in the home care industry. The line, which is running at 23,000 bottles/hr with 90% efficiency today, features a Sidel Matrix™ Combi. Combining as it does both preform blowing and bottle filling, it helps reduce machine footprint as well as operational costs.
Inherent in the process of vinegar bottling is the release of acid steam from the bottle and filling valves, which has the potential to cause corrosion on the tooling of the 10-mold blowing system. To avoid this, Sidel installed a special vacuum system that pulls out the steam, filters it, and releases it outside of the plant.
Further answering Charbonneaux' needs for a highly flexible production, Sidel was able to supply a cold glue labeller that efficiently manages the wide variety of labels. To support the customer's secondary packaging needs, Sidel supplied an overwrapping solution including two machines working in parallel: a continuous-motion wraparound case packer running at 37.5 cases/min and a shrink wrapper that produces multipacks in unsupported shrink film. For the end-of-line, a layer-by-layer palletizer, equipped with a reliable and safe electronic spacing infeed system, has been installed to fully respect pack integrity. The line also includes dry-lube conveyors, not to mention a comprehensive operation control and traceability system with marking, checkweighing, case printing, and pack & pallet labelling.
"Overall, we are very satisfied with the ease of operations, reliability, and flexibility offered by the new line. We enjoyed very smooth pre-contracting, project management, and aftersales steps, always dealing with one single interface per phase. This allowed us to focus more on the building construction, which was happening at the same time. I felt really confident about Sidel's ability to meet our expectations and deadlines, and I need to say that their on-site support during and after commissioning was absolutely great," says Dionis.
The new line gives the firm the ability to cope with the positive growth projections for white vinegar sales, thus enabling Charbonneaux to deliver on its ambitious plans.
To see a video of the new line, go to: pwgo.to/5167
Meal Kits May Impact Cooking Ingredient Pack Sizes
Meal kits have not only changed the way consumers prepare food, they also may change how consumers purchase cooking ingredients as well. Typically, consumers purchase recipe ingredients, like white vinegar in this article, separately in the grocery store, but now meal kit users are given the exact quantities of ingredients they need to prepare their food.
This means consumers are not left with any leftover ingredients after completing a recipe. It remains to be seen how this will impact packaging types and sizes for cooking ingredients. We might expect to see an increased prevalence of smaller, single-portion pack sizes that are being used in the meal kits themselves. We might also see smaller pack sizes being purchased in the grocery store by consumers that do most of their cooking from meal kits and might not need to use their own ingredients as much. The strength of the impact made by meal kits will of course be determined by the growth of these products.
Source: Euromonitor
Companies in this article