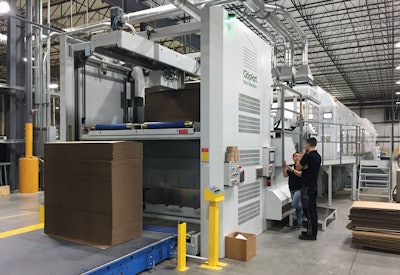 BentLine technology, which is claimed to be a whole new approach to the printing and die-cutting of corrugated packaging materials, was recently implemented at Advance Packaging Corp. in Grand Rapids, MI.
The traditional approach to converting corrugated sheets is an in-line one. You position a sheet-fed printing press directly in front of a die cutting system so that each sheet of corrugated is die cut as soon as it is printed. What Advance has done by adding the BentLine Technology to its already impressive corrugating plant is to separate the two operations to allow for the press to focus on the printing aspect alone while not having to possibly reduce speed due to being in-line with the capabilities of an in-line die cutter. Also, the conveyor connection that takes stacks of printed board to the die cutter includes a number of right-angle turns and can hold up to nearly a full truck load of units in between these presses. That's one reason Advance refers to this as "BentLine" (as opposed to in-line) technology. The other driver behind the name is that the firm believes it is "bending the cost curve" through innovation by performing at unprecedented speeds, delivering quicker turnaround, and improving speed to market—all this while improving on print quality.
According to David Straten, Director of Graphic Packaging at Advance, "By getting away from an in-line printing and die-cutting approach we are able to concentrate fully on doing the best printing job we can possibly do without letting the requirements of the die cutter interfere. Then, separately, we concentrate on doing the best die cutting possible without letting the requirements of printing interfere. Why let your inks dry out or have your printing plates be negatively affected in any way at all due to a problem on a downstream and in-line die-cutter? With this arrangement, no matter what happens in the die-cutting area, we just keep right on printing. Similarly, we can accumulate stacks of printed corrugated that will keep the die-cutter occupied while we ready the press for a new job. If this were a conventional in-line operation, if either printer or die cutter are down, then both are down."
Scott Wilcox, VP of Sales & Marketing at Advance, says the rated speed on the new printing press, 10,000 sheets/hr, is already exceeding the same job previously run on the seven-color Goepfert flexo press already operating in the plant. "We currently don't come close to achieving 10,000 per hour on the seven-color because we need time to clean the plates or perform preventive maintenance. But because of all of the downtime that is associated with printing or diecutting, if anything goes wrong with either process, the entire operation needs to stop. In our BentLine approach, where the press is good for 10,000 sheets per hour and the die cutter 7,000, we can queue up several hours of printed sheets that will keep the die cutter operating steadily while the press receives maintenance or has the plates cleaned or undergoes make-ready for a new print run."
The eight-color Ovation flexo press in the new BentLine comes from Goepfert, and the Mastercut 2.1 platen die cutter is from Bobst. The press is notable in that it is the first eight-color Goepfert Ovation installed in North America. The pre-feeder and vacuum lead-edge feeder both use belts instead of friction rolls, which eliminates marks on the surface linerboard when coated papers are being printed. An optional sheet cleaner removes dust from the sheet prior to printing. The high-end inking system with chamber doctor blades and ceramic anilox roll ensures excellent print quality, says Goepfert, while the tool-less doctor blade clamping system makes maintenance easy for operators.
Responding to customer demand
The Ovation press also uses an Auto-lock plate mounting system with motorized angular plate adjustment for near perfect registration. "Kiss-touch print is made possible as the anilox roll and impression cylinder gap can be precisely set in one-hundredth increments," says Goepfert CEO Andre Goepfert. "Smaller jobs and fast-turnaround times are key to satisfying customer demand experienced by Advance Packaging. Machine automation, like the automatic anilox-roll change system, make fast turnaround possible and offer the greatest possible flexibility. Within less than five minutes, all flexo printing units can be re-equipped with one of four different anilox rolls stored within the machine at the push of a button. There is no need to plan production depending on the required printing screen. IR dryers seamlessly integrated into the Ovation ensure excellent print results and performance. The Ink Conditioning System controls ink viscosity, temperature, and pH, which is vital for consistent print quality."
Few features of the new press have Wilcox more pleased than the eight-color registration and control system. "The press is outfitted with a series of cameras that look for dots on the leading edge of the printing plates," he points out. "As the press runs, the cameras continue to look for these dots. So when the plates start heating up as the print run progresses and you begin to see a little distortion in them, this technology automatically corrects for any fall-off in registration. It also reduces set-up time at the beginning of a print run. This frees up the press operator to focus on other process elements instead of registration."
Wilcox says the press was installed last August and went into commercial production on day one. Straten and his team, he says, did an excellent job of coordinating the anilox rolls, the inks, the doctor blades, and everything else necessary to mimic the existing Goepfert seven-color press already operating in the plant. "We transferred plates over to the new press and were up and running full speed the first day," says Wilcox.
Included with the new BentLine technology is a sophisticated dust collection system. "One of the biggest challenges to print quality is dust, and in a corrugated plant environment there is always plenty of dust," says Wilcox. "This dust collection system will address that issue directly, and in the process it will also decrease downtime."
Another quality control feature is the pair of camera boxes mounted in the final print station. "When you set up a new print run, once you've printed a sheet that you consider accurate and acceptable, you save that image so that every subsequent sheet is inspected and compared to that saved image," says Wilcox. "If a sheet doesn't pass inspection, it is automatically rejected & kicked off to the side of the corrugated stack being produced. Inspection on our other presses is more operator-intensive, where an alarm or warning light goes off and you rely on an operator to then pull that sheet out of the press. But it all happens automatically with this new press. The operator then has the opportunity to visually inspect the sheet in case the defect is an acceptable one, such as a print void in a place that will subsequently be cut out by the die cutter, or a smudge on a minor flap that will never be seen once the case is set up and glued. It's another one of those control features that not only makes a big difference in quality but also increases up time."
Corrugating done in-house
When it comes to talking about print quality, Wilcox emphasizes how important it is to have the corrugating system, supplied by BHS, in house. "I don't care how sophisticated the printing and die-cutting operations are, if we don't feed in top-quality sheets, then printing and die cutting don't have a chance," says Wilcox. "We've invested heavily in our corrugating systems and in the automatic transfer carts that deliver sheets to whatever press they need to go to. This transfer and delivery system is so smooth that we never need to strap the stacks of sheets as they make their way to the various presses we operate. And let's face it, strapping can damage the sheets."
Advance makes a variety of corrugated, including B-, C-, E-, and BE-flutes as well as single- and double-wall constructions. The BentLine system accepts them all.
Press and die cutter occupy parallel legs of the U-shaped line. (Figure 1) When stacks of printed sheets exit the press, they make a 90-deg turn onto a conveyor (A in Figure 1) that runs 100 ft before handing off the stacks onto another right angle conveyor (B in Figure 1) that is 200 ft long. Two more right-angle turns bring the stacks onto the infeed conveyor (C in Figure 1) of the Bobst die cutter. The central control system governs the movement of the stacks throughout the rather lengthy path along which they're carried.
In the first section of the die cutter, a flat die comes down to perform all cutting and scoring. Next is the stripping section, where the corrugated material that needs to be knocked out is removed. Then comes collection of the die cut sheets and, finally, bundle breaking and unit stacking. Stacks of finished cases are then carried on a conveyor (D in Figure 1) that leads them away from the BentLine system. To see an informative animation of the BentLine Technology in operation, go here: pwgo.to/4027.
Water-based inks, supplied by Flint Group, are what Advance uses across the board. Thanks to an on-site waste water collection, all the water generated—excluding that which comes from bathroom facilities—gets collected and goes into an on-site treatment center. Following charcoal filtration and chemical treatment, the water then goes into the local sewer system. "It's not a requirement set by the local municipality," says Wilcox. "But it's a greener way to operate, and it made sense to put it in place when we were building the facility in case it ever does become a requirement."
Companies in this article