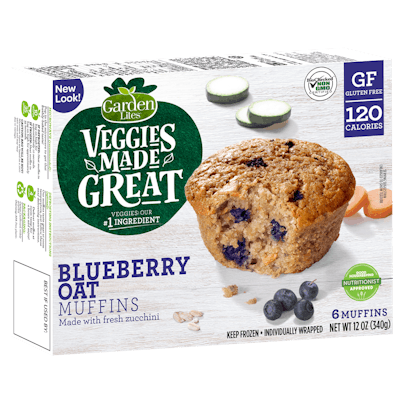 Garden Lites®, a manufacturer specializing in vegetable-rich foods destined for the fozen foods section, recently refreshed its brand and package design to strengthen its unique veggie-centric brand positioning. The fresh carton design now prominently features the company's new sub-brand name, "Veggies made great," and boldly highlights "Veggies [as] our #1 ingredient." The company name, Garden Lites, was the dominant message on the previous carton. The new sub-brand name and tagline are now much more prominent in the new design's messaging hierarchy.
"At Garden Lites we are passionate about our brand purpose: make surprisingly delicious, veggie-rich foods so people can incorporate more veggies into their diet. This is a great way to strengthen our message," says Andy Reichgut, Executive Vice President. "This dynamic new Garden Lites packaging is a radical change sure to scream from the frozen food aisle as to why to purchase. We are confident that the brand refresh will drive new consumers to the brand."
Individual muffins, veggie cakes, and frittatas are shrink-wrapped fresh, cartoned, then frozen and shipped to retailers such as Publix, Kroger, Target, Albertson's, Meijer, and others. Paperboard cartons are digitally printed in four colors, die cut 4-up, and erected by hand.
The packaging change also helps highlight the company's dedication to clean and simple, gluten free, non-GMO, nut free and kosher ingredients as well as displaying The Good Housekeeping Institute's Nutritionist Approved Emblem, a prestigious seal and the first health-conscious, lifestyle-aware emblem in the food and beverage industry, according to the company. The back of the package also show the ingredients in a clear veggie wheel graphic.
"We worked with two excellent agency partners," Reichgut says. "CBX did the graphic design, and Jenkins Culinary did the food photography. CBX delivered on a unique challenge of communicating the powerful health benefits of veggies being the number one ingredient, communicating gluten free, and communicating a nutritionally smart product, while also generating appetite appeal. This all had to be communicated clearly so consumers would immediately get the message, which is not a small feat given the size of the box and the fact it is behind a door in the freezer section."
A 12-oz frozen six-pack of Garden Lites muffins retails for $4.99 at Target.
Companies in this article