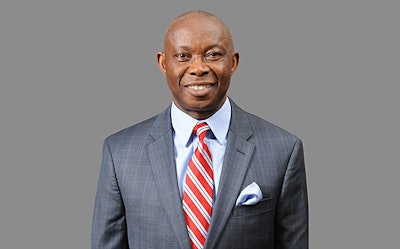 Further cementing his Hall of Fame bona fides are his many contributions to packaging education, his mentoring of upcoming packaging professionals, and the leadership roles he has had in organizations dedicated to the advancement of packaging.
Talk to colleagues who have worked with him over the years and you'll conclude that the PlantBottle—the first fully recyclable PET bottle made partially from plants—is the highlight of his career. Making this technology breakthrough all the more impressive is that when Okoroafor left Coca-Cola for Heinz, he negotiated with his former employer so that the PlantBottle technology could be extended to the Heinz ketchup bottle. "It was probably the first time two such major CPG companies partnered on something so transformational," says Okoroafor. He believes that this kind of collaboration or coopetition will be essential in the future, especially if anything resembling a circular economy is ever to emerge.
Okoroafor won't argue against the notion that the PlantBottle was a milestone in his career. But he also points to the flexible film packaging material that he helped develop for Coca-Cola's Freestyle™ carbonated soft drink dispensing system. "There was no film structure at the time capable of withstanding the aggressive nature of the super concentrate that is at the heart of the Freestyle program," notes Okoroafor. He spearheaded the team that came up with one. To this day the tightly guarded and proprietary material is made exclusively by Coca-Cola near its Atlanta headquarters office.
With an undergrad degree in chemistry and a PhD from Michigan State University, where his field of concentration was organic polymer chemistry, Okoroafor is also a graduate of Executive Development Program, Northwestern University's Kellogg School of Management. He joined herb and spice maker McCormick & Company in 2015, where he now is Vice President, Global Sustainability & Packaging Innovation. His passion for sustainable packaging is well documented. As one former colleague put it, "He lives by the adage that 'what is good for the environment is good for business.'"
He is convinced that packaging can play a key role in reducing the amount of food waste that continues to haunt us. "Food waste in the next five to 10 years must be a primary concern and focus," says Okoroafor. "People are starving, yet we are producing enough food to feed them all. If we minimize food waste, we can do a better job of feeding people."
The Packaging & Processing Hall of Fame will welcome all five new members as its 45th class at PACK EXPO International 2018 (Oct. 14–17 ; McCormick Place, Chicago), according to Hall of Fame coordinator and show producer PMMI, The Association for Packaging and Processing Technologies. This year's other inductees are Keith Pearson, Timothy Bohrer, Susan Selke and Chuck Yuska. Read short snippets about the other inductees by clicking here, or read their full profiles, to be posted individually in coming days, by clicking here.