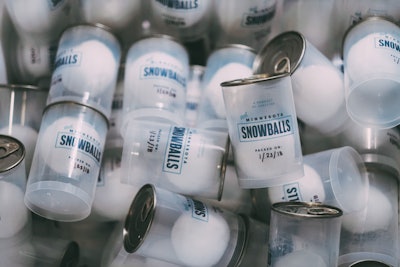 Minneapolis-based digital ad agency space150 builds creative branding strategies for Fortune 500 consumer brands like Nike. To keep its creative claws sharpened for such boundary-pushing clients, it occasionally does projects solely for the sake of showcasing its ability to innovate. With the 2018 SuperBowl in its backyard, Creative Director Brock Davis challenged his team to work on one of these projects to make a Twin Cities memory for out-of-town visitors.
"Several of us came up with the idea of a vending machine selling snowballs, which we thought were pretty characteristically Minnesota," says Matt Hunstad, Producer at space150. "We presented the idea, got buy in, and went about making it a reality."
Snow, they had no shortage of. And a vending machine wasn't hard to come by, refurbish, and reskin to be consumer-ready. But the ability to distribute the snowball content—intact—was the real trick. The package seal was an immediate hurdle, as a soaked-through suitcase or purse would result in a bad experience. Originally, the company considered cellophane, but the round snowball shape kept the team's mind drifting to sleeves of tennis balls in a clear package. Hunstad took to Google.
"I was finding a lot of things that would potentially work, but most of it was from China and we only had a week or two to turn this around," he says. "I stumbled across Milacron's Klear Can, reached out, and I was lucky enough to get a call back. We had a sample shipped to us and it was the perfect size and shape, so we designed some stickers for it. It ended up being ideal for our setup."
The Klear Can body is co-injection molded out of polypropylene and ethylene vinyl alcohol (for barrier purposes in food and beverage applications). Milacron says the can is BPA-free, recyclable, fully microwavable and stackable, and uses the same industry-standard can ends as well as the same filling, seaming, and retorting machinery as traditional metal cans. It is designed withstand temperatures up to 266°F, and graphics usually come by way of a full-body film label.
For space150, see-through, sealable, and recyclable were the only necessities. But big packaging machinery companies typically don't have the luxury to deal with small, fun, custom projects. This order would end up being for about 500 cans that Milacron, a machine builder, would have to order from its converter partner.
"But as it turns out, it was a good timing for an unusual call like this one, because we are in an industry that's trying to bring a new innovation that stands to unseat something that is fairly established," says David Adey, Sales Manager, Milacron. "The metal can is the target, and it is so established that lot of what we're trying to do is seed the market. Our purpose right now is to bring awareness to the container, so what better place than at the SuperBowl?"
With Milicron on board, the space150 creative team began amassing and storing snowballs, while Hunstad set out to find a can sealer, again turning to Google. He struck gold on eBay with a table-top hand sealer, and after a few die-plate alterations at the neighborhood machine shop, he was able to hand-fill, -seal, -label, and -stock the packages in the outdoor vending machine.
"We placed the machine outside the Humane Hotel next door to us. They set up a well-stocked ice bar for SuperBowl tourists in this alley between our buildings, so we knew there would be foot traffic," Hunsted says. "The locals rolled their eyes, but the visitors were really wowed. It was a hit."
Requiring refilling twice a day over the long SuperBowl weekend, the vending machine eventually sold out of its $1/can contents. Proceeds went to Wilderness Inquiry, a local charity that provides wilderness experiences to people who wouldn't otherwise have access to them.
It was also a hit from a PR perspective, earning local and national mainstream news coverage, industry coverage from Adweek, and even a retweet by PeeWee Herman.
Companies in this article