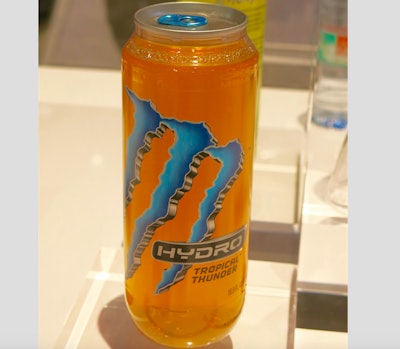 Monster Energy, known for energy drinks packaged in aluminum cans, took a different pacakge tack with its new Hydro beverage. The product itself is uncarbonated and lightly flavored, a departure from the original Monster Energy line. The transparent package reflects the clearer, more natural contents.
The finished container is blow molded from an injection molded, 26.5 g preform with neck finish 202. The system was designed by Husky, a manufacturer of PET preform manufacturing equipment. A flange around the neck allows an alumunum pop-top lid to be seamed onto the container using the same rinse, fill, and seal equipment common to many existing alumiunim can filling lines.
According to Husky and Monster Energy, the conversion from aluminum to PET was intended "to achieve premium shelf appeal and market differentiation while enhancing product integrity and reducing scrap rate."
Companies in this article