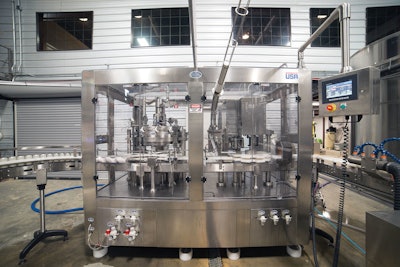 Rivers, lakes, mountains, and forests don't immediately leap to mind when you think of Oklahoma. But in the eastern part of the state, the town of Broken Bow sits adjacent to the sylvan Hochatown State Park, which houses a large reservoir fed by nearby mountain streams. For weekend warriors in cities like Tulsa, Oklahoma City, and Dallas, each about three hours away by car, this represents a refreshing change of scenery. And nothing fits better into a getaway-ready tourist town than a local brewery.
Recognizing this niche hadn't been filled by 2015, now co-owners Mark McDaniel, Charles Wilson, and Keith Shearer decided they wanted to be the ones to bring a brewpub, complete with food and tasting room, to Broken Bow. Such was the genesis of Mountain Fork Brewery, the name owing itself to the pristine nearby river from which the company sources water for brewing.
"We started brewing on a 60-gallon system and serving out of the taproom," says Keifer Shearer, General Manager, Mountain Fork. "But it didn't take long for us to recognize that we were full of people every night. And people would constantly ask where in Dallas or Oklahoma City they could get our beer. We realized we needed to go bigger."
In October 2017, the fledgling brewing company made the jump from a 60-gal system to a 20-barrel, 3-vessel system in a new facility, and management brought in talent that could manage the much larger setup. Peter Hemmingsen, a Dallas native, brewer, and recent graduate of the University of California-Davis brewing program, took over the reigns as brewmaster. Now, six months later, the company is hitting an inflexion point where the lion's share of sales will soon be in markets outside of Broken Bow.
"Right now, most of our beer is still sold through our taproom. We're lucky to have a huge following," Hemmingsen says. "But we're aiming be distributing in Oklahoma City by April, and then Tulsa is next. My ties are from Dallas, and we already have our Texas license; we need to get label approval for each of the individual beers, but in six months we plan on being in Dallas as well. For now, cartonized six-pack paperboard boxes will be the main distribution format."
Canning line
The front half of the canning line represents one of the first installations in North America of Palmer Canning Systems' Generation 2, 12/1 (12 filling nozzles, 1 seaming station) canning line. Within this turn-key setup, an overhead depalletizer single files cans and sends them through an inverter, opening them up to an ionized-air deduster. Unfilled cans then enter a Best Code inkjet date coder distributed by Weber Packaging Solutions. Next, cans enter the Palmer 12-head carousel filler and seamer. Cans travel around the carousel and are purged with CO2 prior to filling.
"The unique feature for going with the Palmer, and big selling point for us, was the low oxygen pickup that its design affords over the inline canning lines," Hemmingsen says. "It meets our needs with speed—we can do 40 or 50 cans a minute depending on how we push it—but our goal was to get the best quality beer in the cans that could last the longest on the shelves."
Being a cabinet-type filler, the Palmer shields the canning operation and prevents contamination in general. The short distance from the fill to the lid dropper and subsequent seamer is what accounts for the minimal oxygen pickup, according to Hemmingsen. Cans get a freshwater rinse when leaving the cabinet, then hit an air blade to dry before moving down the line to secondary packaging.
Labeled cans afford flexibility
What hasn't yet been mentioned is Mountain Fork's novel use of blank painted 12-oz beverage cans from Ball that are labeled on site, a departure from the typical printed cans that arrive at a brewery with the label already inked onto them.
"It's what I would call a textured can, and it gives it a nice, rich-looking background, with a bright label on top," Hemmingsen says.
The brewery sources clear roll stock, complete with digitally printed Mountain Fork logos and images, from Weber, which acts as a converter in this case. Labels are fed into a Pack Leader PL501 labeler, also available from Weber, to be applied to the can.
Weber representatives suggested a Flex-Lyte CLR 2.0-401-FL label material in this situation based on recent experience with other similar applications. Printed on one of Weber's HP digital presses, the material has good tack for end-user hand-feel, can handle the wetness of a bottling line, and is set up for digital imaging.
"We did a press proof, a Weber service for first-time digital printers, to get a better feel for what finished cans would look like. We sent them the intended label artwork, they printed it on the exact label material using exact ink that would be used in production," Shearer says. "The only thing missing from an actual run was a die-cut of each label to size; we had to use scissors to save time. Instead of a paper press proof, we actually saw the label on the can, got a much better feel for the actual look of the can, and did so without having to do a run of labels."
The labeled can approach has other advantages. Because the minimum quantity for purchasing the painted can from Ball is 220,000, as opposed to 1.2 million for a printed can, it allows operators the flexibility to make different beers in any quantity they want.
"Right now, we have six different beers in cans," Hemmingsen says. "So instead of being forced to maintain an inventory of 1.2 million cans on hand for each variety and do long runs every time, we had the forethought to go with the labels so that we can do a smaller canning run, or as large a canning run as we desire."
The labeler is inline but can be used offline for labeling one-off specialty beers designed for the taproom or for small releases. Consider specialty, limited-release varieties that spring up seasonally, with brewery cross-pollination partnerships, and around events. For instance, Mountain Fork is currently featuring a 20% ABV beer available in small quantities in a 500-mL bottle format. The labeler is able to handle such a disparate format one day, then can easily and seamlessly be reintroduced to the line the following day. For another interesting take on labeling designed specifically for craft brewers, watch this video at pwgo.to/3437.
End of line
Labeled cans are conveyed into a Climax C3 (Climax Craft Cartoner) custom-built carton packer with carton erector. Cartons, which are supplied by Atlas Labels and Packaging, are hot-glued shut, and hand labor at the end of the line packs cartons into case trays, then pallets.
The line currently produces a few times each month, but Mountain Fork's scalable machinery—from the Palmer filler that can accommodate different can sizes to the Climax cartoner that is equipped with another lane in case Mountain Fork wants to go to a 12-pack format—is built expansion-ready.
"Right now, we've got the capacity for 6,000 barrels," Hemmingsen says. "We've got 11 beers on tap at the taproom, and we went from zero to 11 in six months. We're really wanting to get the beers out there, see what's going to sell, and move forward from there."
Companies in this article