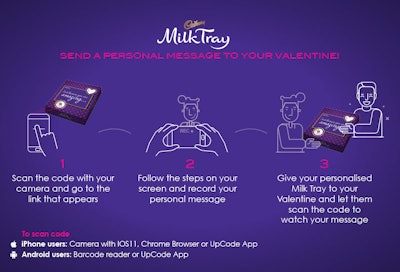 Receiving a box of Cadbury Milk Tray – whatever the time of year – is always nice, and this Valentine's Day, Cadbury is making it really special with innovative digital packaging technology.
Imagine this: The box of Cadbury Milk Tray that arrives for you on Valentine's Day doesn't just contain your favourite chocolates, it also carries a personal video message from the person who loves you – transforming the act of giving into a truly memorable and emotional experience.
Making it possible is MaXQ, the end-to-end digital packaging system developed by Amcor and technology partner Kezzler. Each Milk Tray box has a unique code. Scanning the code with your smartphone allows you to record your own video message for the person you're giving the chocolates to. When your loved one receives the chocolates he or she simply rescans the code to view your video. The recipient of each Cadbury video message can choose to post it on social media, sharing the love quite literally and bringing consumers closer to the brand.
The personalised Milk Tray box, powered by Cadbury and Amcor, will be available in 133 UK Tesco stores (at selected dates) leading up to Valentine's Day. Personalized videos truly allow consumers to answer the campaign's call to action: "What would you say with Milk Tray?"