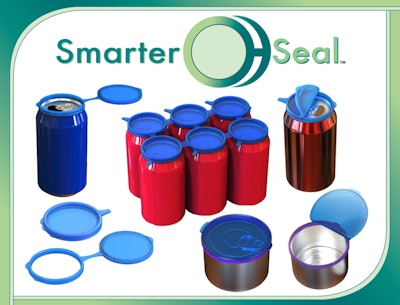 When William Battaglia noticed a stranger wiping the lid and top of a soda can with a napkin, that image resonated with him.
"I decided that it was not worth drinking from a can when plastic beverage bottles exist," says Battaglia. "Bottled beverages are not only more hygienic, they can re-close."
There are, in fact, a few resealable can innovations on the market, one of which is SmarterSeal developed by Battaglia. The SmarterSeal can topper is a pliable overcap that keeps a can lid sanitary. It is injection molded of polypropylene or low-density polyethylene, making it pliable and durable and 100% recyclable.
SmarterSeal can either be applied as an "overmolded" option to a can end and then seamed onto the can as normal after filling. Alternately, it can be applied in a separate post-canning process by snapping it onto the cans before packing.
"With automated machinery and processes at high volume, there will only be a need for existing machinery to be modified to place SmarterSeal on cans at high speeds with large volume," he says. "Modifications to a capper or multi-pack machine would need to be made to incorporate SmarterSeal to a can."
SmarterSeal closes via a zip-lock function so once placed on can during manufacturing, the lid will not be exposed to unsanitary conditions, so no bacteria will be inside SmarterSeal and on can. Beverage companies and manufacturers have the additional options of incorporating antibacterial plastic when making SmarterSeal or flash-sealing over SmarterSeal for added protection.
Several variables impact the cost of SmarterSeal for manufacturers, such as production methods and automation, technology, machinery, tooling and volume. "With that said, it will only be marginally more expensive than the foil wraps that currently exists with the added benefit of resealing the can," says Battaglia. "I believe many consumers wouldn't mind paying 2-5 cents more per can if beverage companies offered the benefits and convenience of SmarterSeal."
Battaglia expects SmarterSeal in stores within the year. To date, he has been contacted by many global beverage companies that manufacture soda, carbonated water, beer, and ready-to-drink coffee and tea beverages. Pet food companies are also expressing interesting in putting SmarterSeal on their wet food cans.
For more inforamtion: contact cane1228@gmail.com or call 973-495-9081.