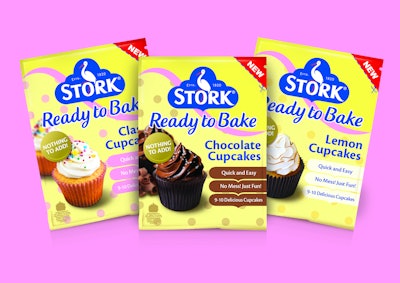 Seeing an opportunity in the market to introduce a food product for the ever-busy consumer who still wants to enjoy a delicious home-baked cupcake on any occasion, Stork launched its ready-to-bake cupcake mix, which only requires consumers to pour the mix into cupcake tins without any additional ingredients.
"Stork's cupcake-ready mix appeals to bakers of all skill sets with a simple proposition that will enable them to "skip the making and get to the baking," says Madeleine Boulton, Stork's Assistant Brand Manager.
In order to communicate the key benefits of their new product and bring the package design to life, Stork sought the help of London-based studio Slice Design. Slice was tasked with the package design for the new addition to the Stork range. The goal was to clearly communicate the ease, convenience, and usage of the mixes.
"Stork is a trusted home-baking brand with more than 90 years of heritage," says Alan Gilbody, founder and Director of Slice Design. "We wanted to retain this on-pack and highlight the fun and ease of use."
"Slice was brilliant to work with throughout the whole process. They delivered excellent customer service, working quickly and efficiently to deliver high-quality designs that were accurate in their representation of the product," Boulton says.
Companies in this article