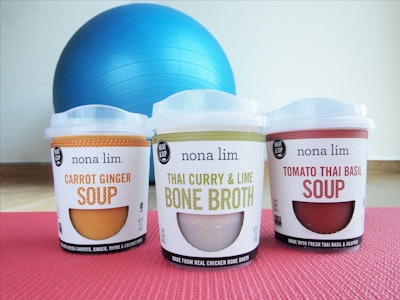 Clean-label food brand Nona Lim is serving up a line of five heat-and-sip soups and broths in microwavable containers with a soup bowl-style cutout on the front of the package that doubles as a happy smile—"which is the way we want our customers to feel after drinking our soups and broths," says founder Nona Lim.
Nona Lim Foods was born in 2006 based on clean, simple cooking methods using vegetables, herbs, and spices to create the best flavor and nutrition. The Heat & Sip Cups were introduced in fall 2016 as a way for consumers to enjoy healthy, additive-free soups and broths as a snack or beverage.
The Heat & Sip package—a 10-oz polypropylene cup with a full-body paperboard sleeve—was hit upon during a company brainstorming session. "While working with an advisor on the form factor, the team was inspired by the iconic shape of a coffee cup that everyone buys in the morning," says Lim. "We wanted our consumers to enjoy our soups and broths as a beverage, so why not make that experience similar to that of sipping a coffee cup."
Requirements for the package were that it be convenient to heat and easy to sip from while on the go. It also needed to be freezer-safe, microwave-safe, BPA-Free, and cool to the touch. Working with a proprietary packaging supplier, Nona Lim had multiple 3D prototypes created and tested, and then presented them to a "core group of influencers and advisors" for feedback. Says Lim, "After trial and error and consumer testing, we finally came up with a prototype we love."
The final package is looks like a to-go coffee cup with a sipping lid, covered by a full-body, heat-proof paper sleeve. The package provides the preservative-free soup a 12-week refrigerated shelf life. The soup bowl/happy smile cutout follows Nona Lim's ethos for transparency, showing the soup or broth product inside the clear cup. Sleeve label graphics are clean, modern, and uncluttered—following the design style of the company's other soup, broth, and noodle product packaging.
Lim shares that not only does the paper sleeve offer insulation, but it will also allow Nona Lim to easily launch new SKUs in smaller quantities.
The product, which has been "a breakaway hit," according to Lim, is available at Whole Foods Market stores nationwide, Wegmans, Safeway, and a number of specialty stores for a manufacturer's suggested retail price of $4.99/cup.