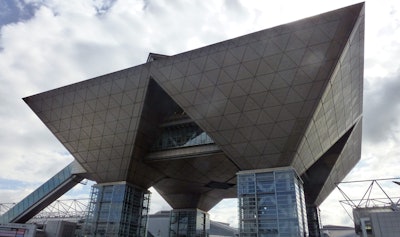 Japanese machinery builders and packaging converters drive packaging innovation right alongside the brand owner, oftentimes taking even more responsibility for the next new thing than the brand owners themselves. So it was no surprise to find prototypes and newly commercialized designs sharing the stage with a mass of shiny hardware at Japan Pack, which drew an audience of nearly 120,000 visitors over its four-day run at Big Sight international exhibition center on the shores of Tokyo Bay in October.
Japanese market expectations are acknowledged to be higher than anywhere else in the world, and local machinery producers go all out to raise the quality of the final product. Waste reduction, faster output speeds, space-saving machines, and increasingly automated systems are Japanese priorities. The ultimate goal of food manufacturers is to ensure contaminated product cannot reach the consumer. It's why a secondary surveillance system for food packaging lines by Ishida, designed to ensure that all quality control measures are working optimally, has done well since coming on the market two years ago.
It was worth travelling half-way round the world to see what Japan is developing, including "world-firsts" in machinery processes, robotic technology newcomers in the automotive industry about to take their first steps into the packaging world, and advanced inspection systems available in Japan and Asia that won't be seen outside the region for years to come.
On the other hand, some exhibitors were keen to boost export prospects for their proven technology. One example is Taisei Lamick—a specialist in liquid packaging machinery and films whose sales volume of around US$200 million makes it Japan's seventh largest company in the flexibles sector. North American sales are valued at US$8 million.
Show visitors had first sight of new models in the Dangan range of high-speed f/f/s liquid and paste packaging machines that serve the hospitality and catering markets. The more compact, latest Generation G will run at up to 30 m/min and 500 pouches/min, and the output doubles in the first-ever Dangan twin version. In English the term "Dangan" means "bullet." According to Masaharu Yamaguchi, managing director for Dangan overseas business, the Dangan twin version has a yield rate comparable to a multi-row type—commonly used in the U.S. and Europe—where 10 to 12 rows are in operation. He adds that the changeover time is much shorter than such a big multi-row type filling machine, and the machine has a compact footprint.
The Dangan G2 launched at Japan Pack produces double packs, or twin-packs, that can be filled simultaneously with things like shampoo, conditioner, mustard, or ketchup, for example. Initially Taisei Lamick intends to sell the G2 into Japan before expanding into the rest of the world. The double pack of four-side-sealed units has a total width of 100-300 mm with each individual unit 50-150 mm.
Yamaguchi asserts Dangan machines are not just fast, they also produce a better final product because the system continuously fills without stopping the liquid flow between each seal. This results in a full pouch with "almost no air" and more liquid inside compared to similar pouches by competing machines.
In April 2011 Taisei Lamick started American production in Illinois and six months later the company introduced the first Dangan G auto filler, successor to the Dangan III. Yamaguchi reckons Japanese sales have reached the 1,000 mark and around 40 machines are operating in the Americas, but there are none as yet in Europe.
The 2015 incarnation incorporates a newly developed cylinder for horizontal sealing for more reliable heat sealing. An assist roll has improved the stability and positional accuracy of the film feeding. The film roll is fixed by motor drive and has a center restoration function. There is a larger touch panel and settings for pouch guides. Also, roll positions are easier to adjust thanks to a new motorized switch-based system. Preventive measures against leakage from the film seams have been added, too.
Taisei Lamick also markets proprietary laminated film materials for liquid packaging and a recent development has led to a new style of 10- to 15-gram pack with a perforated "hold and tear" feature with benefits for the user. It allows the pouch to be held steady during opening and the contents to pour out smoothly to avoid messy fingers. The film can be two-layer or four-layer made up of polyester, nylon, alufoil, and polyethylene. Acclaimed for its universal design, the pouch has been adopted by Hong Kong McDonalds for condiment sauces produced by a Korean supplier, says Yamaguchi.
From automotive to packaging
Operational safety, product integrity, and accuracy in a high-speed manufacturing environment are concerns shared by packaging and car makers alike. Fanuc's green collaborative robot, designed safe for human contact, was on the lookout for its first packaging sector customer. An "entirely new class of robot," the CR-35iA entered the car-making industry mid-2015, says Kasuo Hariki, vice general manager of overseas sales division for Fanuc robots. The surface has a knobbly texture and gives just a little when finger pressure is lightly applied. The Fanuc FS-15iA force sensor and intelligent safety functions stop a robot instantly, at the moment of contact. This is the first of a "friendly" breed of robot that can be free to roam in the factory environment, says Hariki.
On the future of robotics in food processing and packaging, he says Fanuc is working on the capability to handle soft and spongy products such as raw food ingredients and also building in the sensitivity to deal with different shapes and sizes of products – fresh eggs, for example. Asked how long the market has to wait for the next even smarter generation of Fanuc robots, Hariki guessed around five years, and certainly ahead of its main rival, he added.
Robots fitted with weight sensing technology are already used in the automotive industry, and now automated packaging lines can benefit from this functionality thanks to developments coming out of Ishida. Shown at Japan Pack, the Ishida IMAS-G weight check sensor was awaiting its first food packaging customer. Aimed at making the pick-and-place process smarter, this all-Ishida innovation is compatible with robots made by major OEM robotics technology companies, says Kenji Nishizawa, assistant manager of overseas marketing at Ishida. At Japan Pack, the IMAS-G was integrated into a Mitsubishi robot in one case and in a CKD robotic application elsewhere. Exhibitor CKD showed the potential of the IMAS-G on a blister packaging machine in a demonstration unit where the Ishida weight checker was attached to CKD's electrically driven actuator to provide motion control. The weight of a small rubber eraser was measured as it was picked up. If its weight was within the set range, it was transported into position and fed to the container; otherwise it went to the rejects bin.
In spring 2015 Ishida launched near infrared (NRI) technology for detecting poor seals—the kind of thing that might be caused by the presence of product in the sealing area, for example. At Japan Pack it was shown as part of a complete food packaging line under surveillance by an inspection and recording system developed for the food industry in a strategic relationship with a Hitachi subsidiary. Hitachi markets similar technology in other sectors under the brand-name Hitz.
Ishida Vision Inspection Technology (IVIS) checks to see that equipment used for avoiding and detecting contaminants, and ejecting deviant products, is functioning properly. Cameras capture human activity in the operating area and record the scene. X-ray detection and labelling machinery communicate with the recorder so serial numbers are read and any contamination can be traced. On the market two years, some 50 systems are operating in Japan, a country strenuously pursuing total food safety and zero packaging imperfections.
A year ago Ishida Group paid around US$20 million for a 70 per cent share in Nissin Electric. At Japan Pack, Ishida Group presented a line-up of the latest Nissin products. These included the NX3 hybrid inspection system, which combines a metal detector and x-ray capability into a single machine. With a top running speed of 60 m/min, contaminants can be detected down to 5x5 mm and as thin as 2.0 mm, and ballbearings as small as 0.5 mm diameter.
Unlike Ishida, Nissin does not have a presence in U.S. and European markets, and this raises competition concerns that, for now, prevent Nissin technology from being marketed worldwide. The 10-year plan is to sell Nissin products in the U.S. and Europe, after the"potential issues" are resolved, says Nishizawa: "The Nissin portfolio competes against machines that are represented by some of our distributors. The management decision as to when we start will be made very carefully."
Another Asia region "exclusive" is a newly launched Nissan pipe line metal detector. The speed of the ND-840 search head depends on the viscosity of the product flowing through the pipe. Likewise, the market is restricted for a metal contaminant detection system dedicated to aluminum foil packaging incorporating a strong magnet. In operation Nissin ALPAS-F A renders mild steel (Fe) magnetic inside the pack and can pick out a contaminant around 0.5mm in size, says Ishida.
Machine looks and learns
Japanese companies are constantly wanting to improve the customer experience by enhancing the capability of their machines, and they are interested in collaborating with worldwide suppliers of commercially-proven technology. At Japan Pack, European technology for process monitoring and seal inspection was put through its paces as an extra set of eyes in a complex pouch filling operation, with the goal of satisfying Japanese product manufacturers and customers with zero tolerance for defects.
For the sake of confidentiality Toyo Jidoki Co., a major manufacturer of pre-made pouch filling machines, held demonstrations behind closed doors for the benefit of selected customers, and invited Packaging World to a private viewing.
A cylindrical air column on one side of the Air Hold Pouch creates a handle for ease of pouring, a packaging idea that Toppan Printing developed with Toyo Jidoki. A pack concept first seen on the market in 2014 for Japanese sake, it can now be found in a personal care liquid application by Japanese brand Jewel Cosmetics.
The task of filling a pouch handle with air and filling the pouch's main compartment with liquid separately, and both at the same time, adds complexity to a process carried out on a standard TT-8D pouch filler. Toyo Jidoki is looking to Engilico's SealScope to help run the operation smoothly with constant flow rates and total seal integrity. "The results look very promising," says Takao Yamagishi, international sales director at Toyo Jidoki.
SealScope was developed by the bio-engineering department at the University of Leuven in Belgium. Engilico has the worldwide exclusive license of the technology, which it has already supplied to a number of international food producers in Europe including General Mills, FrieslandCampina, Materne, and Pfizer. After Japan, North America is the next target territory for SealScope, Engilica chief operating officer Jos Deschagt tells Packaging World. The self-learning, auto-calibrating system was developed to guard shelf-life by avoiding product inclusions and contaminations in the sealing area, especially in operations that typically run 24/7. It's an extra set of eyes on the process to ensure that everything is running as it is supposed to be, says Deschagt. He explains that SealScope can be set to different sensitivities and fine-tuned according to a company's quality policy and taking into account the calculated "cost of quality." For instance, suppliers to the Japanese market set the bar at zero-tolerance for defects because end-customers expect only the highest quality, says Deschagt. The quality value to a company is linked to the cost of a product and the level of harm done if it were allowed to come into contact with oxygen and made it as far as the final consumer.
Benefits include a higher output and better quality of product, and lower overall cost as a result of producing less waste, avoiding batch recalls, and upholding a brand's reputation.
Says Deschagt: "SealScope makes it possible to find optimal production speeds, to keep the production process optimised, and to reject strongly deviating products." Users have reported an increase in output of between 1% and 50%, he claims.
Flow-wrap 'firsts'
Two "world firsts" in f/f/s machine systems were presented by flow-wrap specialist Omori Machinery. One of them is a new linear transfer infeed system technology for horizontal flow-wrapping products of different lengths, offered to the market as a low-maintenance alternative to multi-belt feeder operations. The EP-7000X BXH introduces a lug conveyor controlled by software that makes it possible to adjust lugs digitally to group items together at a set distance apart so as to allow for different product types on the same belt. It is capable of speeds up to 250 rpm, says Omori. The easy digital set up and adjustment has advantages over a multi-belt feeder, which requires manual adjustment to the right pitch and needs mechanical maintenance of the sensor, says Jun Takizawa, Omori international sales assistant manager.
Omori also debuted the ultrasonic sealing system S-5000X BX, which uses a contact-less rotary action that helps retain a film's pristine appearance at output speeds up to 200 packs/minute. A sealing width of 3 mm compares with the 12 mm typical in heat-sealing, so there is potential to reduce film utilization, says Takizawa.
The company also displayed the pharma f/f/s S-7680 BXE flow-wrapper for blister sheets and cartons, with long-dwell end seal and running speed up to 300 rpm, described as the "fastest ever" of its type.
Also shown by Omori was a f/f/s flow wrapper for producing a new style of re-closable pack. The process involves two films on the machine arranged so they overlap; the films are sealed and labelled to form a re-closing pack that stays hermetically sealed until the first opening. The machine runs at up to 120 packs/minute without gas flushing and 80 packs/minute with gas flushing. Omori Europe has already sold around 50 units into the Netherlands and Germany for deli meats and cheeses to customers including Albert Heinz, Coop, and Beemster.
Omori demonstrated the use of a detection system for checking that two or more film-wrapped products are properly positioned during their assembly inside an outer film-wrap. It's possible for slippage to occur both on the fly and after a stoppage. This solution works with metallized film by using low radiation, "soft x-ray" technology. A photo-sensor system is suitable for transparent film, explains Takizawa. The product mis-position detection equipment by SciEnergy was integrated into an Omori S-5000X f/f/s flow wrapper.
Pouches that pack more punch
In a flat-bottomed box pouch, all five sides can be used for product marketing, says Totani Corporation, a major player in pre-made pouches that is a significant Pepsico supplier. The bottom gusset, which uses a different film than the rest of the body, can be transparent to let shoppers view the contents; alternatively, it can be a solid color and printed with a marketing message. Breakfast cereals are getting popular in Japan, and the home-grown Number 1 favourite brand Calbee is on the shelf in a Totani box pouch. Totani senior sales executive Toshio Yamaguchi says it is an innovative, high-value category in Japan, and this winter consumers were introduced to a new Kellogg's microwaveable granola cereal (in a four-side pouch) that stays crunchy in hot milk. The product is adapted to local tastes by the addition of dried sweet potato and pumpkin in the ingredients list.
Totani showed a high-speed f/f/s machine with an upgraded Thomson Die Cut shaping system. The unit shape-cuts the film perpendicular to the film flow. The blade is easier to change, which shortens lead times and reduces costs, says Totani. It makes a wide variety of designs possible, including a three-side sealed pouch, zippered pouch, standup pouch, and zippered standup pouch; output is between 140-200 pouches/min (two-up, 400 pouches/min). At the time of Japan Pack in October Totani had two U.S. customers and four in Japan but none yet in Europe according to Yamaguchi.
Pack design
Japanese consumers put convenience, cleanliness, shelf-life, and good health high on their list of food packaging priorities. Tokyo Foods Machinery has introduced a white CPET cook-in tray that includes a high-grade barrier to extend shelf life and has ability to withstand temperatures up to 200°C. With the lid removed for cooking, the ridged surface circulates the heat and takes away any excess oil. In 2015 the Multivac subsidiary also launched in Japan a cook-in hermetic vacuum skin-pack designed to go in a convection oven, made from a Teijin Dupont film.
The "pack with a pop" called PopPack, first seen at Tokyo Pack 2014, popped up again with new prototype designs and won an Innovation Award for Creative Technology shared with collaborative partners J-Film, Mitsubishi Plastics, Tokyo Foods Machinery/Multivac, OJI, and Kawashima Packaging Machinery, whose booth staged demonstrations with flexible pour pouches using PopPack technology. Swedish flexible barrier packaging firm Flextrus has signed the first cooperation agreement in Europe with PopPack LLC, American developer of "bubble in the seal" technologies for re-closable and single-use sachets, recent winner of a Packbridge Easy Open Award.
Pouch inline aseptic filling specialist Orihiro promoted the Onpack-VH100 for the production of gusseted pouches, which is commercially producing a range of energy gels. The packs can be perforated for a hanging display, says Mark Tsuruta, senior managing director at Orihiro. The company also showed the Ready-to-hang Aseptic Bagspout developed with Nippon Closures and the brand-owner, Meiji, for liquid nutrition that an ill or frail elderly person can self-administer. It was an award-winner in the Japan Good Packaging Contest 2015 along with the Meiji Meibalance Mini Cup and straw, which was produced by Atsugiplastics, Toppan Printing and Fuji Seal. The judging panel highlighted the use of a "special" resin and well-considered overall design that make the cup easy to hold and comfortable to drink from.