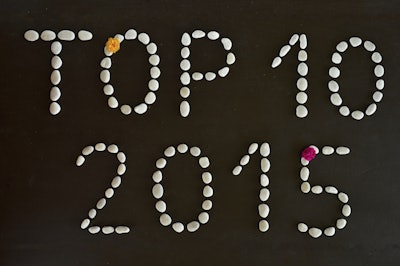 Each year in January, Packaging World counts down the top 10 most popular articles on our website, packworld.com, for the previous year. As in 2014, the list for 2015 is indicative of the wide range of topics our publication covers. Visitors to the site read with interest articles on topics that included sustainability, automation, materials, equipment, and food and beverage trends, among others.
10. Sugarcane-based bottle aligns with organic cleaners: Organic cleaning products company Greenology switches to sugarcane-based HDPE bottles that provide the same functionality as petroleum-based packaging in a renewable material.
9. Food & beverage driving global green packaging market: A new report analyzing the global green packaging market to 2019 forecasts strong growth, led by the food and beverage industry.
8. Indian packaging industry turnover to reach $32 billion by 2020: With a turnover of $24.6 billion and a growth rate of 13% to 15% annually, the Indian packaging industry is expected to reach $32 billion by 2020. This article takes a look at key facts and drivers for this growth.
7. From MAP to VSP/HPP—and linerless labels along the way: Houston startup Perfect Fit Meals has a line of fresh, refrigerated ready meals that look good, taste great, and emphasize nutrition, with High Pressure Processing extending shelf life.
6. Private label: on-trend and growing: The 2014 PLMA Show in Chicago boasted nearly 3,000 booths, many of which displayed the latest in good-for-you and good-for-the-planet products and packaging.
5: McCormick & Co.—Perfecting the art of staying relevant: For the 2015 Leaders in Packaging special feature, a visit to McCormick & Co.'s Technical Innovation Center in Hunt Valley, MD, makes it clear that packaging is taken very seriously at this 126-year-old food manufacturer.
4. Mondelez embraces the future with integrated control solution: Mondelez International is as global as it gets, so having an integrated line control and line performance solution suitable for global implementation means the world to them.
3. Pantone reveals 2016 Color of the Year: Pantone's pick for 2016 is a pairing of two colors that convey reassurance and security, as well as a calming effect to combat the stress of modern-day life.
2. Triple label 360-degree machine vision inspection: Tobasco-brand products company McIlhenny heats up quality control for multi-label packaging by installing a 360-deg machine vision inspection system for the three labels used on each of its bottles.
1. Protective packaging market to see growth: A new report notes that investment in more sustainable materials and the rise of online shopping will impact the protective packaging market through 2019.