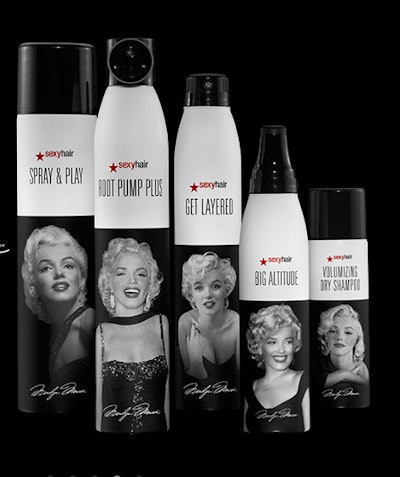 Professional hair styling products company Sexy Hair has launched a limited edition promotion featuring legendary movie icon Marilyn Monroe. To help them deliver a "performance" worthy of the Hollywood icon, Sexy Hair worked with CCL Container. When starting the program, they considered many different options and techniques to determine the best approach for taking vintage photographs to print and create a beautiful end result.
"Initially, we thought that it would be extremely challenging to get high-quality results printing vintage photographs of Marilyn Monroe directly on aluminum cans," says Karina Lutzy, Marketing Director, Product & Brand Development at Sexy Hair."However, with the technology that CCL has and their problem-solving expertise, we discovered anything is possible."
For the packaging to perform up to expectations, it had to be immediately identifiable as a Sexy Hair product as well as quickly recognizable as a special limited edition. To achieve these results, Sexy Hair's package design team departed from the brand's traditional signature red. Opting for a more sophisticated and neutral color palette, they focused on using the containers as "aluminum canvases" to reproduce different classic images of Marilyn Monroe. In fact, the brand's distinctive red hue appears only in the logo, giving the Sexy Hair name and star mark an eye-catching pop of color.
The Sexy Hair brand and Big Sexy Hair sub-brand rely on aluminum packaging for its aerosol items to impart an upscale, high-quality image and enhance shelf appeal. To give the special promotional packaging a consistent Sexy Hair brand identity on the shelf, the team employed the brand's current distinctive container shapes to enhance the stunning lithography of the silver screen legend. Printing directly on the aluminum packages not only helped Sexy Hair achieve the desired look, but it also did so without increasing cost.
"Right from the time of its debut in May of this year, we've had fantastic feedback on the style and design of this Marilyn Monroe Limited Edition," concludes Lutzy. "The final look is outstanding and everyone loves it."
Companies in this article