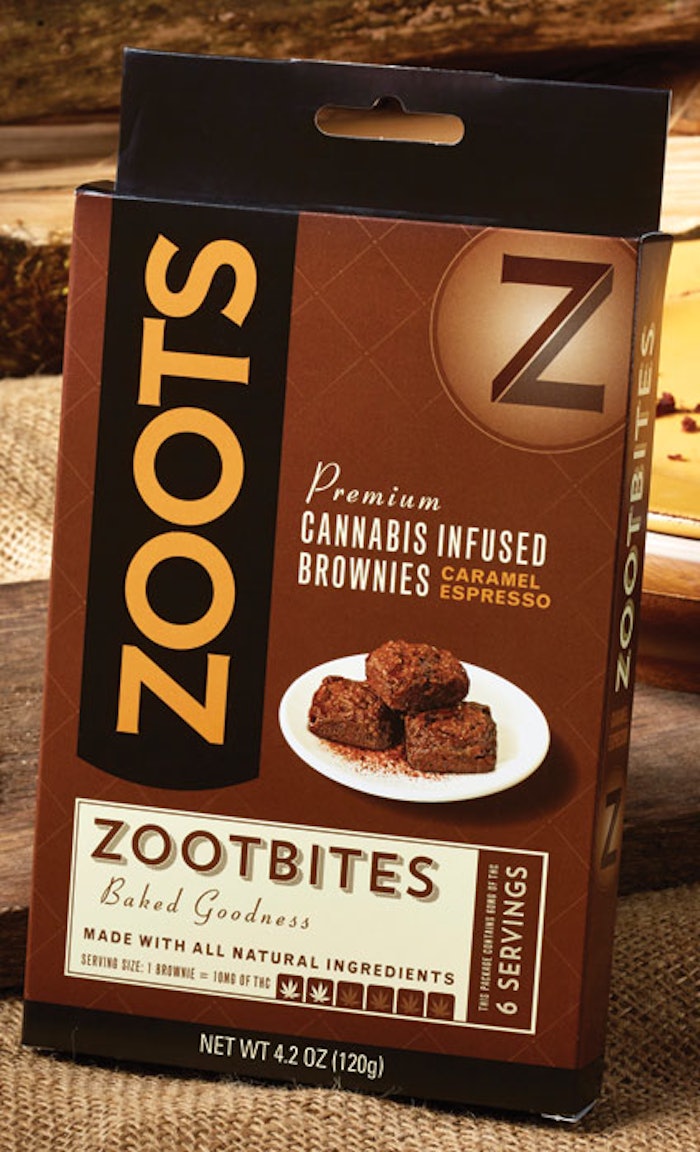 A new brand in a new industry might seem somewhat analogous to being the new kid at a new school in a new city. With a new brand, however, fitting in isn't what you're after. The goal is to establish a market presence you can claim as your own. And when the new industry is marijuana-based products, how you define and position your brand says as much about you as it does the industry.
For Seattle-based Db3 Corporation, a new company just getting established in the expanding marijuana market, the challenge was how to design the packaging for its Zoots brand of cannabis-infused products to capture market share while also overcoming stereotypes in the legal marijuana market.
Db3 approached the market strategically with a large investment to determine how they could position Zoots in a way that would best support the new reality that marijuana is a legitimate business enterprise and would appeal to a wider target audience.
"There were some preconceived notions about how marijuana products would be presented in this new legal recreational marijuana market," says Lindsay Short, Operations Manager for Db3. "I think people had visions of plastic bags and laser-printed labels. Our products, Zoots Premium Cannabis Infused Edibles, are safe and consistent products consumers can trust for a controlled, pleasantly elevated experience.
"We designed our packaging to convey these messages of trust, safety, and consistency. The idea is to help normalize marijuana products in the eyes of a skeptical public that was used to equating marijuana with black markets and the 'stoner' culture. While it's true you won't find Zoots in a Starbucks, there's no reason they can't look like they belong there."
Safe, yet fun message
For Zoots, packaging is a key component differentiating the brand from competitors. "From the very beginning our focus was not only on the product itself, but also to present Zoots in a way consumers could easily recognize as a normal consumer packaged good—one they might buy at Costco or at a liquor store," says Short. "Zoots is a fun product, and that's how we want it to be perceived."
Whether a product is new or established, its packaging has to enhance the brand image and deliver shelf impact. It's about building product attractiveness and creating consumer affinity through packaging that engages the consumer. Explains Short,"This is really the case in the recreational marijuana market, where most consumers have zero familiarity with these brands or even legal recreational marijuana products in general when they walk into a marijuana retail store for the first time. We want that introduction to be exciting and playful, because this is an intoxicant, and most people are buying these products for recreational purposes. But we also want to inspire confidence that we can deliver an experience that is safe and reliable."
Short adds that Db3 knew the market would be crowded with a lot of new products, all jockeying for attention when consumers walk in the door. "But for us, it was a priority to make sure Zoots was clearly visible and instantly recognizable across the room. We accomplished that with clean, bright packaging and the bold Zoots banner that appears on all of our products. Zoots products stand out, whether they are lying flat within a glass display case, standing upright on a shelf, or hanging on a slatwall."
Sophisticated, board-approved packaging
The Zoots product line includes ZootBites premium cannabis-infused brownies; ZootBlast energy shots, which contain THC blended with caffeine; ZootDrops liquid concentrates, available in a high-energy blend and a relaxation blend; and ZootRocks Chili Cinnamon and Lemongrass hard candy-like nuggets.
ZootBites are in a film bag packed in a folding carton that can be hung from a shelf hanger or displayed standing on end or laid flat. ZootBlast energy shots are packaged in a glass bottle with a safety cap. ZootDrops are offered in a high-density polyethylene bottle with a flip-top cap. And the ZootRocks candies are sold in a tin container with a lid. Other than ZootBites, all of the packaging carries shrink labels that incorporate a safety seal.
The folding carton is SBS board, and the shrink-sleeve labels are clear PET film. The lidding material for ZootBites is 7-mil high-barrier blister film. All the packaging is printed in four-color process, with two PMS colors. The folding carton packaging for the brownie bites and the shrink sleeves for all liquid products are produced by WS Packaging Group at its facilities in Oak Creek and Algoma, WI.
"The combination of folding carton and shrink-sleeve labels gives Zoots the right packaging format for the individual products in the line," says John Garrison, Senior Account Executive with WS Packaging Group. "The use of shrink sleeves not only creates a 360-degree graphics platform, but also provides for easy integration of the safety seal as required by the State of Washington."
According to Short, the Washington State Liquor Control Board must approve all packaging. So each time a new product is developed, Db3 has to submit the product and packaging images to the LCB for approval. The company cannot sell any products until they are approved.
"All of our items are wrapped in child-resistant packaging," stresses Short. "This was our top priority. We had to make sure that this was built into the design of all products. In addition to this, edible marijuana items are new to many people. We wanted to make sure our customers were well educated on our products. Over-consumption was a concern, so we have added wording on all of our packaging encouraging our customers to consume small doses and to take it slowly."
Zoots products are unique in the sense they are positioned to appeal to a mature, older audience that doesn't just want to get high in the literal sense. Notes Short, "All the Zoots products are offered in very low, controlled doses that enable the user to regulate the level of the effect. It's really very similar to how wine is positioned. So the messaging on the packaging takes that into account to present a relatively straightforward perception about usage and what the consumer can expect."
While the package design for each product is distinct and stands on its own, there are common graphics cues that help bring the products together under the Zoots brand umbrella. For example, the brand graphics give prominent play to a two-toned "Z" icon on all packaging, with the color treatment matching the overall graphics for the respective product. The typeface used in the Zoots logo is consistent across the full product line. In addition, a backdrop crosshatch element adds visual texture and depth for each product, which also works as a design theme to help tie everything together.
Outside of the ZootBites carton, the physical dimensions of the packaging for the rest of the Zoots product line are relatively small. This created some challenges because of how the product is displayed at retail. "It was a challenge to design a visual footprint that could easily display the Zoots brand images from a distance of six to ten feet," says Short. "In Washington State, all products have to be behind a counter or inside a locked case, and most stores use slatwalls or shelves behind a counter to display marijuana products. We needed a package with a large footprint so Zoots could stand out. While we've heard some concerns about the amount of outer packaging, the footprint is necessary to establish the brand characteristics."
Packaging opens the door
Getting a foothold in this new market is critical. Of course, once a product is noticed and engages the consumer enough to try the product for the first time, the product has to deliver on the brand promise.
"In the first few months we've been on the market, we've frequently heard from customers that our packaging is what attracted them to Zoots in the first place, and that they initially chose our product over others because the packaging made them feel more confident we were delivering a safe, reliable experience," says Short.
The perspective of retailers is also important, she adds, because it's their reputation that is on the line as well. "Our retail partners frequently comment that they like to display our products front and center," she says. "They want a significant level of trust relative to safety and consistency. And they want to present it in a way that is consumer-friendly in a format that both attracts the consumer and clearly informs them about how to safely use the product. It helps to normalize the industry, and they appreciate that."
In the next few years, the demand for marijuana and marijuana-infused products will explode, "but it won't be in a form that conjures up images of the stoner past," says Short. "While that segment will continue to have relevance, it's the broader market that will be focused on low-dose consumption, with relaxation and socialization as a primary goal of use."
Zoots products are currently available at recreational marijuana stores throughout Washington State.
Companies in this article