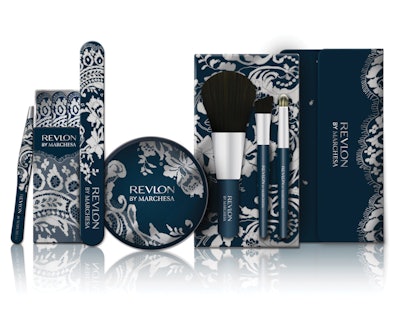 Both the grooming products and their packaging were designed by global creative agency Anthem with color palettes and graphics "that allowed the beauty-conscious, fashion-forward Revlon consumer a chance to bring couture into their daily beauty routines," says Janice Jaworski, VP, Brand Development, Americas, for Anthem.
To facilitate the design of the graphics, Marchesa sent Anthem photos of their latest runway collection and a sample of lace on which the final design was based. "Marchesa is known for its exquisitely feminine details, and the intricate lace embodied what they stand for," says Anthem Creative Director Amy Sundstrom.
The lace pattern was carried across three color families: navy/silver, black/gold, and nude/black. According to Sundstrom, the greatest hurdle of the project was to work within the process and print limitations for each tool—among them tweezers, nail files, a mirror compact, and others—while maintaining the integrity of the lace pattern. "The challenge encountered was mainly with minimum line weights—some of the print processes were able to hold a very delicate line, while others were much more coarse," she says. "We created multiple patterns with varying levels of intricacy that would work within the printing constraints." Printing processes included silkscreen, offset, hot stamp, and heat transfer, in one to four colors.
Moving quickly off shelves, the product was also a hit on social media and resulted in another partnership between Revlon and Marchesa in 2014.
Companies in this article