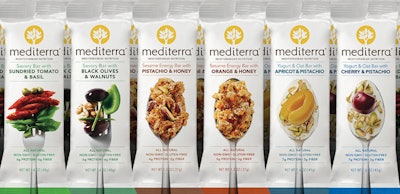 "The response is unprecedented," says Mediterra founder Telemaque Lavidas.
Also capturing consumers' attention are label graphics for the six-line snack-bar line, which were designed with Mediterra's strategic branding partner to reflect the healthful native ingredients found in the food, which is based on the simplicity and purity of the Mediterranean diet. "In a crowded retail aisle, we wanted the Mediterra Bars to inspire consumers while also communicating the bars' healthful ingredients and 'clean nutritionals,'" says Lavidas. "We like to say 'where ancient wisdom meets modern convenience.'"
Ingredients for the bar varieties—among them such flavors as Sundried Tomato and Basil, Black Olives and Walnuts, and Apricot and Almonds—take center stage on the label, presented on either a fork or spoon. The flow-wrapped package uses a clean white background, with one of three color bars on the bottom of the front panel, identifying the bar as being in the Savory, Sesame Energy, or Yogurt & Oat category.
Bars are wrapped in a multilayer PET/metallized cast polypropylene film that is gravure-printed in nine colors plus coating by Arranti Co. Says Lavidas, "We continuously hear from buyers and consumers that Mediterra's packaging is the best looking they've ever seen."