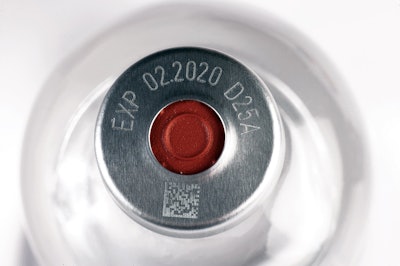 (ALSO SEE RELATED STORY, "Comparing UDI and DSCSA coding.")
HCP: Describe the role of printing and marking in pharmaceutical and medical device packaging.
Tim Kearns (TK): Printing and marking play an important role in accurately identifying products. With serialization's focus growing due to increasing industry regulations, printing and marking have become even more important to help ensure a correct code on every product.
In turn, manufacturers must have the correct equipment, controllers, and interfaces needed to tie into a particular serialization provider solution. We work with serialization partners to help manufacturers implement different printer technologies along a packaging line.
HCP: What are some of the other key challenges with regard to serialization that your customers are seeing?
TK: There are different approaches to serialization, and each customer will need to customize the overall solution to best fit their needs, but identifying the coding technology for the saleable unit is the first step. Then, manufacturers need to decide on processes (if necessary) for aggregation and re-work and to foresee potential issues during the packaging process. Also, determining responsibilities for the parties involved can be a challenge—which aspects will be handled internally and which will be handled by vendors.
HCP: So what if a manufacturer has existing equipment already in place on its packaging line(s)? How do they best address new serialization requirements?
TK: It is possible to utilize existing equipment, but it must be determined if that current technology has the communication and data capabilities to connect to a serialization solution. For example, manufacturers can add lasers or continuous ink-jet printers to mark bottles with a tracking code, utilize existing thermal-transfer printers to print serializations codes on labels, add thermal ink-jet or laser technology for the carton, and possibly another technology such as a print-and-apply label for the case.
There are a multitude of coding technologies needed to integrate into a packaging line to meet serialization and track-and-trace requirements. It's important that manufacturers work closely with a trusted marking and printing partner that understands their particular serialization requirements and can offer up a variety of printing and marking solutions ideal to satisfy their needs, whether they are existing or new solutions.
HCP: Many pharmaceutical and medical device manufacturers are now global. Does this further complicate their printing and marking line requirements?
TK: Every area of the world has nuances of traceability regulation, whether it's adhering to the Drug Supply Chain Security Act (DSCSA) in the U.S., or China's requirement of a linear Code 128 barcode that has the actual serial number provided by the government. The challenge could also be with size – in that the linear code for China requires more space on a carton while a small DataMatrix code in the U.S. may take up only one quarter of the space.
We recently worked with a customer to overcome this challenge in the Chinese market. Initially, we shrunk the linear 128 barcode to fit more easily on the carton, but that caused poor resolution and did not scan well. So we used our local support in China and worked with the customer's engineering teams in the U.S. and the UK. Our internal engineering group in Germany also worked to update the firmware of our printers to be able to get higher-resolution, smaller, linear barcodes to meet regulatory requirements in China. We also had to integrate the printer with OEM equipment, so every aspect of our global network tied in with the customer's global needs. This integration shows that it can be a huge advantage for manufacturers to work with a partner with a global support network when addressing such an important area of their line operation.
HCP: Can you give a little background on Unique Device Identification and what's going on right now?
TK: UDI requirements typically are not as complex when compared to pharmaceutical serialization since they do not require variable data, like distinct serial numbers, on each individual device. Yet, the upcoming challenge will be for the next phase of the regulation, which will include direct marking of many reuseable devices. This means the UDI data, including barcode, will need to be permanently marked in potentially small areas on a variety of device materials. The testing of different laser technologies on the customer's devices will be critical in the coming year.
HCP: What are the resources available for medical device companies regarding UDI?
TK: One resource that is available but not always utilized is reaching out to the FDA directly by submitting specific UDI questions through their website. If there is a combination drug and there are biologics involved, we've recommended the manufacturer go ahead and ask what is necessary. Our customers have been getting helpful feedback from the FDA with this approach.
HCP: Are there any other areas you wanted to touch upon?
TK: In general, I try to encourage customers to consider alternative approaches to coding their products, as they may have an opportunity during this time period of change to improve in other areas. This is not to say a traditional printing technology will not work, but perhaps try testing new laser technologies instead of ink-jet, for example. Besides new laser capabilities, like directly marking HDPE, advancements in other technologies, including the use of MEK inks in a thermal inkjet printer, can allow customers to print the required high-resolution barcodes needed to meet both UDI and DCSCA on more substrates than otherwise possible. Advancements like these can give customers the capabilities they need to implement successful serialization solutions.
Tim Kearns, Pharmaceutical and Medical Devices Manager, Videojet, focuses on the pharmaceutical and healthcare industries, supporting North American pharmaceutical and medical device customers with their print and laser marking systems and case coding solutions for product packaging identification. Most recently he's been helping customers tackle serialization and traceability challenges.
Companies in this article