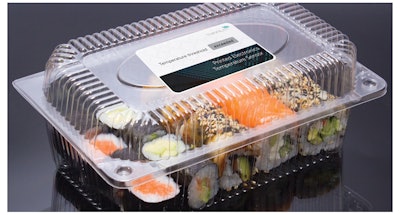 Of the many forms that smart packaging can take, printed electronics (PE) is among the most intriguing—especially now that this method of printing conductive circuits on packaging substrates is beginning to make some headway in the marketplace. Major concerns have revolved around cost, the amount of time it takes to produce an effective PE device, the printing methods that can be used, and the substrates that are suitable. Nevertheless, progress is discernible.
Research institute Acreo, based in Sweden, has firm views about how PE will be applied in the packaging sector. " It's a gradual shift," says Acreo's Bjorn Norberg. "Early applications of printed electronics in packaging will be functional, not gimmicky."
Norberg doesn't see PE as something that's not here one day and broadly adopted the next. He sees it happening gradually, and he believes that in some cases we may see it commercialized in a hybrid sort of way. For example, RFID tags have been around for some time. But what if such a tag also included a printed power source? Such an application would represent a hybrid of "conventional" technology and PE.
In package design today, so much emphasis is placed on shelf impact, on capturing the consumer's attention with dazzling graphics. But Norberg thinks functionality will play an increasingly important role—as in better delivery of information. He thinks PE can move this trend forward.
He also thinks we need to reexamine this central belief of those who predict a bright future for PE: That PE will become popular because it can be done in high volumes compared to more conventional electronics and thus will bring costs down. Norberg points out that the applications of PE that we've seen so far have not been brought to market because they are more affordable than conventional electronics. Rather, they've been brought to market because they bring to the package some unique functional characteristic that makes them desirable even though they are relatively expensive.
Gail Barnes of packaging consultancy Personify sees it slightly differently. But she, too, sees the same outcome.
"Existing applications of printed electronics tend to be of a promotional nature—pizza boxes that speak and logos that wink on FMCG goods like biscuits and rum. But advances in technologies such as e-beam curing of conductive inks, which would ensure adherence of printed electronics to the substrate, mean that high-speed roll-to-roll printing could, through economies of scale, lower the cost enough for printed electronics to be more broadly used, even on milk packaging," she says.
Volume production
A leader in PE sensor development and one showing that volume production is achievable is Thin Film Electronics. The Norwegian company has recently completed the first seven-figure unit delivery of its EAS (electronic article surveillance) solution to a customer. It also delivered functional samples of its Temperature Sensor Smart Labels to Temptime Corporation. These Smart Labels are expected to be in full production by 2015.
The companies are jointly developing MedTracker™ which provides information on three levels: temperature tracking to ensure the product has remained in its specified temperature range; product authentication; and expiry date monitoring. Temptime describes it as a device that integrates temperature integrity with product authenticity.
PakSense Inc also works with Thin Film to provide temperature data for fresh produce. In a very recent development the company announced the availability of a reusable temperature and humidity logger. These loggers download data via a USB connection to a PC and are fully programmable by the user via software provided by PakSense. The loggers can record up to 32,000 data points and are designed for use in closed-loop situations and import/export container shipments. The main application area is for fresh produce at present.
High impact
While it has been around for awhile, the Bombay Sapphire bottle created by carton maker Karl Knauer AG and Rox Asia for Bacardi is still, perhaps, the standout PE package on the wines and spirits market. While it does not demonstrate the more sustainable aspirations of some packs utilizing PE, it does show the potential for packaging as a pure marketing tool.
As Christian Rommel of Rox Asia explains, "The electronics for the HiLight pack had to be invisible from the outside and everything had to meet statutory safety requirements, as well as taking disposal into consideration. We also had to ensure the power supply lasted for at least a couple of months to ensure the effect operated at the point of sale."
A phosphoric color screen is printed onto a film that is ultimately laminated to the carton. The screen is masked to match the shape and sequence of the desired light effect. Copper tracks are laid to match the shape and these are then connected to an electric current and, once connected, this causes the phosphoric particles to glow.
Rommel confirms, "The main optical effect is achieved by printed electronics, which is why this is clearly a PE pack."
Inks and substrates
Both inks and substrates present opportunities and barriers for PE development. Inks have always created issues about both conductivity and deposition, while substrates present issues about which are the ideal materials and which are not. Cost has to be figured into the equation, a task made even more complex where certain nano-level technology is involved. But much progress has been made in these areas.
Sun Chemical Electronic Materials, for example, has taken a lead in conductive ink development. It recently announced a partnership with T+ink to form T+sun. The organization will provide conductive ink solutions to make packages and objects communicate, engage customers and manage inventory systems, say the companies.
"This partnership will be on the frontline of making objects smart and interactive," said Terry Kaiserman, chief technology officer at T+ink. "Conductive ink replaces RFID codes at a fraction of the cost and offers more security than QR codes." This company has already worked with Coca-Cola, Walmart, and McDonald's on several projects.
While the majority of PE substrates are plastic of one kind or another, Arjowiggins Creative Papers is looking at opportunities, particularly in the luxury packaging and traceability field, where paper substrates are the key. Mark Heise, Application Engineer for Arjo, speaking at the Active & Intelligent Packaging Industry Association (AIPIA) Congress recently, explained, "Some products we have looked at need high-temperature sintering to reduce the resistivity and perfect the circuit. Paper can withstand the high temperatures required for low-resistance silver ink without discoloration."
Petri Sirviö, manager customer solutions at Stora Enso's Renewable Packaging Innovation and R&D comments, "Soon we will be able to actually print RFID-labels directly onto the paperboard. Looking further into the future we can see the possibility of enabling moving images and solar panel functionality on paper and packaging. We are already experimenting with this."
Printability
Printing PE is generally perceived to be not only painstakingly slow but also something that requires highly specialized equipment. Colleen Twomey, for California Polytechnic State University, again speaking at the AIPIA Congress in Chicago, showed how it will soon be possible to print conductive inks using an existing flexographic press.
As so much packaging in the U.S. is still printed using flexographic technology it seems sensible to try to adapt these existing presses to meet new requirements. Cal Poly, in conjunction with DuPont and Clemson University, set out to discover if commercially available "print" components can successfully print electronics and, after extensive research, concluded that it could. This opens up a whole area of possibilities to utilize PE in packaging without major new investment.
To aid further development in the whole PE area, Cal Poly just started a certificate and MS graduate degree in Printed Electronics and Functional Imaging.
Consider also the development of nano components for use in conductive inks. Cured by electron beam technology, these inks are being described as the "missing link" for printing conductive circuits directly onto packaging due to their aggressive adherence properties.
Expansion forecasts
OE-A, the Organic & Printed Electronics Association, has 228 members in 32 countries and runs a dedicated PE event called LOPEC each year in Munich, Germany. They're predicting a 19% increase in sales revenue for the industry in 2015. The industry's particular focus is on packaging and printing, consumer electronics, automotive, lighting, pharmaceuticals and energy.
Barbara Fisher, Regional Manager, OE-A North America, says, "Organic and printed electronics is an important technology to help improve packaging—today and in the future." There are already several applications on the market, especially in the advertising segment, where printed electronics plays an important role. "There are interactive displays in journals and there are posters that include electroluminescence and motion sensors."
Fisher sees cold chain safety as a particularly important area where these technologies can help. "Right now, there are pilot studies with integrated time/temperature indicators that can be applied to a pack or be directly printed on it, containing organic logic circuitry, printed temperature sensors, an electrochromic display, and a printed battery." Fisher says, "There are many more opportunities to use printed electronics in packaging."
Future prospects
With so much momentum in so many aspects of printed electronics for packaging, the question must surely be why has it not gained more traction than it has by now? It's not due to lack of funding for companies active in PE, nor is there any shortage of R&D aimed at advancing the technology and bringing costs down and production speeds up. It's this kind of activity that has the authoritative FlexTech Alliance saying that 90% of customers it surveyed expect to see flexible and printed electronics integrated into commercial products in just 1 to 5 years.
So what's the hold-up where commercialization is concerned? O-EA's Fisher says it's really quite simple: The industry needs end-users willing to implement these technologies.
Smart sunscreen cans
Crown Packaging collaborated with the Centre for Process Innovation (CPI) to challengestudents from Brunel University in London to see how printed electronics could be incorporated into metal packaging, considering factors like design, functionality, manufacturing costs, and potential new revenue streams.
The winning concept was a sunscreen bottle (shown) that uses printed sensors in the packaging to measure the user's skin type by analyzing the amount of light reflected from the skin. The package then indicates if the product it contains is suited to the user's skin-type, based on the skin measurements and the SPF factor. The smart pack also calculates the maximum 'safe' amount of time in the sun by determining the user's skin type and the strength of UV radiation.
"Some of this technology is now viable and can be demonstrated in working prototypes. The next challenge is developing the manufacturing processes to make these products at high volumes," says CPI commercial manager Alan McClelland.
Video captures Gillette test?
Spotted at a Walgreen's store in downtown Boston was a battery-powered Gillette Fusion Proglide Styler whose plastic packaging would appear to involve an application of printed electronics. Displayed alongside all of the other men's grooming products, this package stands out because it has a lighting component in it that builds to a deep dark blue, recedes to non-glow status, and then builds again to blue. Gillette is choosing not to say anything about the package, but considering how innovative the firm has been in any number of recent breakthrough applications, observers are speculating that this is a test of printed electronics. (See for yourself at pwgo.to/1260). The package carried a suggested retail price of $28.99 but was marked on sale for $23.99. Inside the package were one trimmer, one cartridge, three combs, and one battery.
About the author: Andrew Manly has been part of UK packaging since 1977 and has held many senior positions. Currently he is a freelance journalist and packaging consultant as well as the Communications Director for the Active & Intelligent Packaging Industry Association, AIPIA.